HubSpot didn't always attract the amount of organic traffic it does today. It took careful planning and customer-centricity to reach the top of search engine results pages for our target keywords and topics. Through thousands of experiments and iteration, we learned a lot. To save you a few thousand experiments, we have compiled our knowledge into a series of lessons in a new SEO training track from HubSpot Academy.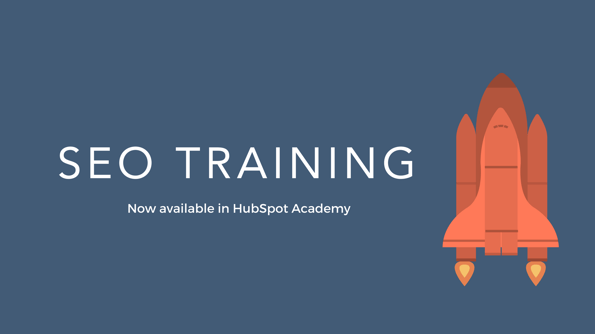 This free SEO track will give you the knowledge to build a long-standing SEO strategy and drive organic traffic.
As Google recently surpassed two trillion searches per year, there is an exciting opportunity for content to be discovered with so many people hungry for information. But there is also so. much. content. on the web. Even an obscure search query like "why are cats afraid of cucumbers" renders over 340,000 results. With an infinite quantity of content, it is getting more difficult to get found via search in 2018. But fret not! HubSpot Academy's new SEO training will help you plan your long-term, holistic SEO strategy so your website can rise to the top of SERPs.
But first, who am I? I am Bella Valentini, and I am on the marketing team at HubSpot. I am psyched about this new SEO track, so I want to give you a quick overview of what it's all about.
What to Expect in the SEO Track
In this track, Matthew Howells-Barby, Director of Acquisition on HubSpot's marketing team, will cover how to find the SEO strategy that fits your business, how to scale your backlink strategy, and how to build topical relevance on Google to increase your rank. Howells-Barby is an award-winning digital marketer, specializing in search engine optimization. He is HubSpot's in-house SEO expert, and you may recognize him from his contributions to Moz, Marketing Land, and Search Engine Journal.
In this learning track, you will be introduced to HubSpot's primary strategies to climb to the top of search results. With Howells-Barby's insight, you will be set up to do the same.
Here's a brief overview of each lesson in the track.
In the first lesson, you'll be given the tools to develop an SEO framework that works in the context of your business' needs. Howells-Barby will dive into how search engines rank content in 2018 and how to measure the current state of your site's SEO.
When developing your SEO strategy, keep in mind that SEO is all about three stages: discovery, relevance, and authority.
Discovery, relevance, and authority are top-of-mind for search engines when ranking content. Discovery happens when search engine bots "crawl" content, categorizing all the information on the page. Once the content is crawled, the search engine determines its alignment with search queries, so it can serve up the most relevant content to the audience. Finally, authority reigns! Search engines seek credibility when ranking content — this means backlinks and strategic partnerships to show that your content is worth the read.
In the second lesson, you'll learn why link building is critical to SEO. Howells-Barby provides a number of strategies and specific tools to calculate the number of backlinks your page needs to rank on page one of Google. He then breaks down back-linking into some easy-to-follow steps, including how to build relationships with journalists and external publications, which can help lead to more high-quality links over time.
Working with freelance journalists is mutually beneficial — they source quotes from industry experts, and you get backlinks to your website.
Freelance journalists are a gold mine for link-building. Their job is to approach publications with interesting stories, so handing them content ideas simplifies their life, and it unlocks the potential for some major backlinks for your business. Win-win!
HubSpot wasn't always this sophisticated when it came to SEO, but we were determined to scale our search strategy and teach our users and customers what we learned. By serving helpful and educational content, we were able to work our way to the top and get five out of ten of our target topics on page one! Our #1 tactic? Blogging! This lesson covers the three strategies we put into practice to propel ourselves to page one, including how to build topical relevance, optimizing for Google's featured snippet, and how to historically optimize old content to increase search rankings.
Historically optimizing old blog posts is a great way to repurpose content for SEO. And the best benefit? You don't need to write any new content!
If you have been blogging for a few years, it's likely that the 20:80 rule applies to you: 20% of your posts generate 80% of your organic traffic. Find those posts and see how they differ. Are they structured differently? Use your previous successes to guide your future strategy. That is what historical optimization is all about.
What I Learned: SEO Takes Time
Before watching this learning track, I thought SEO was all about the final tricks and tweaks you'd make to a piece of content to serve Google's search engine algorithm. I didn't realize how comprehensive and strategic search engine optimization could be. While Howells-Barby still provides a number of quick-wins, the big takeaway for me was that a long-term, holistic approach goes much further towards achieving your organic traffic goals.