Seems like nowadays successful business running is impossible without a CRM system. A really good CRM can be your best marketing, sales, and management tool. It helps you to store tons of information, meet clients' needs easier, and support and strengthen the interaction of different departments.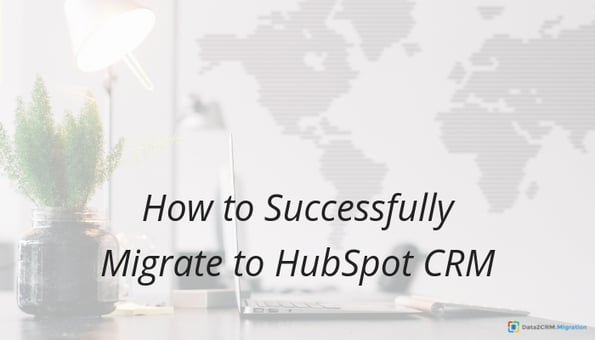 However, sometimes data transfer between CRM systems becomes a challenging task. You have too many records to count, missing information, and so on—simply put, you're trying to put the pieces of your puzzle back together in completely new software.
But moving to the HubSpot CRM doesn't have to be a problem. Let's walk through some tips that will help you migrate to HubSpot without a headache.
Do Some Prep Work
Before importing your CRM to HubSpot, prepare yourself—and your data. Chances are, you have years of data build-up, you're unfamiliar with HubSpot, and you might not know where to start. No worries! Here are some tips:
Test the waters: You don't have to commit to a new CRM right away. That's the beauty of HubSpot. Try it out first by signing up for a free HubSpot CRM account. That way, you can check out all the system's features and functionalities. Maybe even create some test contacts, play around with creating deals, and just get used to it. You'll have fun!
Clean up your data: You don't want to move messy data into the HubSpot CRM. Because your end result will be...well...a mess! So be proactive. Filter and analyze your data, delete copies, and update all details so that your data migration runs faster and more smoothly.
Back up your data: Be on the safe side and make sure that you don't accidentally lose any data. Many CRM platforms offer the option of data export into CSV/Excel files. Have it handy just in case!
Decide How You Want to Import Your Data
Okay, so you've tinkered a bit with a free HubSpot CRM account, you cleaned up your existing data, and you've backed it up so that you can transfer it without the fear of losing it. You're now ready to go!
There are a couple ways to migrate your data into HubSpot:
Import a CSV file of your data
You can export data from your current CRM into CSV files and then import these CSV files into HubSpot.
This is a quick and easy process, but educate yourself on the process before diving in:
With those learning resources and an organized CSV file of data, you're good to start importing.
Use Data2CRM
Looking for some help with that import? Look no further than Data2CRM. They provide data migration services from more than a hundred CRM systems and files.
The importing process is automated, so it takes only up to a few hours to proceed accurate and secure data transfer. Learn more about what to expect with a Data2CRM migration here. And if you want to see this in action, just request a demo.
The Migration Is Done! Now What?
Congrats! You've imported your data into HubSpot CRM. But the work isn't completely over. You have to do a little cleaning up to make sure everything's in tip-top shape for your team so that operations like implementation and automation are a breeze.
Check the record types: Make sure your contacts were imported as contact records (Contacts > Contacts in HubSpot), your companies were imported as company records (Contacts > Companies in HubSpot), and so on.
Check the associations: Make sure the relations between the items are restored in the right way. Are your contacts associated to the right companies? Are you companies associated with the correct companies?
Set up filters: With all this data in HubSpot, you probably want to report on it and analyze it. Learn more about setting up customized filters so that you can see exactly what you're looking for when viewing your data.
Education and inspire: Invest your time in ongoing training with your teams. The better they understand how to operate the CRM, the more efficient your company will run. Start off with some free lessons in HubSpot Academy.
You're All Set
That was easy, right?
Importing doesn't have to be a headache. With the right preparation, HubSpot learning resources, and some help from Data2CRM, it can be an easy process—and the first step you take toward inbound success.
Want to connect with others on HubSpot tips, tricks, and updates? Head over to the HubSpot Community to join a conversation or start one of your own.