In the world of print media advertising, calculating ROI used to be rooted in "guesstimates." Thousands of people passed your billboard every day, but even then, marketers were still left guessing what some small percentage of people who noticed your ad did next. Unfortunately, the people we aim to convert don't just walk up to us and say, "I saw your billboard on the highway and now I want to engage with your business!"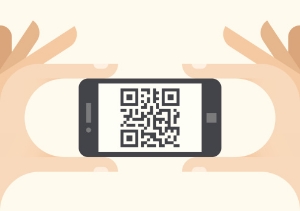 Now, technology has made it easy for marketer's to track and analyze offline activities with the rest of their marketing. With a QR code, you can quantitatively capture an online page visit generated from a print medium. Here, the world of offline media meets online. With this trick you can learn more about how people interact with your business at any offline event - trade show, conference, recruitment function, as well as with regular paid print media.
In this post, we will walk you through how to track offline conversion paths using QR codes and when they might come in handy for any type of event using print media.
About QR Codes and Event Tracking
Conferences are the one place a business can literally have a two-way dialogue with its customer base. Ad Age reported conferences and event marketing are the single largest budget item for B2B marketers, taking up an average of 20% of a marketer's allocated funds. With that much spend going toward one or two marketing actions, you will want to make sure you capitalize on every opportunity possible.
Today, marketers can do that by using a clean and simple QR code. What's that, you ask? A QR (Quick Response) code is used to encode a piece of information which can be translated by your cell phone. Once in your cell phone the information from the code can trigger different kinds of actions, such as details about a product, information about your business, or link to a URL.
CAUTION! Do not use QR codes at an event unless they have an intentional purpose to convert new leads. Yes, the more creative the better, but in context of why potential visitors are scanning it is best to use it to convert leads. For example, if the QR code is on a team members' business card, link to their company profile page with a form to request their consultation and not their favorite GIF. (Tried it once, got a couple chuckles but nothing more)
Tracking QR Code Conversions
Okay, your attention has officially been grabbed and you want to start using QR codes at your next event. Let's talk about how to incorporate them into your online marketing toolbox. Check out these 5 steps to build, track and analyze QR codes:
1. Create a Campaign
First let's log in to HubSpot and click on "Campaign" under the Content tab in the top navigation menu. Creating a dedicated campaign for your offline sources will make reading the results in HubSpot's Sources reports organized and easy. Give the campaign a title, differentiating the marketing event your print media will be appearing at, such as the name of the conference or the planned promotion. Here's what it should look like when you're done:
If you want to learn more about inbound campaigns, check out this post.
2. Build a Tracking URL
Now let's go build the tracking URL you are going to use on business cards, fliers, or other print media. In the top navigation, click into the Reports Home page from Reports > Reports Home. A link to the Tracking URL Builder appears on the right-hand side of the Reports Home page.
Once you click the Tracking URL Builder link you will be taken to a page showing all of your current Tracking URL's along with the associated Campaign Name and Source information. We will explain later how these are set and why they are important for organization. Look to the top right corner of the page to create a brand new Tracking URL.
Upon opening the Tracking URL builder, you'll see options to enter URL Name, Campaign, and Source. Enter the URL of the page you want to direct visitors to after they scan your awesome QR Code. Under the Campaigns drop-down select your newly created campaign to keep your offline sources organized in the Sources Report. In the bottom right of the URL builder, there is an option to switch to an advanced view giving more options for internal labeling.
When you review the outcome of your event at the end of the month, the Sources report will show you the performance of each of your tracking URL's.
One section of particular importance in the advanced view is the Marketing Action, which will put a labeled event on the Sources home calendar. Creating marketing actions on the Sources calendar comes in handy when doing quarterly or annual reviews. Instead of trying to remember why there was a huge spike in May, a label for the company convention provides a more holistic representation of marketing efforts and corresponding results.
3. Organizing Other Campaigns
When choosing a source, you will want to select "Other Campaign". This puts a custom label on the tracking code to easily identify the URL used on a particular print media performed in the sources report as well as making them easy to find on the Tracking URL Builder page. This can become helpful if you are trying to track a couple different sources from an event such as, how many people scanned a business card versus a coupon for a consultation. In our example of using tracking codes specifically in QR Codes, this is the place where you will want to put in "QR Code".
Caution: You can use tracking URL's for website pages that were not created or hosted on HubSpot, which is super cool. But, when leading visitors to a non-HubSpot page, make sure the page is set up with the HubSpot tracking code. This is required for HubSpot to know where a visit came from and begin following their conversion paths.
4. Create a QR Code
Once the URL builder does its thing and spits out the tracking URL, put it into one of many QR code builders. You can easily create a QR code by visiting websites such as Kaywa or Microsoft Tag. After they have created a unique QR code just for you, you can use it on your business cards, pamphlets, poster boards, and print media to track how affecting your offerings are for any offline event designed to make an impact on your business.
Pro Tip: In the chance you decide you want to post your raw URL on any materials you are handing out, use the shortened URL. As a default HubSpot provides you with a hubs.ly shortened URL which comes in handy when you want to write out a URL for potential customers to copy down or type in. For all you marketers out there who want to take it a step further, you can integrate your bit.ly account to HubSpot and have the shortened URL generate a custom bit.ly URL.

Need some creative ideas for how to best use QR Codes? Check out this listing from our eBook OR the Pros.
5. Capture Visitor Information with Forms
The final and most crucial step for bringing offline leads online, is to make sure you invite them to give you their information with a form on your page. You have just gone through this entire process of creating these tracking URL's, unique QR Codes, and have them on your print media ready to go. But if there is nowhere for someone to continue engaging with your business, then how will you know who they are and how to continue engaging with them?
Think of it this way, without putting a form on the landing page they are being sent to, it's similar to opening a retail store filled will all your offerings, but no employees and a sensor at the door counting how many people enter and exit. Potential customers can walk in and out of your store, which you can easily count, but there is no way to know these potential customers' name, email, or reason for stopping by your store.
So make sure to have a form somewhere on your landing page that invites visitors to engage with your business and to help you capture their information.
First time creating a form? No problem! Follow these easy steps to create a form for your landing page.
At the Next Event…
Tell people you meet to download QR Reader for iPhone or Barscanner for Android, so they can check out your QR code.
Analytics are the bread and butter for us marketers to measure how we convert visitors into customers. Web analytics show us which pieces of our online strategy are attracting and converting the most visitors and leads. The world of marketing has increasingly turned to online. And who wouldn't, when it is so easy to track how people interact with your business online? Fortunately, innovations such as QR Codes have given us a window for offline touch points to take leads online. So the next time you find yourself planning for an event, use this handy trick to bring offline interactions to online conversions.
So the next time you find yourself planning for an event, use this handy trick to bring offline interactions to online conversions.
Have any stories of using QR codes in past events? Share them in the comments section below!