If you're using HubSpot's free tools or considering signing up, hopefully, you've seen the exciting announcement that we are adding email marketing and ads tools to the free marketing product in the HubSpot CRM.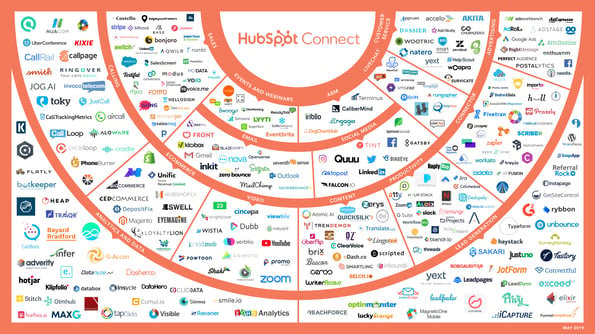 Sounds great, right? After all, what could be better than a powerful product that's free? Well, what about two free products? What if they could be used together to make each even more powerful?

Along with the announcement of the newly improved HubSpot free tools, we have curated a list of popular free apps in our ecosystem of product integrations that work well with these tools. So not only can you leverage the value that HubSpot's free software provides, but you can also then add even more value—for free—by integrating the apps listed below.
Interested in using email and ads with HubSpot's new free marketing tools? Sign up here.

Maybe you're already using one of the technologies below and you're excited to learn about how it integrates with HubSpot's free tools, or maybe you're in the market for a new tool to increase your team's productivity. Regardless, the curated list below should help you learn more about what the HubSpot free ecosystem has to offer. You can also find all of our integration partners, many more of which have freemium options, here. For now, let's get into some of the most valuable free partners in the HubSpot ecosystem.
If you use both HubSpot and one of these technologies, enable the integration in your HubSpot account to check it out:


Zapier
Zapier moves information between HubSpot and your apps automatically, so you can focus on your most important work. Link your apps with a few clicks, so they can share data—no coding required. These time-saving workflows called Zaps are set up in minutes.
WordPress
Connect your WordPress CMS blog or website with your HubSpot tools to convert website visitors into leads and buyers. Create embedded forms, pop-ups, live chat, bots, scroll boxes, email and banners and publish them on your WordPress site in minutes—no coding required. If you have existing form tools like Gravity Forms, Ninja Forms, or Contact Form 7, the plugin will automatically sync form submissions to your contact database.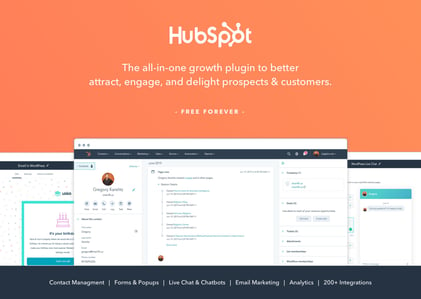 Want more content like this? Subscribe to the User Blog.
Slack
Slack is a digital workplace that connects you to the people and tools you work with every day—tools like HubSpot. You can now get HubSpot tasks, tickets, notifications, slash commands, and more directly within Slack. Say goodbye to the days of wasting time switching between tools. Instead, work where you want with HubSpot and Slack.


Databox
Databox helps view analytics data on your mobile, desktop, and TV from HubSpot Marketing/Sales, Google Analytics, SEMRush, Facebook Advertising and many more sources in just a few clicks.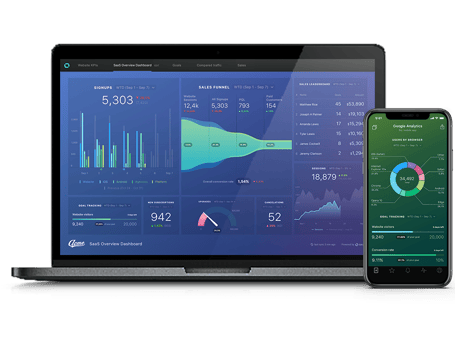 Make
Make lets you connect HubSpot with 1,000+ different apps to build and automate simple and complex workflows on the spot. Automatically add lead data to HubSpot, send notifications to team members when something happens, create programmatic email sequences, and more thanks to Make's visual automation platform.
Hotjar
Hotjar provides insights into your website visitors through heat maps and other advanced tools. When active, the information gathered from Hotjar polls will be added to the contact timeline of leads in HubSpot. This allows marketers to gain a deeper understanding of visitor and customer feedback by mapping Hotjar Poll responses to HubSpot contact records in the free CRM.

Zoom
Zoom for HubSpot creates and automatically tracks Zoom video meetings from any meeting scheduled from the free HubSpot CRM or meetings tool.
HelloSign
The HelloSign integration gives you important visibility into any action your leads take with documents sent through HelloSign. You'll see when a lead receives, opens, or signs a document and you'll be able to see that activity immediately in your timeline view within the free HubSpot CRM.

Wistia
When a viewer converts on your Wistia video, they'll get passed to HubSpot, and all of their video viewing data will sync with their existing contact record. Within the contact record, you'll be able to drill down and see video thumbnails, viewers' heat maps, and a contact's overall video engagement.
OrgChartHub
Easily build and store customer organization charts on each of your accounts without leaving the free HubSpot CRM. Features such as relationship mapping and customized sales personas help your team visualize the key stakeholders and close more deals. Use placeholder contacts to identify unknown key contacts, avoid sales blockers, and close deals faster.
Interested in more integrations?
Let us know what you think of these integrations. Know of any other technologies you'd love to integrate with your HubSpot account? Email us at connectmarketing@hubspot.com.
Want to connect with others on HubSpot tips, tricks, and updates? Head over to the HubSpot Community to join a conversation or start one of your own.