It's a cliche that (unfortunately) still proves itself to be true at companies both small and large every day. Marketing and sales teams that don't talk to each other or don't work together effectively.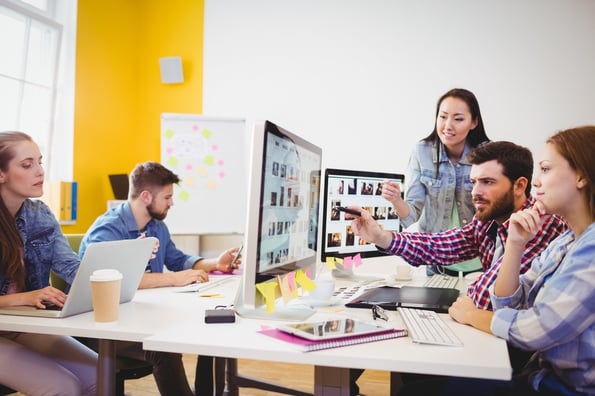 There's also no shortage of advice on how to solve the problem. Frameworks, strategies, and initiatives are all worth exploring - building a well oiled sales and marketing machine takes time, and it requires you to think about the big picture. But what are some things you can do right now to start inching toward a better relationship with your sales team?
Sharing data and showing some value
Sometimes an act of goodwill is the best place to start. As a marketer, you are sitting on a veritable treasure trove of data on the leads you've generated and the prospects your sales team is working right now. Sidekick (HubSpot's free sales tool) is an easy way to start sharing some of that information and connecting it to HubSpot CRM makes it even more powerful. Here are a few examples.
Notify your reps when their most important leads reappear on your website
Your sales team has the tough job of trying to figure out what to spend their time on each and every day that will make a meaningful contribution to their month. Sometimes the answer to that question is obvious, but more often than not, it isn't.
Here's one easy way to help your sales team prioritize who they spend their time on and when - set up lead revisit notifications with Sidekick, and target them based on lead owner. All you is to have lead owners being set inside HubSpot CRM, and your sales team using Sidekick. If you want to go a step further, you can narrow the notifications down to cover only prospects of a certain lifecycle stage.
The result? Your sales reps get high value notifications only when their most important prospects are on your website. It's a great way to let your sales team know that your company is front of mind for a prospect in real time.
Make it easy for your sales team to leverage the content you create
You pour time and budget into creating content that generates leads. How can you get more mileage out of your content, while making it easy for your sales team to use it in the sales process? Templates, of course!
If you are using HubSpot CRM, you can easily build out email templates inside your CRM that reference the content assets that can help your sales team close business. The trouble is that those templates are then trapped inside your CRM system, out of sight and easily forgotten.
If your sales team uses Gmail or Outlook, adding Sidekick to the mix allows your reps to access those templates right from their inbox. And by keeping them close at hand, they are far more likely to see regular use.
To get started, all you'll need are your templates drafted, complete with links to said pieces of content. If it's at all possible, find out from folks on your sales team what the most effective approach for introducing each piece of content is when drafting your email.
Make their day easier while keeping your CRM more up to date
A lot of people within your company probably rely on up-to-date CRM data. Managers need it for reporting & forecasts. You need it to tailor communications and see the progress on the leads you've generated. Keeping your CRM up-to-date is hugely important, but it's also a huge pain - which is why it oftentimes doesn't happen.
Keeping your CRM up to date is no small task, and no one tool can do it all, but there are some things that Sidekick can do to make it a little easier (and more worthwhile.)
When you connect Sidekick to HubSpot CRM, Sidekick can automatically log emails your sales team sends from Gmail to your CRM system. By making it easier to log events to your CRM, it's more likely to happen, which means more reliable data over time for everyone on your team who relies on it. As a marketer, you'll also benefit from more up to date data to segment off of. The "Last Contacted" field in HubSpot CRM allows you to sort contacts based on when their last touch with your sales team was. It's a great starting point for reports and workflows.
The tip of the iceberg
As the old adage goes, the journey of a thousand miles begins with a single step. (Maybe a thousand miles is a bit of an over-estimation, but I digress.) While a great relationship complete with shared goals, shared information, and a sense of camraderie between your sales and marketing teams may seem like a distant ideal, starting in the right direction doesn't have to be hard. If you aren't using Sidekick, give it a try - all of the features mentioned here are free. Considering using HubSpot CRM? Here are some details for HubSpot customers on turning it on.