Maintaining a successful blog is not an easy feat. Compiling interesting content, posting in a timely manner and optimizing pages can be a daunting task.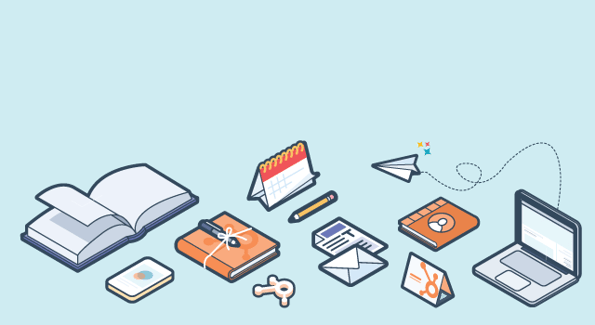 But don't be too frightened. Using the data that you already have in HubSpot, you have the power to create a blog content plan that'll entice views, engage your audience and drive conversions.
Create your best blog content plan by asking these 4 vital questions and finding the answers in HubSpot.
1) What type of content is most popular with my readers?
Creating a blog plan begins with writing content that will draw visitors to your site and keep them reading. It's nearly impossible to generate conversions without a steady flow of views. On the blog dashboard, you can continuously track the number of views on your blog posts to cater your content plan to best match your audience's interests.
Please note that you must be a Customer using the COS blog to use this reporting feature.
To begin tracking blog post views, enter your Blog Dashboard. From there, click on the "Published" page, listed in the left-hand navigation menu. Here, you can analyze various measurements on your published blog posts.
Under the "Published" page, measurements for recent blog posts are defaulted to last updated, author, and views. To change the measurements accordingly, click the button on the right side, shown above. The list of different measurements you can choose are highlighted below. Once saving the measurements, you can also adjust the columns to go in increasing or decreasing order.
Quick Tip: You can also get a snapshot of your blog post engagement by scrolling down to the bottom of your main HubSpot dashboard. The "Blogging Section" listed in purple shows the number of homepage views, individual post views, and the number of comments on recent posts.
How this helps your blog content plan: Your blog dashboard provides key information that you can use to connect with your audience. Does your audience prefer to read list posts with many pictures, or longer, informative posts? This also allows you to analyze call-to-action (CTA) views, clicks, and click rate. This is very helpful in determining if a piece of content is better at getting more eyeballs on the page or driving action.
2) What type of content drives conversions?
Your company blog may have various objectives: to inform your audience of industry trends, update them on product releases, or boost brand recognition. However, almost all blog campaigns hope to drive action. It can be tricky to pinpoint exactly which content drives conversions, but building an Attribution Report helps cuts through the confusion.
Please note that you must be a Professional or Enterprise Customer to use this reporting feature.
To begin, enter Reports > Reports Home. Once inside the page, click "Create a new report" on the right. Select "Attribution Report." A window will appear, as shown below. Within that option, select "Website Content & Blog Posts That Generate Leads."
After creating the report, HubSpot will crunch some numbers and take you to the Reports page as shown below. The initial bar graph will show content that has generated contacts. To narrow down the report to get a quick view of a certain blog post, you can use the search bar beneath the graph on the right side, highlighted in blue.
Find Conversions Specific to your Goals
You can also fine-tune this report so it focuses on specific conversions relevant to your campaign goals. For example, if you are running a campaign to increase the number of subscribers to your blog over a three-month period, you can adjust the inputs to measure the blog posts that generated the most subscribers over that specific date range.
To adjust the inputs, click the "Edit report" button.
Then, a window will appear in which you can edit the type of list, conversion type, and time period.
How this helps your blog content plan: By understanding which blog content converts, you can strategically plan which type of content to use to fulfill different campaign goals. Now with views and conversion data from reports, you can make a more informed decision on pairing CTA's with blog content. For example, does a video post cause visitors to download a more detailed download offer or it is more likely to generate more subscribers? With this information, you create better performing content and effective CTA placement.
3) Where does my content perform the best?
Promoting content on a variety of sources takes dedication, planning, and budgeting. To save time and resources take a new, factual approach to planning your blog content. Instead of thinking which promotional channel works best for your blog, think about which type of content will work best on each channel. By using Sources Reports, you can identify which type of content is converting on which specific source. With this information, you can plan more effective content for your blog.
To begin analyzing, go to the Reports App > Sources. Here, you can change the report to show visits, contacts, or customers. You can also adjust the time frame so that it is the most applicable to your campaign goals. Each color bar represents a different source that drove traffic to your site.
Scrolling down below the graph, you can find the specific sources that correlate with the colors on the graph.
Collect Source Data Relevant to your Blog
Clicking into each individual source, you can dig into the specific content that increased the number of views or conversions on your site. For example, if you recently launched an email campaign about your blog, you can narrow down specifically into what content prompted more views, contacts, and customers through the email source.
Quick Tip: You can also narrow down into the specific contact information of each visitor who converted via a specific source, by clicking the highlighted number in blue under contacts.
This will give you more information about the visitor and their lifecycle stage.
How this helps your blog content plan: Not all sources should be treated equally. Each source has it's own character and audience. By using Sources Reports, you can cater content to specifically pair with each source. If you find that tutorial posts with how-to images generate the most conversions on Facebook, you can create similar content for this channel throughout your campaign. Sources Reports also helps you identify which sources will be most likely to help you achieve your goals. In some cases one source, such as Facebook may increase the number of views, but generate less conversions than another source, such as Twitter, that drove half the amount of content views as Facebook.
4) What type of content drives the most sales?
It's essential to understand how much revenue your blog campaign is contributing. With Revenue Reporting, you can identify which blog content is not only generating leads, but is also helping to close the deal.
Please note that you must be an Enterprise Customer to use this reporting feature.
To begin, enter Reports > Reports Home. Once inside the page, click "Create a new report" on the right. Select the fourth option listed called "Companies Report." Within that option, select "Companies Revenue by First Conversion," as shown below:
After creating the revenue report, you can edit the data to cater to your blog campaign time-line, conversion details, and lists. To edit the data inputs, click "edit report," on the reports recipe page.
From there, a window will appear, as shown below, in which all of the variables can be adjusted.
In this example, the report was segmented into all contacts, recent deal close date and a customized data range best fitting for the campaign. The report was also broken down by first conversion and calculated by the total value of recent deal amount. Each category has numerous options that can be molded to best fit your objectives.
Once saving the report, the graph will show the amount of revenue each content piece generated per company.
How this helps your blog content plan: In every marketing campaign, there is a bottom line goal. Revenue Reporting enables you to identity how much revenue is associated with each content piece and allows you to gain some well-deserved credit for your content. This report also helps you to decide which content to create on the blog or when it's time to shift gears and focus on a new topic with different offers.
What data do you use to create scary good content? Let us know in the comments!