We tend to think that companies are born out of a single moment of brilliance. The proverbial "light bulb" moment we see in movies. But the most successful companies are usually the result of pent-up frustration with an existing product or service. Smart entrepreneurs innovate by taking a commonplace pain point and starting companies to directly solve for customers. By nature, these companies are set up to be #CustomerFirst.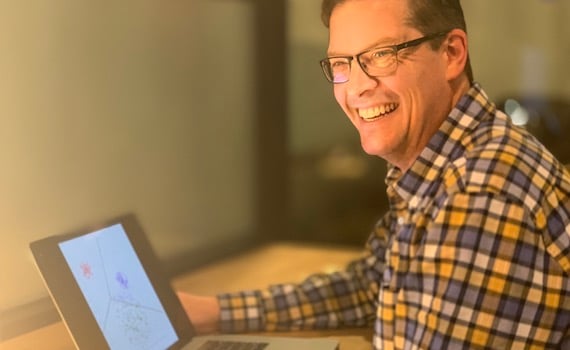 After a successful career as a marketer and CMO of a software company, Peter Mahoney followed this path of starting a company in search of a solution to a universal problem. He started Plannuh to help marketers effectively plan and track marketing budgets after years of frustration working in spreadsheet after spreadsheet. Technology has advanced drastically since Peter started his career, yet he was still working in old-school spreadsheets when managing his company's marketing budgets.

Plannuh implements a customer-first mindset strategy
Plannuh is a cloud-based software solution for marketers to manage marketing plans, budgets, and goals. Throughout his career, Peter managed complex budget spreadsheets and realized there wasn't a modern solution that was simple and easy enough to implement across marketing teams. As CMO of a $2B software company in need of a modern, cloud-based software solution to budget spreadsheets, he saw an opportunity to create the very solution he was looking for.
With a firsthand understanding of his audience, Peter knew from the beginning that having a customer-first approach would be essential to his company's success. Therefore, he decided to turn to HubSpot to fully enable the initiatives of Plannuh's omnichannel customer engagement strategy.
Getting ahead of the game with customer experience
Very early on in the process of building Plannuh, Peter recognized the need for a tool that would allow him not only to prospect and build interest in the concept of the new platform but also one that allows him to create a personalized customer experience for his customers.
When they had a beta version of their product, customers called him on his cell phone or personally emailed him with customer support questions or customer feedback. Since Plannuh was new, he was more than happy to offer this personalized customer support experience. However, he was able to recognize that clients calling or emailing him wasn't scalable as they became a ready-to-use platform. To make sure they had the right support system in place before they acquired more customers, they started their search for a customer service platform.
During the research process, they found a lot of software options but most of them seemed too complicated to use. They just needed a tool that would let them build a customer support system from scratch. Other software companies spoke of migrating from legacy systems or seemed to only cater to enterprise-level companies, which was not what Plannuh needed at this early stage of their company. Choosing HubSpot's Service Hub was a no-brainer because it offered a simple solution to customer service, as well as fitting their mission to be customer-first.
"HubSpot was just easier and cheaper. [HubSpot] makes it really easy to do business with. We're really aligned with the whole content marketing, inbound marketing strategy. It's core to the way we think about marketing, so that fit really well. All those reasons made it super simple for us to make the decision."
Want to check it out in your HubSpot account?
HubSpot has proven to be an easy-to-use platform that also allows Plannuh's developers to make custom integrations. With the belief that great support should be a core part of their product, they integrated the support chat experience natively into Plannuh. Peter says "By offering support right inside our product, we believe that we will identify usability issues sooner and improve customer satisfaction for all users. And we believe that we will reduce the likelihood of customer churn by addressing issues right when they happen." Since using HubSpot for marketing, sales, and services, their customer engagement has increased.
In-product support to improve customer engagement
The HubSpot platform now plays a key role in how the company delivers service to its customers. The custom integration that connects their SaaS product with the HubSpot CRM has allowed them to have a holistic picture of their customers' data, including Plannuh product usage. This 360 view of their customers allows the team to provide tailored support to each user as well as segment clients and prospects in a single platform with all the same workflows and data.
Because customer support has been so important all-around, Peter also wanted the team to continue to be easily accessible and approachable for their customers. That's why they enabled in-product support with HubSpot so that users can directly engage the support channels within Plannuh. In this sense, HubSpot's live chat plays a huge role as the main support channel. Additionally, they use HubSpot's Slack integration with Conversations to notify the team each time a customer is using live chat to contact support. When a chat comes in, the entire team is notified, resulting in almost immediate responses to customers.
To further enable this specialized support, Plannuh's platform is also integrated with HubSpot's knowledge base tool. They add new articles when pushing new functionalities to ensure that there are always up-to-date resources available to their customers. Since they moved everything into the knowledge base, it has now become the central source of documents and resources.
"In the beginning, we had to do a product release to update help information, that was insane. We moved everything into the knowledge base so everyone can update info" Peter says. Now, anyone in the company can update the information, Excel templates shared with customers can be published directly to the knowledge base and they are able to link to this tool from their product. HubSpot's knowledge base feature is now acting as the main resource library for their customers.
Plannuh's team is planning big things to come with HubSpot. Particularly to seamlessly integrate the service into the product experience, Peter hopes to use machine learning technology to further enhance product support so that when a customer needs help, the platform can provide insights and recommendations in a smart and friendly manner—perfectly aligning their support with the overall company branding.
Want to connect with others on HubSpot tips, tricks, and updates? Head over to the HubSpot Community to join a conversation or start one of your own.