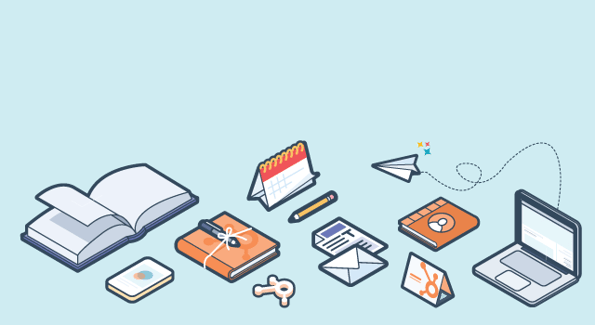 Over the last six months, our social media product team has been interviewing dozens of marketers just like you to find out where you spend your time and what are your biggest social media marketing challenges. The results were clear: You spend a lot of time - more than you'd like - creating and searching for valuable content to publish on social media.
We heard some serious frustration at the other end of the line, as this takes time away from what you want to be doing most: Spending more time connecting with the people that matter to your business.
That's why we created Inbox, a new feature of our Social Inbox tool. (Yes, it's very meta of us.) Inbox is meant to help you better prioritize the time you spend on social media. It elevates the content that is resonating best and the people who are most engaged with your shares.
How does it work?
Inbox is a running stream of the engagement with the social accounts you have connected in HubSpot, including Twitter, LinkedIn, Facebook and Google+ Pages. It's perfect for marketers who have more on their plate than just managing their company's or client's social media, and need a daily "to-do" list of what to address in those networks. Here's what it looks like:
There is a lot you can do within Inbox, so let's break it down.
Interactions
Interactions in Inbox are any likes, favorites, retweets or +1's you receive on content published through HubSpot. Inbox will show you who's interacting with your HubSpot-shared content on a given network, their relevant social information and their relationship to your business. You can filter out interactions by each social network you have connected, or see all interactions on all your networks at once. Here's an example from HubSpot's Inbox:
In the example above, you'll see the interaction is marked as "New!" because I haven't read it yet (that will disappear as I scroll by it in my stream). I can see our tweet received 3 retweets, and I have the option to view the bios of who retweeted our content or schedule the content again. This is great because if you're noticing certain content performing well - it's getting a lot of "interactions" in Inbox - you can immediately schedule it again right from here. This will save you time by helping you identify content that resonates with your audience and getting it back into your queue to share again.
Conversations
As a marketer, you're engaging - conversing, really - with your fans and followers across multiple social networks all the time. Conversations in Inbox are your central location to check in on and continue these conversations without ever having to leave HubSpot. Conversations are any "@mentions" or comments on your published content. Here's an example of a Facebook conversation happening on our HubSpot Facebook page:
Here we could reply to DSM Publishing right from Inbox, or click on their profile to check them out on Facebook. Inbox allows you to engage with them immediately (via "Reply") or acknowledge their comment by "liking" their post. These conversations will always stay in Inbox, so you can go back to earlier conversations and reference them. If an older conversation continues, it will pop right back up to the top and marked as "New", so you'll never miss a beat.
New Followers
When someone new follows you on any of your connected Twitter accounts, or when you click on any individual profile picture in Interactions or Conversations, you'll see a version of the Contact Card, pictured below.
These Contact Cards are chock-full of the information you need as a marketer to prioritize, respond or even ignore the new follower. (Hey, spam happens.) It brings in the contact's Twitter information, any other social profiles we know about in our system and certain HubSpot information we have on them.
In the Contact Card you'll see a label that dictates the individual's relationship to your company, which you can click to see their Contact Record. You'll also see their email address on record and, if your HubSpot account is integrated with Salesforce, their Salesforce owner. Right from the Contact Card, I can choose to do a variety of things: I can follow them back from any Twitter account connected in HubSpot, see past interactions and any stream matches from monitoring, and tweet to them.
Bringing It All Together: Inbox, Monitoring and Publishing
This brand-new feature packs some new functionality into Social Inbox that makes it easier to see who's interacting with your content and how they relate to your company. It also allows you to schedule and publish content, and brings in that great contact color-coding system from Social Monitoring to tell you who's who. Here is HubSpot's recommendation of how to best use all the features in our Social Inbox tool:
Inbox: Start in Inbox to get a quick hit list of new followers and content that's resonating. If you have very little time, this is a great way to stay on top of everything and respond quickly.
Published: If hard numbers are more your thing - head over to the "Published" link to see what content is getting the most engagement overall (through the clicks and interactions data). You can sort by publishing time or greatest number of clicks to look for larger trends, and export that data to a spreadsheet if you'd like.
Compose: Now that you know what's working, you may want to switch up the copy and schedule that content again. Or, you can share any new marketing offers, relevant blog posts you've read or even content your customers are creating to support them. Remember to mix it up and share other people's content more than your own.
Monitoring: You also want to keep tabs on your Monitoring streams to see if you can provide any help to customers, move your leads further down your sales funnel, and listen to what others are saying about you, your business and your industry on Twitter. You can set up email alerts to make this easier so you don't miss anything in the monitoring view.
All HubSpot customers have access to Inbox.
What do you think? Does Inbox make your social media marketing lives easier? Let us know in the comments!