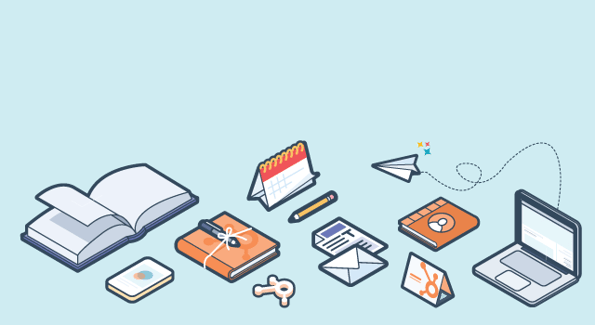 Blogging and social media are two inbound marketing super powers. Maintaining a good blog drives new visitors and leads to your website. Social media makes it possible for you to start one-to-one conversations that turn into lasting relationships. They are both extremely effective on their own, but have you ever thought of what would happen if they combined forces?
Now we are talking about something special. This post will take you through the top five ways to combine your blog and social media efforts to create the best viral content.
1. Promote blog posts on social media.
Let's say you just created a great piece of content and want it to reach a larger audience. An effective strategy is to promote your blog posts on your social media accounts. As simple as it sounds, this will benefit you in a big way. Not only will you expose your content to more people, but you will attract more relevant traffic to your blog. This then will result in higher blog subscriptions, improved SEO rankings, and even create opportunities to interact with engaged contacts. It would make sense that somebody who follows you on social media would be attracted to your blog content, right? Make sure you let them know what you have to offer.
HubSpot has a feature that will help you share content automatically to your social media accounts when you publish a blog post. In HubSpot, go to Content Settings and select "Blog" on the left-hand side. Choose the blog that you would like to modify. (Note, If you only have one blog, you'll only see one option in the drop-down menu.) Then under the General Blog Options, check the box next to "Enable social media auto-publishing".
After you set that up, go to Social Tab, click Social Settings, and check the Auto-Post option next to the social media accounts for which you want to enable auto-posting.
With auto-publish set up, you no longer have to remember to promote your blog posts on social, HubSpot will do it for you.
2. Promote evergreen blog content on social media.
While it certainly benefits you to promote your new blog posts, it is important to remember your older, historically high-performing posts as well. If you regularly contribute content to your blog, eventually you will have quite an extensive catalog. Chances are that within that catalog, there will be several instances of evergreen content. Evergreen content is timeless, valuable, and definitive to a particular subject in your industry. It typically has high search rankings, attracts a lot of traffic, and continues to generate leads for you long after its publish date.
Once you identify this content, be sure to promote it through social media. For example, since the below post has already been published, auto-publish isn't an option. To manually promote this post, find the post under Content Tab > Blog and go to the post's blog detail page by clicking the little gear next to the title. Then on the next screen, click "Share in Social Media" where it's highlighted below.
After you click the link, a screen to share the post will pop up. Using the tabs on the top left of the pop-up, select the different accounts where you want to publish your new message. You can publish messages to Facebook, Twitter, LinkedIn, or Xing using the tool. After you've chosen your accounts, all that is left to do is write the message and hit schedule.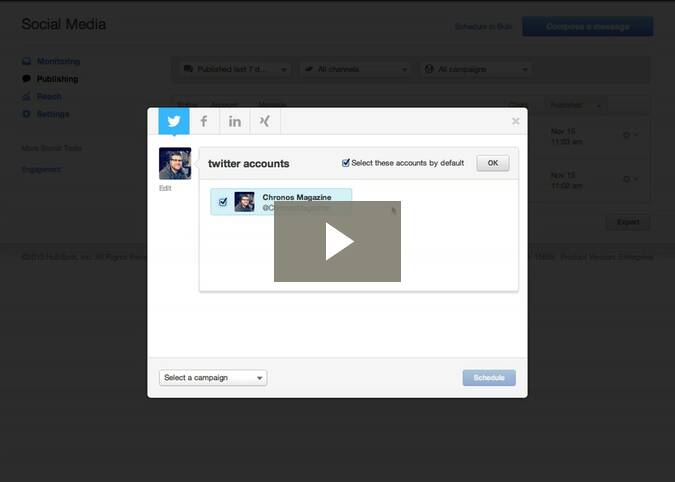 This will help to increase the amount of social media referral traffic to your blog. Remember, it may be "old" content to you, but to a new prospect it could act as the tipping point toward converting them into a lead or a customer.
3. Set up social sharing icons.
Have you ever walked by a brand new restaurant that had a line out the door and thought, "Wow, that place must be good. I'll have to try it sometime!" I know I have. I probably know nothing about this restaurant, but in a split second I have decided its quality is up to par. This is called social proof, and displaying social sharing icons on your blog has the exact same effect. The more users who engage with your content by clicking those little buttons, the higher its perceived quality.
Below is how the social sharing icons will appear in your blog.
Social sharing icons make it easy for your readers to share your content on their social profiles. It is extremely unlikely a reader will take the time to share your content if they have to navigate away from the page. With these buttons accessible, they can share your content with very little effort right from the page they are on.
Readers aren't the only ones interested in these sharing icon stats either. Search algorithms consider how much your content is shared and use these engagement metrics to measure relevance, so it can improve your SEO results too!
To set up these social sharing buttons in HubSpot, go to Content Tab > Content Settings. Click on the Blog link in the Content Optimization System Options side menu.
Then, choose the blog whose settings you want to modify.
Finally, check off the social media channels that you want to display on your blog. You can choose to share using Twitter, LinkedIn, Facebook, and Google+. Once you are done, click the Save Changes button. You can turn the icons off at any time by simply checking the box again.
4. Interact with engaged contacts.
Now that you are sharing content, hopefully your network will interact with your content by re-sharing it, clicking it, etc. Now let's discuss the opportunity you have to interact with the people who engage with your content, also called an "engaged contact."
An engaged contact is a current lead or customer of yours who has either liked, shared, favorited, or retweeted one of your social posts. Is it a good idea to interact with some of these users? Of course it is! This establishes a human connection between the contact and your company. Perhaps they have shared your blog post and mentioned how helpful it was in guiding their content strategy. It would be a good idea to thank them for the compliment. Perhaps you could even point them toward more related content. This will keep them coming back for more. Even more importantly, they will be delighted if a human-to-human connection is made.
Engagement data is also helpful for segmenting your existing database, perhaps to send a follow up email or other communications. Where do you find this data in HubSpot? Go to your Social Publishing tool and click on the title of your social message.
While you're on the Message Details screen, you can see a list of your engaged contacts, their lifecycle stage, and all of their associated social media accounts. Click on a contact's name to access their contact profile. You can then add a contact to a list by checking the box next to their name and then selecting the "Add to list" button.
Now that you have these contacts in a list, you have the ability to nurture them further down the funnel through various communication channels. Let's say this is a list of users who favorited your Tweet that was promoting your blog post about social media marketing. You can now reach out to them with targeted offers or other follow up information as a result of your segmenting. This is a great way to save some time and optimize your marketing channels without individually responding to each engaged contact.
5. Check to see what's working.
As you can imagine, in order to learn what is most effective you should measure your efforts along the way. For example, you can look for trends to determine which promoted blog posts performed best on different social media channels. By looking at that, you may find that your followers on Facebook are much more eager to access your content about downloadable ebooks while your Twitter followers prefer product updates. Make sure to take this into account when you are planning your future promotions. Check to see how well each post was shared on the Social Publishing screen.
Social reach is another great metric to pay attention to. In HubSpot, you can track your social reach growth for all of your accounts under Social Tab > Reach. Did your blog series that you promoted on Twitter grow your reach last month? Take a look your graph. If it did, what do you think made it successful? If it didn't, what tactics can you use to help grow your network for the next campaign?
While this report presents monthly data, you can still dive into individual weeks to see the progress you're making. Remember, this takes a fair amount of time to master, so don't be discouraged if you are not seeing immediate results.
It also important to keep tabs on your social media ROI. HubSpot's Sources tool allows you to quickly identify how many visits, contacts, and customers your social media channels have generated for your business. You can even click into a specific channel, and identify this breakdown by campaign. To do this, click on "Social Media" in your Sources Report.
All you have to do now is look at the report and see which social channels performed the strongest. How many customers did Twitter bring in this month? Seven? Great! Now you can say that your Twitter efforts were directly responsible for seven customers worth of revenue.
With Sources, you can tell exactly how much your social channels are worth and take immediate action on your findings.
There are so many opportunities to produce great content and share it at a large scale. HubSpot makes it easy with the Blog Tool and Social Inbox.
Have you successfully combined your blog and social media channels? How? What do you do? Let us know in the comments!