HubSpot Hacks are little ways to make your marketing just a bit slicker by combining different parts of HubSpot in unique ways. This week, we're combining Social Inbox with the new Personas tool for more meaningful conversations than ever.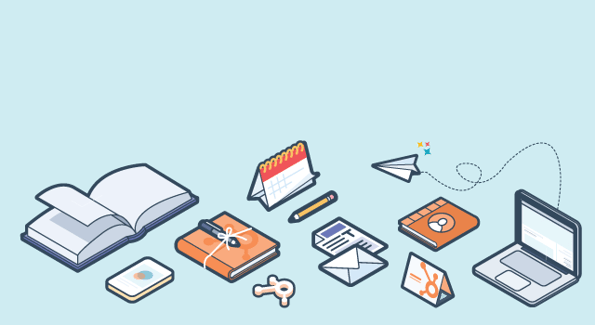 HubSpot's
new Personas tool
makes it e
asy for marketers to use buyer personas they've created to better target their marketing. As you know, creating buyer personas helps you understand your target audience - what kind of role they have in their professional life, what their goals are, and what challenges they face every day.
Buyer personas are meant to give you a deeper understanding of the types of people that buy your product or service. Segmenting your contacts into these buyer personas helps you make smart decisions about how you market to them.
Another tool that helps you better understand the contacts in your database is
Social Inbox
. It ties right into your contacts database, literally color-coding contacts in your monitoring stream to show you their HubSpot lifecycle stage and what they mean to your business, helping marketers prioritize the time they spend on social media.
But when you take a certain persona you've built out in HubSpot and monitor them in a stream in Social Inbox, you've got the power to do what most social media marketers can't: Have the most meaningful conversation possible on social media.
Let's break it down: Social Inbox lets you monitor any list of contacts you have in HubSpot. With the Persona tool, your lists get even more defined and targeted. When you create a persona in HubSpot, we automatically make lists of Customers, Leads, MQLs (Marketing Qualified Leads) and
All Contacts
for that persona. Now, when you monitor any of those lists in Social Inbox, you have an even deeper understanding of who you're talking to because you already know all about that customer, or that lead, because of their persona. This allows you, the marketer, to have the most relevant conversation possible while interacting on social media.
To get started, you'll need a persona in HubSpot and a connected Twitter account in Social Inbox. Let's walk through setting these up before creating your targeted streams to monitor.
Setting Up Personas
There are four steps to setting up a persona, and it all starts right on your dashboard in HubSpot.
Clicking on "
Add Persona
" will bring you to a friendly walk through to get you started.
Use the wizard to give your persona a name (and a nice picture!), some information on their job, and a custom form-field that will help new contacts self-identify as this persona when filling out a form.
Want to learn more about personas and setting them up? Check out our help doc on creating personas.
And if you already have contacts in your database but want to assign personas to them,
this help doc
will show you how.
Setting Up Social Inbox
If you haven't set up Social Inbox yet, head on over to the top navigation bar in HubSpot and click on Social → Monitoring. You'll get a nifty setup wizard that'll walk you through the steps.
During setup, make sure you connect at least one Twitter account so you can monitor your contact lists.
Personas + Social Inbox = More Meaningful Social Conversations
Now that you're all set up on both tools, let's start monitoring your persona lists. You can set this up in three easy steps:
1. Head on over to HubSpot, and in the top navigation bar, click on Social → Monitoring.
2. Click on the "Create stream"button from the stream menu of whatever stream you're currently monitoring.
3. Make sure you choose to monitor "A Contact List", and you can type in "persona" to quickly find the list you'd like to monitor:
From here, you can choose which type of persona list you'd like to monitor and create your stream. In this example, we'll use Owner Ollie as our persona. Each list is based off that contact's lifecycle stage, so while they're all considered "Ollies", they're in different stages of their HubSpot life. Here's some things to consider while monitoring the different lists to have the most meaningful conversations possible:
Customers: These are Ollies that are already paying you. Ya-hoo! You'll want to check this list for any Ollies that are having problems (so you can get them some help quickly) or who are evangelizing your product or service (so you can thank them). When listening to these customers, ask yourself: What does Ollie want or need to work with our product/service better? Knowing the answer (and providing what Ollie needs) can help you keep delighting Ollie over and over again.

MQLs: Close these leads! MQL stands for "Marketing Qualified Leads." These contacts are primed up and ready to become your customers - if only...And there it is: What do your Ollie MQLs need to become your customer? Why is Ollie becoming a customer today? You can listen on this stream as well as the customer stream to see what these MQLs need to become a customer. You can also explore other parts of the HubSpot software to find any patterns or trends for what is moving Ollie from an MQL to a customer and keep that in mind when listening to this stream.
Leads: The goal of monitoring your Ollie leads is move those leads further down your funnel - and right onto that Owner Ollie MQLs list. Because you know this group is interested in your product but perhaps not quite ready to take that next step in the buying process, ask yourself: What can I learn from the MQLs list that will help me move these leads? One way to approach this is to listen and watch for differences in interactions and types of engagement between your leads list and your MQLs list. Are they different? In what ways? Answering these questions could give you some insight on how to move those leads.
All Contacts: This list is a great catch-all stream for all Ollies and can give you a better understanding from a social perspective of the persona as a whole. There's a reason why Owner Ollie isn't the same as your other personas. What's Owner Ollie like on social media? How does he use it, and when? You can add your thoughts on this into Ollie's Story in the Personas tool to help better shape Ollie's buyer persona.
Ready to have more meaningful conversations on social media? Head on over to your Social Inbox tool to set up streams of your persona lists, or create your personas now in HubSpot.