As a good Inbound Marketer, you already know the value of social media. It has the capacity to increase awareness, generate leads, and even delight customers once they have purchased. You probably have a presence on every major platform, and maybe even some of the minor ones too. But all that monitoring and production can take time. How much exactly? According to Social Media Examiner, 62% of marketers spend over 6 hours a week just on social media.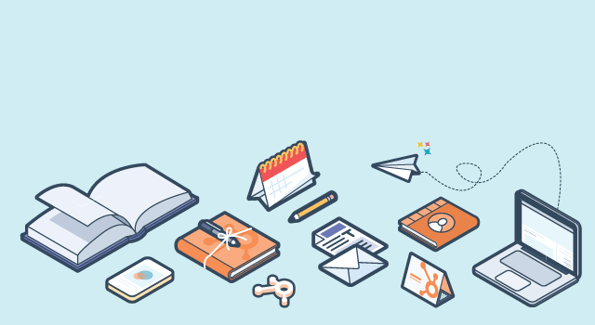 6 hours a week....Nobody has time for that. Especially not a busy, savvy marketer like you. Those of you who are regular HubSpot blog readers or Inbound Certified, you might remember this awesome post on "11 Ways to Make Social Media Marketing Less of a Time Suck." Today we are going to whittle down those steps even further using HubSpot tools and content, to make those 6 hours a thing of the past.
Tip 1: Plan Your Posts in Advance
As with the rest of your content, it pays to plan in advance. Best way to set yourself up for success? Use a social media calendar the same way that you do with your blogs and content offers. You can even find one in the marketing library to help get you started. Utilizing a social media calendar to more effectively coordinate across teams, and ensure that your content is getting maximum visibility. It allows marketers to create social content around a new product offering, marketing initiative or an upcoming event.
Some of you might be a bit skeptical about using a calendar for social media content, as it seems a bit counter intuitive at first: Social media is all about the art of conversation, and engaging with your prospects leads and customers in real time. How can canned responses generate the results that we are looking for? If we rely on this entirely, then the answer is, it won't. Newsjacking an event that happened a week ago looks stale and out of touch. However. having content mapped out in advance will also allow you to respond to breaking news, trending topics, and, of course the inevitable customer complaint.
Want a way to way to bring your content calendar to life in your HubSpot portal? Check out out this chapter in the Social Media Userguide from the HubSpot Knowledge base.
Does the prospect of creating those posts one by one sound daunting? Check out the bulk uploader feature in the social media publishing tool and read more about it read more about it here.
Time and/ or content strapped? If you are a marketing team of one, or just do not like planning in advance , you can still take advantage of automation features in HubSpot. Enable the Blog auto-posting feature in your social media settings, and start sharing the inboundy love on all of your networks.
Is all of this news to you? Sounds like it might be time for a review session with one of the Inbound Marketing Professors at our Social Media Class.
Tip 2: Content Curation the Easy Way
So far we have talked about how to share in a time effective manner. Now let's talk about finding content that is worth sharing. As any astute student knows the 10:4:1 rule dictates that for every 15 posts on our networks, 10 of them need to be content other than ours. What criteria should we employ when selecting this content?
Persona - would our target buyer persona find this content interesting, fascinating, enjoyable, or valuable?

Is the source reputable? A potential strategic partner or thought leader or even a competitor that really knows what they are doing?

What sound bites can we pull out for use on our social platforms?
Knowing the answers to these questions will make it much faster to select the content that is social media worthy. So once we know what we are looking for where do we go searching for it? Our recent offering on How to Get 1000+ Followers on Twitter lists no fewer than eight sources for amazing content worth posting anywhere. We would also include any online industry publications, niche networking platforms, or Linkedin Groups that your buyer persona might be spending time on.
Want to keep all of your efforts inside of HubSpot? Utilize the social monitoring tool to create streams of all of your leads and customers. Get real time notifications every time they reply to you, mention a competitor, or even mention one of your keywords or a hashtag. Did your heart just skip a beat? Are you in love with possibilities? Check out the next social media monitoring class.
Tip 3: Repurpose, Repurpose, Repurpose
Think that there is a one to one relationship between blog posts and social media posts? Guess again. As you are writing that stellar blog post, start thinking in advance of all of the lovely soundbites, quotations and stats just begging to be tweeted, liked, pinned, and shared. The same goes for the awesome content found above. Put your own spin on the content that you are sharing - provide value that goes beyond the subject matter. Spend a few minutes a day scanning these sources, and let the Chrome plugin or the social media bookmarklet tool (follow the link and click apps & add-ons) do the rest. One click will allow you to share content across Facebook, Twitter, Linkedin Company Pages and Groups, AND customize your content for each of those platforms (see tip 4).
Also, there is nothing wrong with sharing content more than once, given the typical half life of a social media post:
75% of engagement on a Facebook post occurs within the first five hours.
It only takes 2 hours, 30 minutes for a post to get 75% of the total impressions it will get.
In regard to reach, 75% of your post's audience sees your post in less than 2 hours.
Furthermore, it takes just 30 minutes for a post to get 50% of its global reach. (Source: HubSpot via Wisemetrics)
So do not fear the retweater. Not only do multiple posts allow our posts to stay visible, it also allows us to connect with prospects in different time zones, across the country and around the world.
Tip 4: Make sure to customize content on different platforms
Yes, we can hear the record scratching on that one. I know what you're thinking: "How does customizing my content for each post save me time?" Short term, yes that step will take more time, but in the long run this will allow for more lovable, readable content. Which in the end will generate the results that you are looking for. In the words of Hunter S Thompson, "anything worth doing, is worth doing right."So how should content vary among the big 4? Here are a few criteria to consider at a high level.
Type of content: Got a question for your followers? Post it to Twitter. Remember when Facebook started using #hashtags? Yeah, neither do we. For the time being hashtags are something that belong in tweets and tweets only.
Length of posts: Size matters: brevity counts on both twitter and facebook, but only one requires you to stop at 140. Overall shorter posts perform better: tweets between 100 and 115 characters generate the most retweets, while on Facebook
Timing of posts: Facebook allows for longer more meaningful posts, and as such it is optimal to post once every two days. Given twitter's 140 character limit, it is optimal to post 1-4 times per hour, according to data on KissMetrics.
Looking for a deeper dive on how to customize your social content? Check out Amplifying Your Content with Social Media. Oh and while you're there, check out the Inbound Marketing Certification, for the chance to show the world exactly what a bad-ass marketer you are.
Tip 5: Post across the right social media channels
So if we are going to publish content across all of the big 4, let's maximize the ROI of our efforts, by finding content that will thrive in all environments:
I

mages are winners on most channels. Buffer recently reported that images shared on Twitter increase retweets by 150%. Photos on Facebook. HubSpot's own data found that on Facebook photos get 53% more likes, 104% more comments and 84% more click-throughs on links than text-based posts. And then there are platforms like Pinterest and Instagram which are based purely on images. Get the picture?
Cross Channel Funneling. Got a killer Facebook contest? Advertise it on Twitter and Linkedin. Need to get a question answered answered on Linkedin Groups? Post it to to Google+, Twitter and Facebook.
The more you post, the more data you get. Not sure which content will resonate more with your followers? The only way to find out is to test, test, and test some more. The larger our dataset the easier it will be to find meaningful patterns that can info

rm our efforts going forward.

Eager to learn more? Check out our 3 part series on Building a Better Social Business