A referral. It's an instant, no-brainer way to grow your business, offer your clients an incentive, and grab ahold of a solid lead. Sounds foolproof, right? When working with tools that are designed with data deduplication in mind, you'll want to make sure you set up your referral process properly.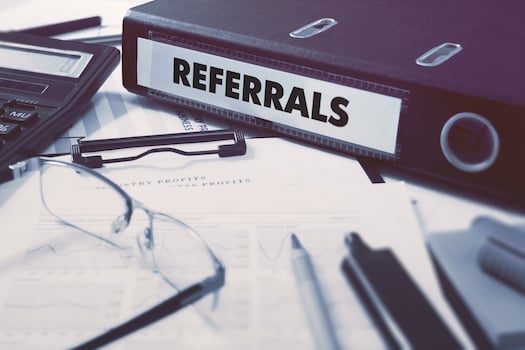 While there are a couple of ways you can choose to deduplicate your contacts when importing them into HubSpot, when using form submissions to generate leads the email address field is crucial.
Create the Referral Form
First and foremost, you'll want to begin by creating your new form. Remember to keep this simple — you don't want to ask your future contacts for too much information at once. Your goal should be to collect just enough information through your form to be able to follow up with your lead and convert them to a customer, not to overwhelm them.
Since this will be a referral form, properties like "first name," "last name," and "email" will be crucial, as well as a property to indicate who the referrer is.
Pro Tip: Make sure that you have turned on the "required" setting for the default email field which will hold the referee's email address. Otherwise, a new contact record will not be created for them and you will not have a lead to follow up with!
When creating your referral form, make sure to navigate to the form's "options" tab and turn off the toggle for cookie tracking. If you do not follow this step, existing contacts may be updated with the contact information of the person they are trying to refer. This causes a jumble of merged data down the road that would have been an avoidable headache.
Create and Add the Correct Properties to Your Form
Because the email address that is submitted will be compared against your current contact database before HubSpot decides whether to create a new contact record, you'll want to use the default email property to enter your referee's email address rather than your own custom property. This means that in order to know who is referring the new contact, you'll want to create a custom single-line text contact property for the referrer. This can be something as simple as "referrer's email."
Utilizing the "label" and "placeholder" fields in the form editor here will help to clarify which field is meant to contain the email address of the person being referred versus that of the person referring them.
Once the referral form has been submitted, a new contact record will be created for the referral. In their contact record, you'll be able to locate all of the information the referrer entered on the form, including the referrer's email address so the new contact can still be tied to the current customer.
As a bonus, because of this property you'll be able to filter your contact records by those who came in through a referrer or filter your database by a specific referrer.
Want to connect with others on HubSpot tips, tricks, and updates? Head over to the HubSpot Community to join a conversation or start one of your own.