Around 2.38 billion people log into Facebook every month, and 1.56 billion of them log in every day. With so many people using the platform, advertising on Facebook can be a great way to surface your best content to your target customers where they love spending their time. Depending on your buyer persona, this means it can be an effective place for you to generate leads, using a balance of both organic efforts and targeted advertising.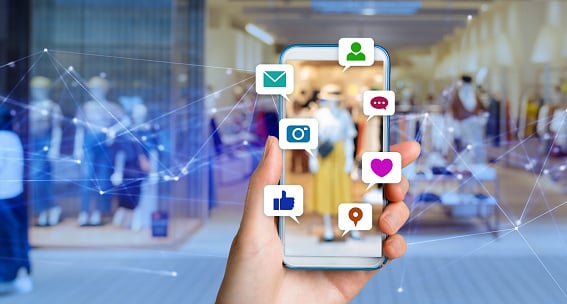 Lead ads are among the most effective ad types on Facebook. Why? Because lead ads allow Facebook users to access offers and discounts without ever having to leave the Facebook app.

Lead ads look just like traditional link click ads, except that when a user clicks on a lead ad, the lead form appears as a pop-up inside of Facebook, rather than leading away from Facebook onto another webpage. The best part is, Facebook auto-populates that form with information it already knows about the user, like name, email address, and phone number.

After connecting your Facebook Ads account to HubSpot, you can create Facebook lead ads through the HubSpot ads tool. Let's take a closer look.
Ad Copy and Creative
1. Image or Video
Visual content is not only treated more favorably in the Facebook algorithm, but it's also more likely to be shared and remembered than written content. No matter what type of ad you create, your image needs to be visually appealing.

When determining the best image or video to use for the ad, take time to reflect on the type of emotional response you're trying to evoke. Studies show that people rely on emotions, rather than information, to make brand decisions. Emotional responses to ads influence a person's intent to buy more than the actual ad content or text.

Your ad visual is an opportunity to get creative with how you demonstrate your brand. Choosing random images likely isn't the most effective use of this space. Try to create narrative consistency between your company, your offer, and the ad. What's the best way to visualize what you're actually offering? How can you visually demonstrate the

benefits of your content, product, or services?
2. Text, Body Copy, Headlines
A value proposition tells the reader why they should click on your ad to learn more about your product. How is your product or service different from any other? Why should the viewer click on your ad to see your website?
Like most aspects of inbound marketing, developing effective advertising creative means aligning with your buyer persona.
To do so, ask yourself: What is my target audience thinking, feeling, and doing? By understanding what your target audience is currently experiencing, you can start to create and optimize content that resonates.
Also known as customer journey mapping, this type of exercise can be a great way to empathize with your ideal buyer and step into their shoes. Learn more about customer journey mapping here.
Reflect on what your persona is thinking, feeling, and doing. Your ad copy should align with that state of mind. Use these questions as a set of guardrails to lead ad text, body copy, and headlines you're creating for your offer:
How are you grabbing a visitor's attention with select keywords or phrases?
Are you using any testimonials or statistics promote credibility
Can you repurpose some of the language or copy from your highest performing landing pages to help frame this offer?
3. Call-to-Action
A beautiful and relevant ad is great, but without a call-to-action (CTA), your viewer might not know what to do next. Pick a CTA that aligns with the underlying action of your offer.
Promoting content? Try options like "Download," "Learn More," or "Subscribe."
Advertising a sale? "Get Offer," "Sign Up," or "Book now," are great for inspiring action.
Want to inspire conversation about your product? Give "Apply Now" or "Get Quote" a shot.
4. Facebook Form
With the Facebook form feature in HubSpot, you can customize the information you are gathering from visitors in Facebook in exchange for your offer. Typically, name and email are collected by default, but you can customize these fields to gather the information that matters most to your business.
Two important areas to note in your Facebook form section:
While HubSpot can't provide pare any direct legal advice, it's usually recommended to have a privacy policy on your Facebook lead ads. Paste the link to your Privacy Policy in the Privacy Policy link box.

If you are advertising to regions following GDPR, you can add

consent checkboxes and text to your form to follow privacy laws and regulations.
Then, in the thank you section, personalize what visitors will see once they've filled out the form. Set expectations by providing a headline, quick message, and a button they can use to directly access your site from Facebook.
Targeting
Today's platforms have evolved to solve for the individual user experience — individuals can see different things and have totally different experiences in the exact same place. That why, when it comes to your advertising strategy, targeting and segmentation should always be top of mind.
You're spending money to ensure your ideal buyer sees your ad. If there is a misalignment between the content and the audience, you could be wasting time, money, or resources (or all three!).
This is why it's important to get as specific as possible with your targeting and who you are trying to reach on Facebook. Here, you can use your buyer personas to give key insight on the types of people you're trying to reach with your lead ads.
Key pieces of information to pull personas when considering your Facebook audiences are:
Location
Age
Gender
Languages spoken
Interests and behaviors
You can target your Facebook lead ads in HubSpot in two ways: by creating an audience or directly within the lead ad editor.
Budget
In HubSpot, you can set the daily or total budget for the ad. The actual amount spent daily may vary, as determined by Facebook based on the opportunities for results each day.
A minimum of $5.00 is recommended.
You can also customize how long you want your ad to run, down to the exact dates and time.
Not sure where to start with your Facebook advertising budget? Check out this lesson on the Dollar-A-Day Facebook strategy in your HubSpot account:
Automation
Lead nurturing is the process of building relationships with your prospects with the goal of earning their business when they're ready. In practice, lead nurturing is a marketing effort focused on engaging with your leads and customers in a way that encourages them to progress toward a specific action.
While lead nurturing is typically viewed through the lens of your email and marketing automation software, think about how ads can now supplement that strategy. After all, effective ads don't live in a bubble. They work with the rest of your marketing content to create a relevant and cohesive experience for anyone interacting with your brand.
When you create a Facebook lead ad in HubSpot, you can enable notifications to be sent to you or your team the moment a lead ad is submitted. You can also create a custom list of all contacts who submitted this specific lead ad.
Looking for more automation options? Navigate to the workflows tool to trigger more actions based on lead ads submissions.
Ads can be a great way to reach and connect with your website visitors. With the HubSpot ads tool, you can create engaging Facebook lead ads that integrate seamlessly with the rest of your marketing content — all in one place.
Looking for some inspiration?
Head over to this post on HubSpot community to discuss your favorite examples of inbound ads!
Want to connect with others on HubSpot tips, tricks, and updates? Head over to the HubSpot Community to join a conversation or start one of your own.