Webinars are a fantastic way for marketers to convey information in a live format. They provide an excellent, interactive medium to help you drive home a message to impact your sales and marketing efforts. In fact, according to the Content Marketing Institute's 2016 Benchmark report, 66% of B2B marketers identify webinars as the most effective digital content tactic. That's a hefty amount!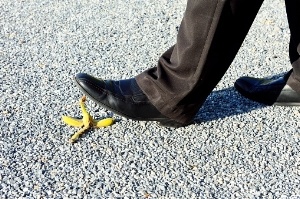 And if you couple webinar software with a marketing platform like HubSpot, you'll be able to streamline your marketing efforts and increase efficiencies so you can focus on what's important -- like the overwhelming amount of character arcs in HBO's Game of Thrones series.
But hosting a successful webinar isn't just a simple plug-and-play tactic. There's a lot of coordination involved before, during and after your broadcast to ensure your webinar goes off without a hitch. In this blog, I'll be running through 13 common potholes you might encounter whilst launching a webinar-- and what you should do to avoid them. To make it easy, I'll break it down into five phases of a webinar lifecycle
Phase 1: Planning the Webinar
First, let's start with the pre-webinar planning. This is when you sit down with your team and determine a ton of different things about the webinar, such as audience, goals, content, speakers and logistics. Here are a few things that can go wrong:
#1. Forgetting to Set Goals
Sadly, lots of marketers get lost in all the hubbub of hosting a webinar that they forget to set actual goals. To ameliorate this faux pas, I recommend using HubSpot's Campaign tool to organize all the webinar assets, including your goals.
Leveraging the Campaigns tool will keep you on track and will help you report on ROI for your marketing efforts.
#2. Not Segmenting Your Audience
This is another bad habit of marketers. Sometimes, failing to segment and promote the webinar to the right audience can be detrimental. I always recommend creating customer personas so segmentation becomes second nature. I recommend using the handy HubSpot List tool to identify the right types of contacts that should be invited to attend. For example, if it's a customer webinar, you probably will want to segment by lifecycle stage so you don't accidentally invite your leads (who would undoubtedly be quite confused of the content you planned to show)
#3. Picking a Bad Day to Host
This is a dangerous one. You don't want to accidentally schedule your webinar for a holiday or for a specific time that doesn't bode well for you audience. Double and triple check your calendars to ensure you're not hosting the broadcast at a time comparable to 2AM EST on Christmas Day.
Phase 2: Creating Webinar Assets
Alright, so once you've nailed down the logistical planning for the webinar, you'll then want to consider all the assets you'll need to create and all the things that can (potentially) go awry. Let's dive in!
#4. Forgetting to Integrate Your Landing Page Form
Ever hear the one about the webinar landing page that had a ton of form submissions but nobody showed up to the webinar? It's actually not that funny. But seriously, if you're using HubSpot's Landing Pages and a webinar platform that integrates with HubSpot (like GoToWebinar), you need to ensure that the landing page form submissions sync with the webinar registration mechanism. To do this, it's really four easy steps (example shown is of GoToWebinar):
Step 1: Go to your integrations menu in your HubSpot portal profile dropdown
Step 2: Scroll Down to GoToWebinar and make sure it reads "integrated" in green. If not, follow the steps to activate the integration
Step 3: Click on "Settings"
Step 4: Make sure your upcoming webinar that you created in GoToWebinar is switched to "on"
Step 5: Go to the form editor on your landing page and scroll down to the "GoToWebinar registration" drop down. Ensure your webinar is select.
Voila! You're all set to convert leads on your landing page and have them be registered in the GoToWebinar interface.
#5. Typos / Failing to Review Slide Formatting
Picture this: you're halfway through a webinar you're hosting when you approach the slide where speaker is set to talk for five minutes. At the top of the slide is a big glaring typo. Or maybe it's placeholder text that says "remove body copy below". Whoops. That five minutes of speaking is going to feel like an eternity.
Do yourself a favor and have a couple people review the slides for typos or formatting before going live. Sure, sometimes decks are being edited until minutes before the presentation-- but that doesn't mean you shouldn't be reviewing as you go (because you should).
Phase 3: Promoting the Webinar
Well, you've made it through the entire planning phase. Nice! Now you'll need to get people to actually sign up to attend the webinar. So what are the things you should be wary of during this stage?
#6. Forgetting Promotion on Key Channels
You've built the webinar, but will they come? Chances are that if you don't promote it effectively and thoroughly on as many channels that make sense. Of course, you'll want to leverage the core channels to promote, which are:
But there are many more you should consider, such as:
Website real estate (i.e. Calls-to-action on the homepage or highly trafficked pages)

Sales rep templates via HubSpot Sales tools

Paid ads (using

HubSpot's Ads Add on

)
#7. Promoting Conservatively
Chances are, you're not going to hit your attendance goals by sending one email, writing one blog post, and publishing one tweet. In fact, you're going to want to triple, double and duodecuple (that's times twelve-- I looked it up!) each of those actions, respectively. Ultimately, it's important to promote several times on each channel to ensure that you're getting the best response for your efforts.
The rule of "3 emails for webinar promotion" holds up well here. You'll want to invite people via email three times throughout your webinar promotion, and it's good to mix up the tactics. I recommend sending a bulk email first to the entire list. To those that don't register, craft your email to be more personal and direct-- a simple reminder to register. Your last email should come from the main POC of that particular contact (sales rep for lead, account manager for existing customer) and all the better if they send it themselves. If not, you can always build a template using the HubSpot Sales email templates.
#8. Poorly-timed Promotions
Similar to hosting your webinar on the wrong date, promoting your webinar at the wrong time can be catastrophic for your attendance goals. You'll want to ensure you're sending out emails and social messages at times most ideal to your target audience. Your HubSpot Email tool can provide you with the scheduling you need. Just be sure that your time zone is correct! If it's incorrect, it can be modified in your email settings.
Phase 4: Hosting the Webinar
Alright, we're in the home stretch now. You've got all the content squared away, the promotion has rolled out and you're ready to put on a kick-butt webinar for your eager registrants. But hold up! Here are a few key things that you should be aware of so you don't trip at the finish line.
#9. Forgetting to Record the Webinar
Even the most seasoned webinar veterans are occasionally a victim of this oversight. Because hitting the "REC" button is such a simple task, it oftentimes can get overlooked amongst all the other webinar logistics. A helpful tip: put a sticky note on the main presenters laptop that says "REC" and keep it there up until the day of the presentation. Also, ensure that multiple people are recording the broadcast as well just in case the main computer crashes (terrifying, but it's happened).
#10. Skimping on a "Logistics Contingency Plan"
Computers crash. Phones stop working. Slides freeze up on screen. While you can't think of everything that can go wrong, anything can (and will) go wrong. Thanks Murphy. A solution I recommend is discuss and prepare backup solutions in case:
Computer hardware goes awry

Audio / video fails

A speaker fails to show up
#11. Neglecting Buzz and Promotion
Promoting the webinar isn't just isolated to before the broadcast date-- you want to ensure you're also actively monitoring social feeds for discussion points and questions from your audience. They're active on social media, so you should be too! Tip: You can leverage HubSpot's Social Inbox to create a feed of your webinar hashtag so you can interact with your audience in real time. Snazzy!
Phase 5: Post-Webinar Logistics
The webinar was a success? Great. But your work isn't done just yet! In order to ensure you put the bow on your webinar and set up yourself for future success, here are the key items you want to be sure you avoid post-broadcast.
#12. Forgetting Follow-up Communications
The attendees got the full experience, but what about their co-workers? And the non-attendees? And your future prospects? A lot of a webinar's value comes weeks (or months) after its been held in the form of evergreen conversions.
You'll want to convert your sign-up landing page into one where people can watch it on demand. Simply switch up the language on the page and have it redirect to a resources page. I recommend building this page prior to the webinar concludes, so all you need to do is upload the on-demand video and ship it off to your audience. Then, any new leads will need to fill out the form to view it.
#13. Forgetting to Analyze, Tweak and Improve
Lastly, if you want to make sure the webinar was a success and that you improve your process for future broadcasts, you'll need to remember to look at your goals and understand how close you came to achieving them. Remember that campaign I had you create in Phase 1? Now's the time to leverage that dashboard and to analyze your work.
Did you hit your attendee goal? Your new customer goal? If so, awesome! Figure out what worked and continue iterating on those strategies. Didn't achieve your goals? Well, take a look at where you missed the mark. You can only improve your strategies moving forward, so make sure you don't skip this necessary, albeit final, step.
That's a Wrap!
There are many more stumbling blocks that you might encounter while hosting, promoting, and analyzing a webinar-- and truthfully, you'll probably be the better for experiencing them and learning how to avoid them in the future.
Want to learn more about webinar best practices that will help improve your sales and marketing? Be sure to check out our on-demand webinar, "How to Leverage Webinars to Fuel Your Marketing and Sales Engine" hosted by us here at HubSpot with our friends at GoToWebinar.