Welcome to the latest edition of the Product Spotlight. Sit back, relax, and let our Product Marketing team members walk you through this month's biggest and most exciting HubSpot product updates. We've got a lot to cover today, so let's get started.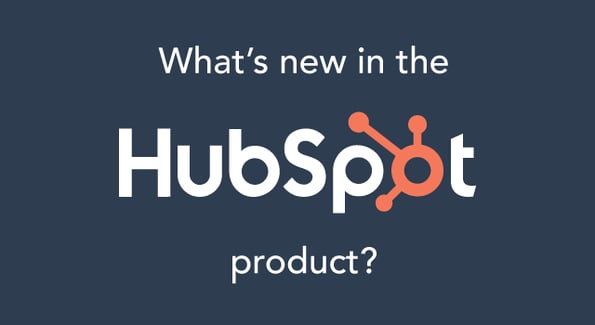 What's New in Marketing Hub?
Marketing Contacts
There are a lot of reasons to keep contacts in your CRM that you won't market to. Bounces, unsubscribes, partners, sales contacts, one-off support tickets, the list goes on. And if you're not marketing to them, you shouldn't have to pay for them.
Marketing contacts is now available in a new subscription of Marketing Hub.
With marketing contacts, you'll only pay for the contacts that you choose to market to with email and ads, and get free storage of up to one million non-marketing contacts. Plus, new scaled contacts pricing across all tiers makes individual contacts cheaper as you grow.
Want marketing contacts in your account?
If you're already a Marketing Hub customer, contact your Success Owner or HubSpot Support to talk next steps. If you're not a Marketing Hub customer yet, we've got great news for you. All new Marketing Hub subscriptions come with marketing contacts built in. It's as easy as talking to our sales team about Marketing Hub or purchasing it on our website.

Ready to get started?
Ads Optimization Events
To break through the noise and get the best return on your ad spending, your ads need to be targeted and relevant at every stage of customer interaction.
An excellent way to do this is by using the customer data that lives in your CRM. For example, data about offline conversion events can help you target and optimize your campaigns to improve lead quality and increase profit.
By importing these offline conversion events to Google, you can measure what happens after your ad results in a click to your website or a call to your business. This gives you more comprehensive view of which keywords and targeting criteria drive the most cost-effective conversions, leading to more customers for less money.
This is why we built Ads Optimization events. It enables you to sync your HubSpot CRM contact lifecycle stages with Google and feed your offline customer conversion data right from HubSpot into Google Ads — without any integration work or developer help needed.
Now, Facebook and Google will know when a user became a lead or customer and can tell you how much that user is worth. This means Facebook and Google can start optimizing toward the most valuable leads for your business.
This feature is available to Marketing Hub Professional and Enterprise users.
Ready to get started?
Personalization Tokens in Automated Emails Now Support Custom Objects
Personalization tokens have always been a crucial part of sending relevant communications to your audience. But personalization goes beyond just having the audience's contact and company information. Truly personalized messaging involves the data that makes a specific customer's interactions with your business unique. Interactions like like their membership data, an event they've signed up for, or a product they're interested in — all things you can get with custom objects.
That's why we've made it possible for personalization tokens used in automated emails to now support custom object values. The key to driving personalized customer experiences is connected data and with this update, you'll be able to fully leverage all your data right from within HubSpot.
This is currently available for Marketing Hub Enterprise customers.

Ready to get started?
Sidebar Embedded Workflows in Ad Campaign Creation
One of the most powerful tools in HubSpot is Workflows. Naturally, combining Workflows with other campaign tools makes them even more impactful. That's why we introduced embedded Workflows to our Ad campaigns tool.
Now, when you create lead generation or web traffic campaigns in HubSpot, you can create workflows of contacts acquired from those campaigns directly in campaign creation. This means you can easily set up lead follow-up workflows without having to remember what form you used in the campaign or the ad ID from the website traffic campaign that converted your contact. It's done automatically for you.
This feature is available now for Marketing Hub Pro and Enterprise users.
Ready to get started?
Marketing Email Health Tool
Email health is a new tool that shows your email deliverability performance and how inbox providers view your email.
Poor email deliverability practices make it hard for you to reach the inbox and can reduce the effectiveness of campaigns. But improving the deliverability of your emails is hard. There isn't always a good way to know how you are doing or how to improve. Until now. The email health tool provides a way to measure and track email deliverability.
Email health provides a snapshot of email deliverability performance for the last 30 days by combining the most important email deliverability factors:
You can see recommendations for improving each of the four factors and track progress by viewing how Email Health is trending over the last twelve months.
This is available now to all Marketing Hub users.
Ready to get started?
Dashboard Activity Log
You spend a lot of time crafting the perfect dashboards to give your team visibility into important metrics and progress towards key goals. But for scaling teams, maintaining that perfect dashboard can be tough as members make changes to the dashboard to help them answer their specific questions.
We've built a chronological change log to give you a historical view into what changes were made within your dashboard, who made them, and when. This makes it easier to recreate your perfect dashboard view.
This is now available for all customers across all hubs.
Ready to get started?
New Ways to Collaborate with Your Team on Workflows
Workflows can be complex. You may need to explain your thought process to a colleague or track workflow outcomes. Now, you can add comments to your workflow to make it even easier to collaborate on processes with your team.
You can also export workflows as an image to share and collaborate with colleagues, clients, and partners who aren't HubSpot users.
Ready to get started?
Unused Workflows Tab
Some automation is evergreen while other workflows become obsolete as your strategy changes. That's okay when it's just one outdated workflow, but it can get pretty messy when your team starts to scale. Unused workflows clog up your account, causing headaches and unwanted limit overages.
But now, you've got an easy new way to identify and cordon off unused workflows to keep your account clean and your team efficient. Workflows that are not referenced in another tool and are either turned off or haven't been used in the last ninety days will be collected in the Unused Workflow tab, making it simple to review and delete the ones no longer needed.

Ready to get started?
Multi-Language Blog Settings
We've expanded the flexibility of our multi-language blog settings so you can now set a different template for each blog language and edit comment, social sharing, and Google AMP settings for each language variant of your blog. For more information on all the ways you can customize your multi-language blog, check out the link in the description below.
Ready to get started?
What's New in Sales Hub?
Introducing the HubSpot Keyboard for Your Phone
We're excited to introduce the new HubSpot Keyboard for the HubSpot mobile app. Sales reps know that being responsive and timely in their follow-ups is a winning strategy. According to Lead Connect, 78% of customers buy from the company that responds to their inquiry first. And there's an 80% decrease in response rate if your response takes longer than 5 minutes. It pays to be fast in getting back to your prospects.
But how much time do you spend toggling between different emails, files, and apps to get the content you need in order to respond? More often than not, our most important documents, links, follow-ups, and notes are scattered in apps, emails, and messages that take time to find. This means it takes longer for you to get back to your prospect.
Instead of scouring for the right resources, the HubSpot Keyboard is an alternative to your default mobile keyboard. It allows you to insert information from your HubSpot CRM, such as snippets, meeting links, quotes and documents, into your messages on your phone. Since it's an alternative to your phone's keyboard, you can bring it up in any app like Whatsapp, Slack, Gmail, and more.
To get access, please update to the latest version of the iOS or Android App. The directions to implement the keyboard vary between platforms, so please follow the prompts to enable it on your phone. Once the keyboard is enabled, just tap on the Globe or Keyboard icon on your phone to switch to the HubSpot keyboard.
Ready to get started?
Create Follow-up Tasks on Mobile with One Tap
Creating tasks shouldn't take time away from your important priorities. Now, you can create follow-up tasks on Mobile with one tap so you can get back to what matters most.
For example, when you complete a task from the Task sheet, you will now have the ability to quickly create a follow-up task by tapping a button.
To get access, you'll need to update the HubSpot Mobile app to the latest version of the iOS or Android App. Then, you'll be able to create follow-up tasks by tapping on a task to bring up the Task bottom sheet. If you complete a task, you will now be prompted to create a new follow-up task. You can set the due date, create the task with the default settings, or dismiss the prompt all together. The new task will be stamped with the title, type, and any associations from the task it was created from.

Ready to get started?
What's New in Service Hub?
Email Search in Conversations Inbox
We're excited to share that Inbox search now supports searching conversations by email addresses. Previously, you couldn't search easily by email address. Now, searching for a conversation by email address enables you to find relevant conversations quickly.
Go to your Inbox search bar and search for an email address. When you search using an email address, the results will be more accurate and relevant.
Ready to get started?
Adding Attachments in the Comment Section of Your Inbox
You can now add attachments in the comment section of an Inbox. Adding attachments to comments enables reps to ensure their teammates have all the relevant information for a contact, leading to faster resolution times and a better customer experience. Here's how to do this:
In the Inbox, click on the comment box. You'll see the paperclip icon. Click on the paperclip, and choose which attachment you'd like to include.
This is now available to all Service Hub customers.
Ready to get started?
Embed all Content Types into Knowledge Base Articles
Next up, let's talk about updates to your knowledge base. You may want to embed media into your articles to provide your customers with the exact information they need. And now, you can embed all content types into your knowledge base articles.
Embedding used to be limited to only YouTube, Vimeo, Instagram, and Vidyard videos. Now, any embed code will work, including but not limited to:
Calendars for booking meetings
To embed content, edit a knowledge base article and go to the toolbar at the top to click Insert >> Embed. This field will now accept embed codes beyond just the options offered before.
This feature is now available to all Service Hub Professional & Enterprise customers.
Ready to get started?
What's New in CMS Hub?
WordPress Blog Importer
There's never been a better time to create blog content that answers your customers' questions and gets your business found online. But in the past, bringing your blog into HubSpot hasn't always been easy. Now, you no longer have to worry about handling complex XML files from WordPress when importing your blog into HubSpot. With WordPress Connect, simply copy and paste your blog URL into the Blog Importer tool and your WordPress Blog will begin importing into HubSpot. Head on over to the Blog Importer tool in Blog Settings to get started.
Ready to get started?
Microsoft Visual Studio Extension
For your developer, we've launched a new extension with Microsoft Visual Studio Code, which is one of the most popular code editors for developers. This extension will increase efficiency while also providing niceties such as HubL block indentation, auto-complete snippets for HubL tags, and more. To get the extension, click the link below.
Ready to get started?
Visit the Microsoft Visual Studio Extension in the Marketplace.
Mobile Editing
More than half of visitors to your site today are viewing your website on a mobile device. To ensure you're able to provide your customers with an optimal mobile experience, we've recently launched mobile-first editing. This is now available within all HubSpot built themes and is in beta with our developer community.
Ready to get started?
What Else is New in HubSpot?
HubSpot Video
We've added a new video module to make it easier than ever to add video to your content. With this module, you can drag and drop videos on your pages or emails as easily as you would any other module in HubSpot. You can also adjust your thumbnail and player colors easily within the editor sidebar. Head over to any content editor within HubSpot to get started.
Ready to get started?
File Improvements
There are a number of improvements to our files tool to help you easily manage all the files you have in HubSpot.
First, you can now change the visibility of your files in bulk. In just a few clicks, use this tool to take a group of files and change whether or not they can be found by search engines. We've also greatly improved the search functionality in the files tool to make filtering your files quick and painless. Finally, we added the option for admins to set user permissions for files. This is helpful if you want your sales reps to be able to view files in HubSpot but only want your marketing team to be able to upload, edit, and delete files.
Ready to get started?