We've got a lot of interesting product updates to share with you this month, including the deeply-powerful CMS Hub.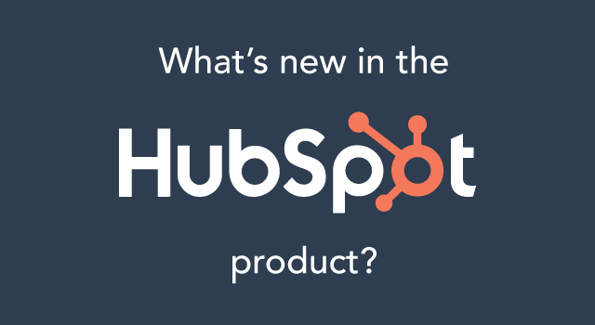 We've been working hard from the safety of our homes to build features you've asked for, and we're very excited to show you what's new this month in HubSpot. Enjoy!
What's New in Sales Hub?
New 'SKU' Property for Products
Products is a feature that's included in Sales Hub Professional and Sales Hub Enterprise. It allows you to build a product library, tie those products to deals, and ultimately report on the sales performance of your different products.
This month, we introduced a new, default "SKU" property for products, fantastic for companies with a large or complex product portfolio. You can add a SKU to any product, and that SKU will be unique across your product library. Product SKUs are searchable and viewable in the product library, deal, and quote views.
Ready to get started?
Custom Product Properties
We've also added the ability to add custom properties to your products. Now you can create properties such as product type, color, dimensions, or anything else you may need to track about your products.
To start using custom product properties, navigate to property settings, then choose product properties from the dropdown.
Once you've created your new properties, they'll be reflected in the product library, as well as in deals and line items. By associating products with custom properties and deals, you'll be able to segment and report on your newly created properties.
Ready to get started?
Improved Task Management for HubSpot Mobile
This month, we've made significant improvements to the mobile app. Now, it's easier for reps to accomplish key tasks and activities, right from their phone. You can view key information about your tasks like type, due date, associations, and queues, right from the task tab. This enables you to view important task details and execute the task with just one click.
These latest updates are now available on iOS and Android.
Ready to get started?
What's New in Service Hub?
A New 'Sent' View in the Conversations Inbox
First up is the sent view in the conversations inbox. Previously, you would see inbound and outbound emails cluttered together in your conversations inbox, forcing you to spend valuable time closing those threads instead of focusing on unanswered conversations.
With this update, you'll see a "Sent" View on the left side of your inbox. This is where you can view emails you sent from conversations or the CRM. Don't worry, sent emails will still show up in all the other relevant views — once your customer replies to your original email.
The Sent View is now live for all Conversations users.
Ready to get started?
Ticket Automation for Service Hub Starter
Service Hub Starter portals now have the ability to automatically change a ticket status when an email is sent or received. This helps your customer support reps remain organized, ensuring that no ticket falls through the cracks.
Also, Service Hub Starter users now have access to the ticket workflow builder found in the ticket settings. Here, you can build workflows to send internal notification emails to alert your team of a new ticket. Or, you can send ticket kickback emails to give your customers peace of mind that their ticket has been received and is being addressed.
These features are now live for Service Hub Starter portals created after March 3rd, 2020.
Want to get started?
An Improved Calling Experience
It's more important than ever to make sure calling is a flexible, seamless experience, which is why we're very excited to roll out these features.
With the provider switcher, you can now switch between the HubSpot and Twilio calling services whenever you want — even before you finish your HubSpot calling minutes. We know each organization has unique calling needs, and we want you to be able to use whichever system works best for you. That's why, with this update, you can now switch between HubSpot calling and any of the 3rd-party calling integrations found in the App Marketplace.
You'll also notice you have a brand new call quality indicator, as well as the ability to select which audio system you'd like to use on your call. By choosing whichever audio setup works best, you'll be able to chat with your customers and prospects over the phone without a hitch.
Ready to get started?
Custom Call Outcomes
This month, we rolled out custom call outcomes. Tracking call outcomes is a vital metric that sales reps use to measure their performance. But up until now, reps have only had a narrow set of six call outcomes to choose from. With this update, portal admins can create custom call outcomes specific to their organizations, making the call outcome metric much more useful for tracking productivity.
Ready to get started?
What's New in CMS Hub?
Introducing Themes and the Improved CMS Developer's Website
With the launch of CMS Hub, we have a couple of exciting updates for developers.
Themes are a portable collection of assets that developers build to create design systems for content creators to work within. They let developers build websites using the workflows, tools, and technologies they prefer with the brand new CMS CLI, local development tooling.
We've also re-launched the CMS developer's website. Along with a new look and feel, we've added a bunch of new documentation and tutorials on newly launched features, such as Themes and the local development tooling.
Ready to get started?
Boilerplate Designs and Default Themes
Now that you have been introduced to Themes, let's explore two new Theme assets to help you get started building a website on CMS Hub.
Developers can now leverage the CMS boilerplate design to get a head start on building great websites that integrate seamlessly with the new local development tooling. Don't have easy access to developer resources? Don't worry, Themes contain everything you need to start creating a website on CMS Hub. There are now seven default themes available for all CMS Hub users. With a variety of designs, these default themes empower uses without coding skills to quickly create beautiful, powerful websites.
Ready to get started?
Drag and Drop Page Editor
With the release of the drag and drop page editor, Marketers have the ability to fully change the layout of their pages without having to consult a trained developer. As the name implies, you can easily drag and drop individual modules, whole columns and rows, and specific module sections. We've also added some new styling options, letting you easily add, clone, and edit background colors, images, gradients, and alignment.
Ready to take advantage of drag and drop page editing? If you have access to the Website Pages tool, check out one of our beautiful new themes that are all drag and drop enabled.
Or, if you have the Landing Pages app, you now have access to Starter templates, which are fully customizable with the drag and drop page editor.
Ready to get started?
What Else is New in HubSpot?
A Redesigned API Documentation Website
Documentation is one of the most important tools developers use to build on HubSpot. It helps them understand how our APIs work, how to use them, and most importantly helps inspire developers to see what's possible on the HubSpot platform.
That's why we've launched a complete redesign of our API documentation site. Here you can find:
An updated IA and design to make it easier to find the right information quickly.
Interactive features you can use to make test calls directly on the documentation.
Tutorials and SDKs.
Downloadable Postman collections.
And much more!
Ready to get started?
Property Recycle Bin
Have you ever wanted to delete unused properties but hesitated because you might accidentally delete the wrong one? Or realize later you need the property after all? With today's update, the property recycle bin takes the stress out of property deletion. No need to manually rebuild a field if you make a mistake — simply restore it. No harm, no foul.
To restore a property, navigate to Settings > Properties and find the "Deleted Properties" tab. Choose a property to restore. And you're done.
The property recycle bin is now available to all HubSpot accounts.
Ready to get started?
The New Dashboard Library with Pre-Built Dashboard Templates
Dashboards are crucial for ensuring your team is on track. Their shared context unlocks even more insight than any single report. The right dashboard can align your team and improve your leadership.
With today's update, the perfect dashboard is just a few clicks away. We've created a curated collection of pre-built dashboards based on common use cases and best practices. Use a dashboard as it comes or as inspiration to create one of your own.
To access the new library of dashboard templates, click the "Create Dashboard" button on any HubSpot dashboard. Choose from any of the pre-built dashboard templates. Then, select the reports you would like to have on the dashboard upon creation. Name the dashboard, then assign permissions, and you're all set.
The new dashboard library is available to all HubSpot accounts.
Ready to get started?