To kick off the summer season, HubSpot has made some key product updates, and we're excited to share them with you.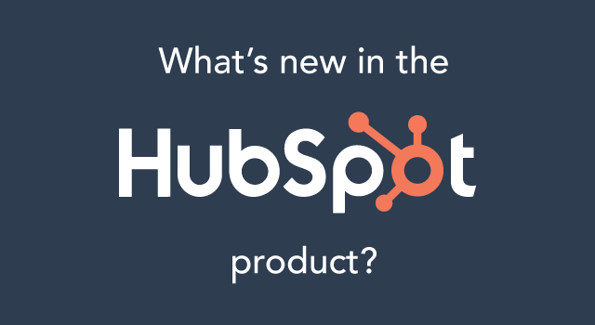 Here's what's new in HubSpot this June.
What's New in Marketing Hub?
Since email marketing is an essential part of any marketing team's day-to-day, we've made key updates to our marketing email tool.

We now support free email providers
Small businesses today may be using a free email provider like Gmail, Yahoo, or AOL to run their business. If you were using a free email provider, you previously weren't able to add those emails to HubSpot.
We recognized that businesses using free email providers should still be able to run email marketing campaigns. Now, we enable and ensure delivery from free email providers by changing the "From address" of the email from example@gmail.com to example.gmail.com@hubspotemail.net which bypasses DMARC policies. You'll continue to receive replies to your own inbox.
We improved our email deliverability export for email unsubscribes and bounces

We've also updated the way you can clean up your unsubscribed or bounced contacts to improve your email deliverability. Before, it was impossible for you to differentiate between the types of bounce classifications. Now, you'll get a better, detailed picture of why your contacts unsubscribed or bounced with a new and improved export file.
Check out the new updates in your email tool:

Changes Coming to HubSpot's Social Media Tools
For social media marketers, being able to publish to social on the go is critical. With "publish anywhere" reporting in the social media tool, marketers can now report on the success of their social campaigns from within HubSpot regardless of whether they made the post within HubSpot, directly on the social platform, or even within a different social media tool.
Want more content like this? Subscribe to the User Blog.
This update makes HubSpot a one-stop-shop for all your social reporting needs. The data found within social reports are also now reflective of your social performance across Facebook, Instagram, Twitter, and LinkedIn Company posts, regardless of what tool you used to make the post.
Learn more about our updates to social media tools here.
What's New in Service Hub?
Updates to our Knowledge Base Article Editor
We've made a series of improvements to the editing experience for writers working on knowledge base articles. To access the new editor, navigate to your Knowledge Base and click "Create Article" or edit an existing article.

The updated editor now includes many new features, including a redesigned toolbar, image resizing directly within the knowledge base editor, a code block option for text, and other capabilities. With open embed code, it is now possible to embed a video that's not from Youtube, Vimeo, Wistia or Instagram.
We are extremely excited to share these updates to our knowledge base article editor. With our new knowledge base editor, your team will be able to create content to help customers directly. To learn more about new features within the knowledge base article editor, click here.

What's New in HubSpot CRM?
Save time and create better customer experiences with AI-powered duplicate management
Duplicate data leads to bad experiences, both for your teams and for your customers. For your team, duplicate data leads to inefficiency. If duplicate data is bad for your team, it's even worse for your customers.
Before today, your options for cleaning up duplicate data in HubSpot was time-consuming. You did it manually, sifting through spreadsheets for hours every week, hired an extra set of hands to do it for you, or bought expensive third-party tools.
Today, all that changes: you've got a brand new tool that finds duplicate contact and company data in HubSpot. No extra spreadsheets, tools, or costs. Plus, because it uses machine learning, it'll get smarter as you grow. So you'll be more efficient and your customers will have more frictionless experiences with your brand.
Click here to learn more about our new deduplication tool.
What's New in HubSpot Connect?
New API Limit increases for all HubSpot customers
Here at HubSpot, we love to watch you grow. That's why we're excited to report that HubSpot is increasing API Limits for all customers. What exactly does that mean for you as a HubSpot customer? You're going to be able to scale and grow your usage of custom integrations at the same rate that you scale and grow your company. All HubSpot accounts will be automatically updated to the following API Limits structure:
Limits by HubSpot Product Tier API Packaging
You can learn more about these API limit increases on our product update blog here.
All Shopify deals in HubSpot are now editable
Previously, when Shopify deals were synced to HubSpot, you weren't able to edit them. This was because the ecommerce bridge was a one way sync from your Shopify store to HubSpot, making Shopify the source of truth for your ecommerce data. This setup blocked you from updating your deal information directly in HubSpot since only Shopify was able to update deal data.
This current setup was a pain point for customers using the Shopify integration. If the information is synced from your connected store into your CRM, shouldn't you be able to use it however you need to? Absolutely.
That's why starting on June 18th, you can now edit and delete deals within HubSpot that are synced from your connected Shopify ecommerce store (keep in mind current products and line items are still not editable).
Tell us what you think of the User Blog in this survey.
Learn more about our update to the Shopify integration here.
That's all for the month of June! But make sure to come back next month to see what we have in store for July.
Want to connect with others on HubSpot tips, tricks, and updates? Head over to the HubSpot Community to join a conversation or start one of your own.