With spring comes a slew of new updates across the Marketing Hub, Sales Hub, HubSpot CRM, and HubSpot Connect to make you and your entire team more efficient, effective, and help you grow better.

We have some exciting updates to share with you this month — let's get to it!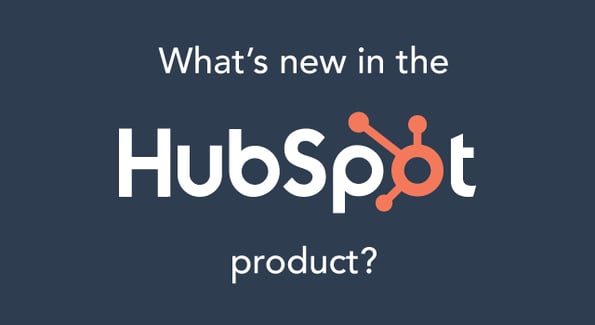 What's New in the Sales Hub?
Customize Your Product Offers with Increased Product Pricing Flexibility
Now live in HubSpot are three new features designed to give you more control over the pricing packages you offer to your customers, which means you now have more flexibility to create a product library that fits your business. You can now:
Enter cost-per-unit and automatically calculate margin.

Offer discounts by percentage.

Add contract terms to the products or services you are selling.
This update is available for HubSpot Sales Professional users.
Ready to start customizing your product offers?
Learn how here.
Automated Tasks on Deal Stages in Workflows
Your sales team probably has a standard process for handing different deal stages in your sales pipeline. For example, your team might try to schedule a meeting with a lead whenever a demo or proposal is requested. In the past, you might have wanted to use tasks to help your sales reps follow this process.
Well, now you can. Now live is the ability to automatically create tasks on deal stages using workflows, which saves you time and makes the sales process that much easier to execute for you and your sales reps.
This update is available for HubSpot Sales Professional users.
Don't Get Stood Up; Set Automatic Reminder Emails for Meetings
We've all been stood up for meetings before. Not only is it a bummer, but it also means you're missing out on a chance to close a deal. As a sales rep, you want to be able to remind your prospects of an upcoming meeting in order to increase your chance of closing a deal. But time is money, right? So manually reaching out to prospects isn't the most productive way to spend your day.
Now, you can set up your meetings link to automatically send reminder emails to prospects 72 hours and 1 hour before your meeting, which will decrease no-shows and increase your productivity.
What's New in the Marketing Hub?
Twitter Automation Changes
The basis of any good inbound strategy is to provide your users with useful and relevant content across all channels, including social. In late February, Twitter announced that they will no longer allow users to simultaneously post identical tweets across multiple accounts. As a result, users of the social tool will not be able to post the same tweet to multiple Twitter accounts at a time, and only one Twitter account can be used for blog auto-publishing within a portal.
Twitter's announcement shows they are changing their platform towards an inbound approach that empowers you to communicate with your audience in a more engaging, meaningful way.
This update is available for HubSpot Marketing Basic, Professional, and Enterprise users.
Want to learn more about Twitter automation changes?
Check out this blog post.
HubSpot Modules Available in the Marketplace
The new modules framework bundles HTML, CSS, and Javascript into one self-contained module. Because they're self-contained, these modules are now packaged up and are available within the marketplace for you to use. This means your marketing team can easily create dynamic websites through an intuitive editing experience, and your developers can use the modules as a starting point from which more advanced modules can be created.
Sync Past Leads from Facebook Ads into HubSpot
Currently, HubSpot is able to capture leads that come through your Facebook Ads once you connect your Ads account to HubSpot. But what about all those leads that came in from your Facebook lead ads prior to connecting your account?
This update will bring all those leads into HubSpot, better aligning your HubSpot account with the information found within your Ads account. Not only does this give you more control over your Ads account, but it also gives you more accurate reporting on historical Ads performance.
Want to check out your Ads settings?
Get started here.
Visual Refresh of Content Strategy
Search engines have developed to recognize intent. This means it is now more important to write in-depth content on a specific topic that is optimized for search than to worry about how you rank for an individual keyword. This is where Content Strategy comes in.
Now, with a visual refresh of the Content Strategy tool, it's easier to see exactly which pieces of content are linked together within a topic cluster.
This update is available for HubSpot Marketing Basic, Professional, and Enterprise users.
What's New in the HubSpot CRM?
Follow Records Within HubSpot
As your company grows, it's likely that your customers will be in touch with individuals on various teams in your organization: a sales rep, a customer success manager, an account manager, a technician, etc.
In order to better keep track of those valuable interactions, you now have the ability to follow a contact, company, or deal record in HubSpot. This ensures each of your internal stakeholders has the full context they need in order to make the next interaction with your customer even better.
What's New in the HubSpot Connect?
There's been a ton of exciting additions to the HubSpot Connect Integrations Library. Whether you want to weave direct mailing into your marketing strategy with Postalytics, or get organized with HourStack, integrations help personalize HubSpot for your specific needs.

That's it for March, we'll be back next month with more updates.