Before we get started with our list of March 2020 product updates, we'd like to take a moment to acknowledge the challenging times we're all in. From everyone at HubSpot, we hope you and your family are safe and healthy. We know that it's still important to you to be up-to-date with the HubSpot Product, so we wanted to deliver our monthly update.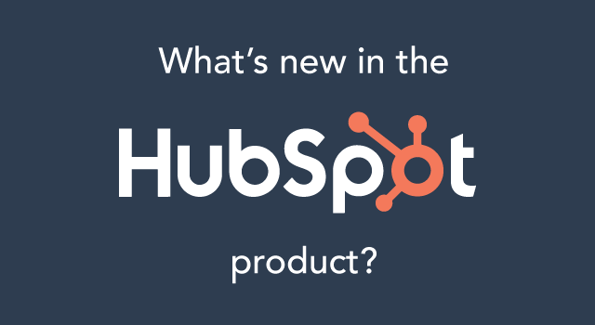 We're really proud of the features we've rolled out for you this month, so let's dive in.
What's New in Marketing Hub?
Introducing the Canva Button
One of the best ways to effectively communicate an idea is through a great visual. At HubSpot, we love using Canva to create everything from social posts, to graphics, to e-books. For anyone who's looking to quickly make beautiful graphics within HubSpot, we've just launched the Canva button. Whenever you want to add an image to a social post or a piece of content, you'll now see the option to create that visual in Canva and automatically insert it into your HubSpot account.
Ready to get started?
Control File Visibility in the File Manager
We added the ability to select whether or not a file within the Files tool can be indexed by search engines. When viewing the file, use the File Visibility section to designate whether the file should be publicly accessible and whether search engines should be able to crawl and index it. If a file is "publicly inaccessible," users can share with users within their portal an internal link to the file or file preview. They can also share a temporary link that will expire in 24 hours with people outside the portal.
Ready to get started?
Specify a Unique HTML Title for Blog Posts
You can now change the page title of a blog post without having to update the H1 title. This gives you greater control over how your blog posts appear within search results. To create a separate page title for your blog posts, simply head over to the Settings tab in the content editor and select "Customize blog's page title."
Ready to get started?
Improved Facebook & LinkedIn Ad Campaign Management
We've also added ad campaign management for Facebook and LinkedIn ads into our Ads tool. Now, you can go beyond just creating ads within HubSpot. You can edit the duration and budget of an already running ad campaign. To manage any ad campaigns you have running, click into the ad and select "Edit."
Ready to get started?
Post Location & Language Targeting for Publishing on Facebook
You can now target organic Facebook posts by language or location within the HubSpot Social Tool. For example, you can make a post that you only want Spanish speakers in Spain and Mexico to see. To get started, select "Custom audience" when creating a Facebook post.
Ready to get started?
Take a Look at Your Workflow Revision History
You now have an easier and more robust way to see what a workflow looked like at a specific moment in the past. With better visibility into how your workflows have changed over time, you'll be able to streamline to create an even smoother customer experience.
Here's how it works. In a workflow, go to the History tab. Then go to the Revisions tab. You will be able to see a table with revisions, from newest to oldest. Clicking into one of those revisions brings you to the state of that workflow after that revision was completed.
Ready to get started?
What's New in Sales Hub?
More Control Over Your Sequences
This month, we announced some exciting changes to Sequences. Sales Hub Professional and Enterprise customers now have the ability to bulk enroll contacts and can pause sequences based on task completion. This update will prevent the next step of a sequence from triggering until a task has been marked as complete. We also increased the daily send limits for automated email sends in sequences and rolled out new sender score reports to help teams really perfect their sequence strategy.
Ready to get started?
A Brand New Sales Hub Starter
The new version of Sales Hub Starter adds essential CRM features such as multiple currencies and an additional deal pipeline. It also introduces simple deal automation and access to quotes. These features will help you and your team build a solid, repeatable sales process.
Want to learn more?
Meetings, Quotes, E-Signatures, and Video Creation are Free for 90 Days
With the global health and economic situation developing quickly, we know that businesses around the world are being forced to move entire portions of their operations online. To help you adapt to these changes, we're making all of our paid Meetings functionalities, Quotes, E-signatures, and 1:1 Video creation tools free for 90 days. We'll also be increasing our limits on Calling to 2,000 minutes per user per month for all Sales and Service Hub Starter and Professional customers.
How can I access these free tools?
What's New in Service Hub?
Two-Way Sync with Jira
Now available is a new integration between Service Hub and Jira that you're going to want to connect today. This new integration is a big upgrade over the existing one. It allows you to connect Service Hub Tickets to Jira, so your Development and Support teams can work hand-in-hand with increased visibility. With this integration, HubSpot automatically creates a new set of "Jira properties" on the HubSpot ticket record. This allows you to use HubSpot's powerful workflow automation to send internal and external notifications as Jira issues are updated and resolved.
Ready to learn more?
Evergreen Customer Satisfaction Surveys
You can now configure your CSAT surveys to be evergreen, meaning they're always on. This gives you more flexibility with how you can receive feedback from your users. For example, your users can now take a survey more than once. This is a small update but one a lot of you have been asking for — we're really excited to deliver it to you.
Want to get started?
Increased Time to Respond to Facebook Messenger
Facebook Messenger has increased the time a support rep has to respond to a customer from 24 hours to seven days. This gives you more time to help your customers, creating a more positive support experience. You can make the best use of this increased time through Conversations and our Facebook Messenger channel. For instance, if you don't offer support on the weekend, you'll still be able to use Conversations to help your customers on Monday morning, even if the message came in late on Friday night.
Ready to get started?
What Else is New in HubSpot?
The PieSync Collection is Now in Your App Marketplace
A new App Marketplace collection containing PieSync connectors is now live.
HubSpot's App Marketplace is full of a diverse collection of over 400 apps designed specifically to help you get the most value you can out of HubSpot. But sometimes software you love hasn't built an integration yet, leaving you with a gap that needs filling for your specific need.
That's when an integration platform as a service, or an "iPaaS" solution, can help. With the recent acquisition of PieSync, HubSpot is now in a position to give you a richer iPaaS experience by listing individual PieSync connectors on their own listing pages to fill those integration gaps.
Ready to get started?
Set Your Portal's Default Home Page
Until now, reporting dashboards have been the default home for all portals. Dashboards provide a helpful overview of activity in your account, but they aren't the most relevant homepage for everyone. With today's change, you can now choose the app that is most relevant to you and set it to live behind the sprocket icon in your navigation. For example, marketers can set the HubSpot icon to open tools such as marketing emails or the page editor, while sales teams can set the icon to bring them to their deals or tasks.
To set your default homepage,
Click the account drop down at the right of the navigation.
Click Profile & Preferences.
On the Profile & Preferences screen, scroll to "For this account."
Set your homepage with the "Default Home Page" drop down.

Ready to get started?
Take advantage of these new updates today by heading over to your HubSpot account.