We're back to walk you through this month's biggest product updates. We've got a lot of exciting things to cover today, including some new CMS Hub features, additions to ads reporting, and a tour of our brand new account-based marketing features. Let's jump right in!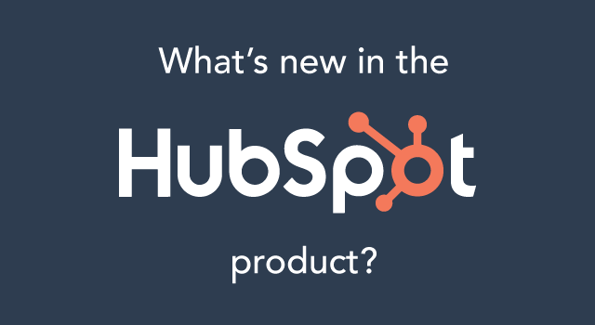 What's New in Marketing Hub?
Improvements to the SEO Audit Tool
With this update, the SEO audit tool will no longer display SEO recommendations for pages that are blocked from appearing in search results. This makes it easier for you to focus your SEO efforts on the pages that matter.
So how do you use this feature? Well, if your content is hosted on HubSpot, no action is necessary — your pages are already doing this. If you have externally hosted pages, all you need to do is click "scan for recommendations." The system will run a quick scan to get up-to-date SEO suggestions.
The SEO audit tool is available to all CMS Hub and Marketing Hub Enterprise and Professional users.
Ready to get started?
Expanded Ads Reporting Metrics
When it comes to running ad campaigns, marketers need accurate, relevant metrics to make the right decision. Now, marketers have access to an expanded set of ads reporting metrics, such as cost per MQL, cost per SQL, cost per deal, cost per lead, cost per opportunity, and cost per session.
You can find these metrics by going to the Ads tool homepage, clicking on "Add Metrics," and selecting the metrics you'd like to appear in your reporting.
These new metrics are available to Marketing Hub Pro and Enterprise users.
Ready to get started?
Web Version for Marketing Email in Marketing Hub Starter
With this update, Marketing Hub Starter portals have the ability to include a "view in browser" link in their marketing emails.
When sending an email, the "web version" link is a great safety net for customers. Even if there's a problem with their inbox, your recipients will still be able to view a clean, unaltered version of the email in their web browser.
To turn this feature on, open your email editor and head to the "Settings" tab. Under "Advanced Settings," you'll see the "Web Version" toggle.
Ready to get started?
What's New in Service Hub?
Add Attachments to Your Jira Issues
When using your Jira integration, it's important to include the necessary attachments so everyone understands the problem. That's why we've rolled out the ability to add attachments to your Jira issue directly from within HubSpot. By sharing files, documents, and screenshots, you can provide increased context to illustrate your issue.
To add an attachment, simply drag and drop it into the attachments field, or upload it from your desktop or file folder.
Ready to get started?
What's New in CMS Hub?
Customizable Domain Security Settings
The entire HubSpot platform is secure, but as your business grows, you might need more customization when it comes to securing your website. That's why we've added new domain security settings, such as HSTS, Referrer and Content Security policies, and more. With this additional layer of security, your visitors and brand are more protected than ever.
To get started, go to your Domains & URLs settings. Next to any of your domains, click "Edit," then "Update domain security settings." This feature is now available for all CMS Hub Enterprise users.
Ready to get started?
The Activity Logs API
This month our team rolled out the brand new Activity Logs API. This new logging system records each time a piece of content was created, updated, published, or deleted in your HubSpot account. You can use this API to create your own workflow management and monitoring process, or just to track down who deleted that custom landing page template you were working on. The Activity Logs API is now available for all CMS Hub Enterprise users.
Ready to get started?
CMS Hub Enterprise
This month we rolled out two new CMS Hub Enterprise features. Using these features together enables you to create powerful, app-like functionalities on your website.
Serverless functions provide a way to write server-side code that interacts with HubSpot and third-party services through APIs. This empowers you to build more sophisticated websites on CMS Hub. Learn more about serverless functions here.
With memberships, you can easily create login portals for your website. And because CMS Hub is synched with your CRM, you can build lists to give specific contacts access to gated content. Learn more about memberships here.
Combining serverless functions and memberships enables you to build web-app experiences on your website. For example, we built a sample open source event registration app that use both of these features. Our sample app displays events, allows contacts to register, and records how many spaces are still open. By combining serverless functions and membership, the possibilities of what you can create are endless.
Ready to get started?
A SignalFx Integration
This month we launched the SignalFX integration. By syncing your website performance data into SignalFx, your IT teams can use the technology they prefer to monitor their site's uptime and performance. The SignalFx integration is now available for all CMS Hub Enterprise users.
Ready to get started?
What Else is New in HubSpot
Leave Ratings and Reviews in the App Marketplace
Now live is the ability for you to leave ratings and reviews in the App Marketplace. Head over to any app listing page, and you'll see ratings and reviews from other HubSpot customers. By hearing feedback from other HubSpot users, you have additional information to choose the app that is right for you.
Ready to get started?
Target Accounts Home
The Target Accounts Home is the command center for your marketing and sales teams to come together to monitor progress on target accounts. You can mark companies as target accounts in bulk by updating the "Target Account" property of the company record to "True." Or, you can do it individually by clicking on the "Choose Target Accounts" button in the upper-right corner of your Target Accounts Home. If you need some guidance on identifying good-fit accounts, you can select either "Prospects" to look at potential prospects, or "Recommendations" to view HubSpot's AI-powered recommendations.
To set up your Target Accounts Home, navigate to "Contacts" and "Target Accounts" and click on "Get Started." Then, follow the onboarding process as it walks you through setting up your Target Accounts Home.
The Target Accounts Home is available to all Sales Hub and Marketing Hub Pro and Enterprise users.
Ready to get started?
Account Overview
We've also added a deep-dive account overview panel on each Target Account's company record. The account overview gives you a snapshot of engagement with a specific account. You'll see the activities, deals, and contacts associated with the company; the tracked page views from contacts; and the internal stakeholders involved with the account's activities. It's a great place to check in and monitor how your team's efforts are progressing with a specific account.
You can access the account overview through your Target Accounts Home, the right panel of a company record, or in Salesforce (if you have the Salesforce integration). The account overview is now available for all Sales Hub Professional and Enterprise users.
Ready to get started?
Company Lists
You can now create company-based lists in HubSpot to boost your account-based marketing (ABM) efforts. Once your ABM tools are activated, your HubSpot account will automatically create lists based on ABM properties, like "target account" and "buying role." You can find these lists in the "Account-based Advertising" list folder. Just like with contact lists, company lists enable you to segment your companies, leading to more personalized and relevant engagements.
Ready to get started?
Account-based Marketing Reports & Dashboard
You can now report on your account-based marketing progress with the new out-of-the-box ABM dashboard and reports library. These reports are based on ABM properties, enabling you to see, track, and improve your account-based marketing efforts. To create your ABM dashboard, navigate to "Reports" and "Dashboards." Create a new dashboard, and select "Account-based Marketing" from the reports library. From here, you can customize which reports you want to see. With a prebuilt set of reporting tools at your fingertips, you can quickly evaluate what's working and what's not.
Ready to get started?