When you're selling to one buyer, the process is fairly straightforward. But what happens when the buyer you're engaging becomes a multi-person buying committee with diverse needs and requirements?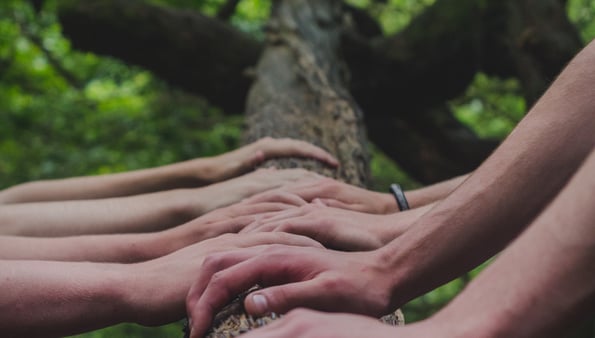 Today, this is the reality for many businesses selling high value deals to other businesses. Companies are increasingly using larger buying committees to reduce the risk of a bad purchase. According to the Harvard Business Review, the average business-to-business purchase has a shocking 6.8 buying stakeholders alone — and that number is growing rapidly. Each additional buying stakeholder is another person interacting with your sales team and marketing content. Toss all of these factors together, and what do you get? Utter chaos for everyone involved.
Without a robust, easy-to-use set of Account Based Marketing (ABM) tools, your team could end up providing prospects with conflicting or repetitive information, leading to longer sales cycles, lower win rates, and a worse reputation. To avoid this, your marketing and sales teams need to be able to seamlessly create, coordinate, and measure their account-based marketing strategies.
With HubSpot's new Account Based Marketing features, you can cut through the chaos of selling to a large company, with tools that unite teams to easily create, personalize, and report on bespoke account-based growth strategies. ABM playbooks and an account overview sidebar will allow your sales team to personalize their sales approach and foster deeper relationships, while the new Target Accounts Home and an improved Slack integration will make sure all of your teams can see the whole picture of your ABM strategy. In addition, with ABM reporting and company scoring, you can track, measure, and evaluate your Account Based Marketing strategy from start to finish.
HubSpot's new ABM features provide the foundational elements for any team to get started with an ABM strategy. Yet, what makes these features even more valuable is the ability for customers to customize their strategy by tapping into the rich ecosystem of ABM partners in HubSpot's App Marketplace. These partners integrate with HubSpot to extend the functionality of our ABM product, allowing you to tailor your systems to fit your specific business needs.
When coordinating your teams around the complex task of selling to a large business with many stakeholders, organization is key. It helps to break your sales cycle down into five main stages: 1) Identify Target Accounts → 2) Create an Account Plan → 3) Attract Stakeholders → 4) Engage Stakeholders → 5) Measure. This approach will enable your team to stay efficient, build alignment between your sales and marketing teams, and focus on the stages that positively impact your bottom line.
Below, you'll find our top 15 ABM app partners that can help your team execute across the different stages of this streamlined sales cycle. By supplementing the power of HubSpot's Account Based Marketing features with these trusted integrations, your team will be able to come together to create, coordinate, and execute robust growth strategies for your highest-value accounts.
Identify
Company Surge® by Bombora
Company Surge® for HubSpot lets you scale pipelines in less time, with fewer resources. Identifying which accounts to prioritize, when to market to them and with which messages, Company Surge® for HubSpot ensures sustainable efficiency and impact for marketing and sales teams.
Clearbit
Clearbit is a marketing data engine designed to give you better data, enabling you to increase your conversions. With the Clearbit integration, you can shorten web forms to increase conversions, personalize emails with Clearbit-provided information, score and route leads using Clearbit data, and much more.
Engagio
Engagio is an account based marketing platform that tracks your sales and marketing efforts so you can understand how important accounts are engaged. With the Engagio integration, you can score and prioritize accounts, scale your ABM programs by automating actions based on account engagement, and connect the dots to measure the impact of your entire ABM strategy.
G2
G2 is one of the most trusted and respected software review sites. By integrating G2 with HubSpot, you will be able to leverage highly-valuable intent data that shows which contacts are looking at your software in G2. From there, you can use your ABM tools to deliver the right message at the right time, greatly increasing your likelihood to close.
Create an Account Plan
Uberflip
Uberflip is a content experience platform that enables you to tailor your content to custom audience profiles. With the Uberflip integration, you can collect leads with on-page CTAs, entice visitors with interactive flipbooks, and routinely improve your marketing performance with in-depth reporting.
Attract
Influ2
Influ2 is a person-based advertising platform focused on business-to-business selling. With the Influ2 integration, you can send lists from your CRM directly to Influ2. From there, you can conduct person-based advertising campaigns to show ads to specific decision-makers, as well as report on the performance of your campaigns with specific people or accounts. By combining HubSpot's ABM tools with Influ2, you'll be able to conduct and analyze a powerful account-based strategy.
RollWorks
RollWorks is an account-based advertising and marketing platform. With the RollWorks integration, HubSpot lists can be synced with RollWorks to create dynamic audiences for digital advertising. You can also export your campaign's performance back into HubSpot to track your progress with each company.
Sigstr
Sigstr is an email signature marketing platform that turns your company's email into a powerful advertising channel with 100% targeting accuracy. With the Sigstr integration, you can use HubSpot lists to Target specific accounts and contacts with personalized email signature banners and deliver hyper-targeted ads in every single email you send.
LinkedIn Ads
LinkedIn Ads is the native advertising platform for the world's leading professional networking site. With the LinkedIn Ads integration, you can automatically sync leads between LinkedIn and your CRM, enabling you to use CRM data to create highly targeted audiences that increase your ad engagement. And by running your LinkedIn ad campaigns from inside HubSpot, you'll be able to draw a line between clicks and revenue to determine which ad strategies are the most effective.
Metadata
Metadata is an AI-powered, demand generation platform that enables you to perform multivariate tests of your account-based advertising channels. With the Metadata integration, you can create your ideal customer profile, identify target accounts and contacts, and then deliver personalized ads to those contacts at scale. Metadata's AI runs massive multivariate tests to learn which ad combinations drive the most sales and optimizes your campaign spending accordingly.
Engage
Madison Logic
Madison Logic helps B2B marketers convert their best accounts faster by finding and engaging with the most influential individuals throughout the buyer journey. By integrating Madison Logic's multi-channel account engagement signals into HubSpot CRM, ABM marketers can enhance reporting and lead scoring, and empower Sales with real-time engagement data so they can target the right accounts with the right messaging at the right time.
OrgChartHub
OrgChartHub enables you to build and store customer org charts without leaving your HubSpot CRM. The OrgChartHub integration enables you to create and store customer organization charts for any company or contact record. You will be able to map each organization's structure, create custom sales personas, as well as identify key stakeholders and decision makers. With an accurate "feel" for each company's structure, you will be able to implement your ABM strategy with ease.
Sendoso
Sendoso is a sending platform that enables you to engage buyers in meaningful, creative ways. With the Sendoso integration, you can create workflows that will automatically trigger Sendoso eGifts and physical gifts. From there, you can track your deliveries and follow up with your contact through the activity feed.
Postalytics
Postalytics is a direct mail automation tool that turns direct mail into a digital marketing channel. With the Postalytics integration, you can build workflows to send direct mail postcards and letters, automate direct mail campaigns from a contact list, as well as track direct mail delivery and responses. You'll be able to organize and analyze your digital and direct mail marketing from your HubSpot portal.
Measure
Slack
Slack is an internal communication tool that offers your organization a timely, efficient alternative to email. In addition to its standard features, the enhanced Slack integration is a must-have for teams that need to collaborate to close their target accounts. By using a workflow to create a Slack channel for a target account, you can jumpstart your team's communication the moment your ABM process begins. And with the ability to seamlessly transfer notes and Key Performance Indicators between Slack and HubSpot, you'll be able to ensure vital information is always at your fingertips.
Want to connect with others on HubSpot tips, tricks, and updates? Head over to the HubSpot Community to join a conversation or start one of your own.