Perhaps you've hired a new marketer to handle your team's HubSpot-related tasks. They're excited to start learning inbound and the HubSpot tools, and you can't wait to see the leads flow in.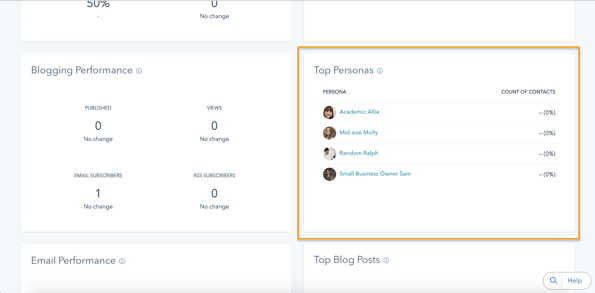 Or maybe you've inherited your HubSpot account from a former co-worker, and now it's your job to keep the inbound machine well oiled and functioning.
Whether you find yourself in the first or second situation, the same questions ring true: where's the best place to start learning inbound with the HubSpot software, and how do I learn it as quickly as possible? HubSpot Projects has you covered.
HubSpot Projects is a lightweight project management tool designed to help keep your team on track with campaign creation and other marketing efforts. Projects is located under the Productivity tab in your HubSpot account.
In the projects dashboard, you can choose to create a new blank project and assign tasks to different team members, or you can search HubSpot's library of over 100 pre-built project templates, each of which comes with all the necessary tasks, directions, and resources listed to complete that initiative.
To kick off inbound training for any new marketing team member, we've compiled the four essential HubSpot project templates to help get them up to speed.
Project 1: Creating Buyer Personas
You probably saw this one coming. Buyer personas are the foundation of your inbound strategy. Using buyer personas allows us to get into the minds of our potential buyers, empathize with their challenges, align with their goals, and ultimately market to them with highly personalized, informative content.
If you haven't shown your buyer personas some love in a while, the Creating Buyer Personas project template is a great jumping off point for a new inbound marketer. They'll perform a buyer persona audit to research and update new information about the company's target buyers. Even if you don't yet have a fully fleshed-out persona, the training ramp period for your new hire is the best time to create one and reinvigorate your inbound campaigns with a fresh perspective.
This project walks through a series of steps for doing buyer persona research, but it also includes instructions on updating existing buyer personas or adding new personas to the HubSpot buyer personas tool, as seen in the image above. After completing all the project steps, your new marketer will feel like they're ready to tackle their first campaign.
Project 2: Creating a Pillar Content Offer
Now that we understand our buyer personas, it's time to leverage our industry experience to create helpful content they'll find truly valuable. We'll need content in different formats that will attract new visitors to our website and convert them into new leads in our database. The best approach to content creation for new visits and conversions is outlined in the Creating a Pillar Content Offer project template.
This project starts with choosing a core "pillar" topic on which to base the content of an entire campaign. It then leads into choosing sub-topics that support the pillar topic, which can be used in blog posts for generating new traffic. The last part of the project revolves around creating a long-form pillar content offer like an eBook or white paper to use for converting your visitors.
You bring the content, we'll bring the design. This project links to 13 free customizable ebook templates for you to use, so there's no need to slow down the content creation process with timely design formatting requests.
Finish this project and your new team member is more than halfway toward launching their first inbound campaign in their new position.
Project 3: Creating a Conversion Path for Your Content Offer
It's time to gate your new piece of pillar content to make sure we're converting your visitors into leads that will live in your HubSpot database. Enter the Creating a Conversion Path for Your Content Offer project.
You've probably seen a conversion path on many websites before, but in case you need a refresher, click on the call-to-action button below to check out an example -- make sure you convert on the form for additional training info.
There are four different parts of a conversion path, starting with the (1) call-to-action button placed throughout your website. Clicking on a CTA leads to a (2) landing page that describes the value of the content offer and includes a form for the visitor to complete. Upon submitting the form, the visitor is redirected to a (3) thank you page where the link to download the offer is provided. The last step of the conversion path appears in the visitor's email inbox. A (4) follow-up email is sent to provide the user with a copy of the download for their records and to establish a touch point with a member of your marketing or sales team.
This project will walk you through the steps to creating a conversion path for your content in the most efficient order possible: backwards! No need to worry when it asks you to start building out your thank you page before the landing page. Also, keep in mind that since you'll be learning some of the most important HubSpot tools in this project, be sure to leverage all of the help documentation provided, including the HubSpot Academy training videos and HubSpot support team if things get tough. Once complete, place your CTA button on your company's website pages and pertinent blog posts, and consider your content offer launched.
Project 4: Promoting Pillar Content
But we can't just stop there. As marketers, our job is to produce as many well-qualified leads as possible and pass them to our sales team. Since new leads won't start to flow into HubSpot unless we drive meaningful traffic to our website pages and landing page offers, the Promoting Pillar Content project is the perfect template to round out our list for any new inbound marketer.
In this project, you'll walk through a list of the best activities to generate new traffic for your content offer. Along with publishing the blog posts we created in the second project, you'll want to schedule social posts with links to your new content, create a promotional email to send to your existing database of contacts, and potentially do a remarketing ad campaign if budget permits.
Once everything has been live for a while and you've started to see the fruits of your labor, don't forget to analyze the results to see what worked well and what you may need to tweak for next time.
At this point, there's only one thing left to do -- give yourself a pat on the back because there's a new inbound marketer on the team. Go ahead and buy yourself an ice cream. Pet your dog for a couple minutes -- you deserve it.
Of course, with four different projects, each with their own sets of technical and strategic tasks, you may or may not have felt overwhelmed at times throughout the journey. That's normal, and HubSpot is here to help. Check out all of the assets housed in your HubSpot Academy account (click the graduation cap in the top navigation menu), including the HubSpot Knowledge Base and Marketing Library. Additionally, your customer success manager would be happy to help provide resources.
Finally, for a more hands-on approach to learning inbound and HubSpot in a classroom setting, with both new and experienced marketers, the HubSpot Classroom Training team is coming to a city near you. Check out our upcoming training dates and locations below.