Ever feel like you're drowning in repetitive, manual tasks? You know what you do drives value for your customers, but you're finding that you just can't keep up anymore with your existing process.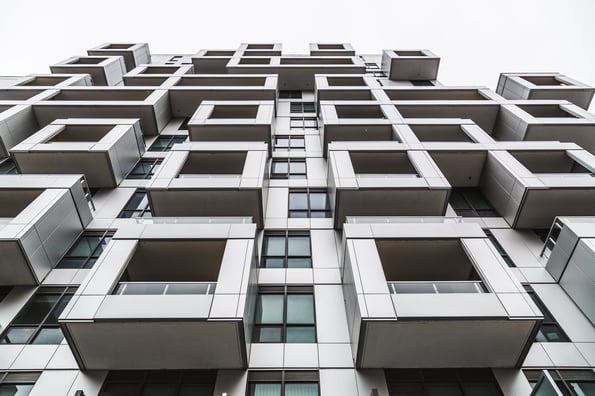 That's how a lot of landlords feel.
Imagine having to search for places to post your listings, dig through piles of emails from potential tenants, and then coordinate numerous meetings with strangers who will ultimately be your source of income.
TurboTenant understands these pain points. And they've developed a solution — with the help of the HubSpot software and the inbound methodology.
Solving Big Problems With Big Ideas
TurboTenant is "landlording made easy." It's the all-in-one, free property management tool for landlords to efficiently manage their rental process in a streamlined manner.
TurboTenant launched in 2015 with one goal in mind: Use technology to revolutionize how an independent landlord manages their properties. Using TurboTenant, a landlord can take their rental process from offline chaos to a seamless, one-click inspired journey.
From offline to online
Before TurboTenant, the property management/landlord process was a completely offline process for independent landlords. This means time and resources just kept running out.
Sarah Stinson, the Director of Content & SEO at TurboTenant, explained how her customers' renting process used to be 100% manual. Landlords would have to draft property descriptions, find sites to host their listings, work through back-and-forth to get showings set up, sift through a clunky background check process, and so on.
With TurboTenant, all that manual entry is old news. Sarah explains how landlords can use TurboTenant for a more efficient process:
TurboTenant has decreased manual entry by over 95% with automated marketing syndication. The landlord can create a rental listing once, click a button, and that property listing will syndicate to over 80 listing sites.
Transforming human connection
Streamlining the renting logistics with technology was just solving one piece of the puzzle. The other piece that landlords needed to simplify and speed up was the human interaction aspect of renting.
Sarah explained a common challenge her customers were experiencing with their traditional, offline processes:
Our landlords are interacting with generations that do everything online. We had to help our landlords meet that demographic in that space.
But how can a piece of technology transform how landlords connect with their potential tenants?
First, landlords can use TurboTenant to quickly and easily send a prospective tenant a text or email to invite them to apply for residence in their property.
Next, applications are always accessible since they're online. Tenants can submit applications anytime, anywhere on their mobile phones. Then their applications are ready for a landlord to review.
Okay, so the first time-consuming hurdle of finding a potential applicant is done. Now comes the management aspect.
With TurboTenant, each landlord has a dashboard where they can manage the leads, applications, and leases. Within the applicant's dashboard, landlords can request a screening report with a single click. An email is then automatically sent to the applicant prompting them to answer a few identity verification questions from the credit bureau. Once the renter approves the request, the landlord is notified via email and can instantly review the report.
And then there's sealing the deal—aka, getting the lease signed. Traditionally, landlords would have to find a time and place to meet with the tenant for signatures and paperwork. But with busy schedules and travel logistics, this added more time and friction to the process. Sarah explains how TurboTenant makes this part online and easy:
Within the TurboTenant dashboard, our landlords can upload a lease, assign signature fields, click a button, and our system will manage the rest of the e-sign process. Once all parties have signed, it will be filed in the renter's account. No paper and no meeting required.
How HubSpot Helps
TurboTenant is a HubSpot customer. They use the HubSpot software so that they can help their customers. And then those customers can connect easier with their customers. It's a chain reaction.
In particular, there are three main areas where the TurboTenant team uses the HubSpot software to reach their inbound business goals.
1. Contact management
With so many landlords to help, keeping track of them is no easy task. According to Sarah, one of the hardest problems to solve is understanding all the points of contact users have with their product.
To provide a truly personalized experience and serve the needs of each unique customer, TurboTenant needs insight into the behaviors and online interactions of the people they're working with. This is where HubSpot comes into the picture, explained by Sarah:
Because [HubSpot's] foundation is a CRM, it eliminates the pain typically involved in identifying which Adwords campaign or newsletter a user came from when they signed up, the marketing emails they've read, the in-app messages they've clicked, and the support tickets they've submitted. It gives me the complete picture I need to ensure I'm continually delivering more value for our user.
TurboTenant transforms how landlords rent. And they refuse to settle in how they serve their customers. Using HubSpot, they can easily track customer behavior so that they can learn more about each unique landlord and meet their needs accordingly.
Curious about some of these tools? Check them out in your own HubSpot account:
2. Customer Success
The other area where TurboTenant uses HubSpot is customer success. While there are a lot of wonderful things in the property management industry, there are also a few not-so-wonderful things: property management fraud.
TurboTenant uses the HubSpot platform to cross-check IP and contact information so that they can identify who they're working with.
They also use automated customer surveys sent from HubSpot to further verify the validity of their contacts, as well as identify "VIP" contacts. Sarah expands on this:
We also use data integrations to push specific data from the TurboTenant platform into Hubspot custom contact fields, which helps us further verify the validity of our contacts, as well as identify our "VIP" contacts.
VIPs are then added to a VIP-centric workflow so that they can receive specific nurturing. So TurboTenant uses HubSpot to mitigate risk and personalize nurturing: a win-win!
Want to try out workflows in your own HubSpot account?
3. Marketing
The third key area where TurboTenant uses HubSpot is marketing. They have their own affiliate program run through HubSpot. They use forms, landing pages, lists, and contact management to ensure that the program runs seamlessly.
They also use HubSpot's reporting tools to measure the success across the company and every channel: paid, organic, referral, social, and more.
Sarah explains in some more detail:
We segment our customer base on a wide variety of attributes and triggers. We have workflows and customer email campaigns and content that is specifically designed to resonate the most. We analyze them on a quarterly basis and tweak the content based on open, clickthrough, and engagement factors.
Looking to measure your own success? Check out HubSpot's reporting tools:
TurboTenant's Flywheel: How TurboTenant Attracts, Engages, and Delights Landlords
Not only is TurboTenant fueled by HubSpot—it's also fueled by inbound. Here's how the TurboTenant team attracts, engages, and delights landlords to keep their flywheel spinning:
Attract
TurboTenant attracts landlords by understanding what problem they're trying to overcome and then sharing potential solutions. How? They create engaging, effective content. And their customers are the stars of their stories.
Using surveys and personalized email campaigns, TurboTenant collects information from their landlords on their processes for choosing tenants. Then the TurboTenant team gathers that data into guides, email drip campaigns, blog posts, and social media content. Sarah explains how this content is used to not only educate and inspire landlords, but also to attract landlords to TurboTenant:
Essentially we are attracting landlords with content that solves their biggest problems. We provide them with checklists and qualitative and quantitative data on choosing a great tenant. We send them emails, surveys, and call our landlords and ask them what their biggest problems are—outside of the process—and then we create content that solves those problems.
With high-quality content that engages existing customers and attracts potential customers, TurboTenant is a true thought leader in the property management space.
Engage
At TurboTenant, everyone focuses on customer success—not just the customer service team.
They have core values, coined "TurboTenets," that drive the meaning and purpose behind everything they do. One of those core values is to remove barriers.
To support that value, they have three beliefs:
Always make processes faster and easier.
Just make it work. Be the solution.
Create a better, more open and communicative rental experience.
To achieve these goals, all TurboTenant teams are on board—especially Product and Engineering.
TurboTenant customers have three channels they can use to access support: live chat, email, and phone. And the service experience doesn't end when the chat gets closed, the email gets sent, or the phone gets hung up. Once an interaction is over, it's time for further engagement, as Sarah explains:
We survey each customer or prospect after we engage with them and track and discuss that satisfaction metric in weekly team meetings. We also call our "Whales," TurboTenant's biggest customers, and ask them how we can make our product better and continue to meet and exceed their expectations.
On top of that, the customer support team will tag chats when customers are expressing frustrations using the product. This data doesn't end up in a blackhole, either. The product team uses this data to prioritize new features and product releases.
The involvement from the product team goes a step further with Slack. TurboTenant uses a Slack channel specifically for user feedback. This direct line between customer success and engineering teams challenges everyone to continue improving and to never settle.
Delight
In the delight phase of TurboTenant's flywheel, the product team is once again heavily involved. TurboTenant closely monitors NPS, or net promoter score. While this metric is traditionally owned by customer support or service teams, TurboTenant's product team owns NPS.
Why? Sarah says it best:
While our customer success teams are great, no amount of excellent customer service can make up for a less than great product.
So with a top-notch product informed by customers, it's no wonder existing customers keep TurboTenant's flywheel spinning with a referral program. Landlords can invite other landlords to sign up for TurboTenant right in the product. If a referral becomes a customer, the referrer receives a $25 Amazon gift card.
TurboTenant also takes word-of-mouth from their delighted customers public with a testimonials page on their website. The page is updated weekly with customer feedback. This way, site visitors can hear from existing customers and start building trust with TurboTenant. Again, Sarah explains the reasoning best:
It is so much more valuable for another landlord to say that they had a great experience than to pat ourselves on the back.
Inbound and TurboTenant
TurboTenant is a great example of inbound at its finest. Inbound is a method of attracting, engaging, and delighting people to grow a business that provides value and builds trust. The TurboTenant team focuses on each phase of its flywheel to keep it spinning:
Actionable, high-quality content to attract landlords.
A company-wide focus on customer success and product development to engage with their existing customers.
Product-owned NPS so that they continue to delight customers and evolve their product as customer needs change.
With inbound at the heart of TurboTenant's business, their team makes "landlording" efficient and scalable while also human and helpful.
Want to connect with others on HubSpot tips, tricks, and updates? Head over to the HubSpot Community to join a conversation or start one of your own.