Marketers love traffic.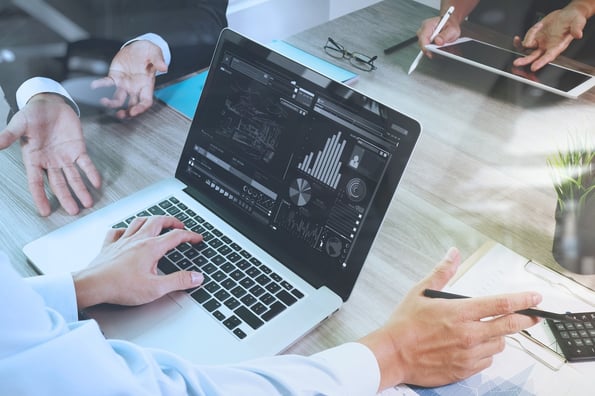 Not the type that involves cars, horns, and rush hour, but the kind that conjures up visits, conversions, and sales.
It's a simple equation. Traffic = engagement, and engagement = customers.
That being said, it's important to know how to evaluate your traffic so you can be purposeful about where you invest your time, energy, and resources.
You can use the HubSpot tools to evaluate your traffic, but how can you use these metrics to make the most of the traffic analytics tool?
The first step is finding where this information is located. Click Reports > Analytics Tools, then Traffic Analytics.
Understand the Core Metrics
HubSpot's newly renovated sources report provides more detailed traffic metrics than ever before.
In addition to the core data points, traffic, and conversions by channel, you can now use five new metrics to get even more insight: bounce rate, page views per session, average session length, new visitor sessions, and new visitor session %.
You can customize which metrics you see on the dashboard. Just add those metrics as columns using "edit columns," and hover over them to get an understanding of what the data represents.
All of these metrics offer value, but which ones are most important to your business? The real answer is all of the above. By using all of the different metrics, you get a full picture of how your site is performing. If you are overwhelmed by all of the metrics, start by looking at the following:
Conversions: Conversions are an indication of the quality of your site's traffic. Maybe you have 6,000 views to your site, but is anyone converting? Views show that you can get people to your website, but conversions convey willing engagement by those people. If a person willingly enters their email information, that probably means they want to engage with your company. When it comes to views and conversions, the old adage is true: quality over quantity.
Bounce rate: Bounce rate should be analyzed on a page level, but an overall glance gives you an idea of how thoroughly you should look at individual pages. This is another metric that speaks to the quality of your traffic. Maybe you're getting people to your website, but are they sticking around?
Analyze Your Channels
With so many different ways to promote content, it can be difficult to determine where to invest your team's energy and resources.
By carefully investigating your traffic analytics, you can better understand the most common paths of visitors engaging with your site.
The sources report breaks down your metrics by source. This allows you to clearly see how people are getting to your site and which sources are leading to quality traffic. You can learn more about how HubSpot categorizes your traffic here.
The traffic analytics tool gives you the option to break down sessions, contact conversion rate, new contacts, customer conversion rate, customers, bounce rate, new visitors sessions, new session %, page views / sessions, and average session length by source.
With the new comparison feature, you can drill into specific sources. Let's say you have consistent direct traffic but you want to boost your visibility via social media and email marketing. After running the social media and email campaigns, you want to see which was more successful. To eliminate the distraction of your direct traffic, uncheck all sources except the ones you want to focus on. The comparison gives you a clear visual picture of the more effective campaign so you can show your colleagues which channel deserves more attention.
Gain Visibility With Sources
While it's not necessary to inspect your traffic analytics every day, it is a good idea to check it at least once a week.
By keeping an eye on your traffic, you're aware of changes that happen. Did you have a sudden drop in traffic the last week of a month? Did you have a jump in traffic after you sent out that email campaign? Watching your traffic closely allows for you to track trends.
Now you can pin the sources report to your dashboard for even greater visibility. To do this, navigate to Reports > Analytics Tools > Traffic Analytics > and click Add to dashboard.
By adding the sources report to your dashboard it will be visible to you and the rest of your team every time you log into HubSpot, so it can not be forgotten.
By focusing on the metrics and channels and having the sources report at your fingertips, you're guaranteed to improve your customer engagement. HubSpot gives you the tools, but now it's your turn to make the best of them.