When I opened the company meeting with three marketing consultants in December 2016, I faced one challenging goal: Triple HubDo's business operations to 12 people immediately.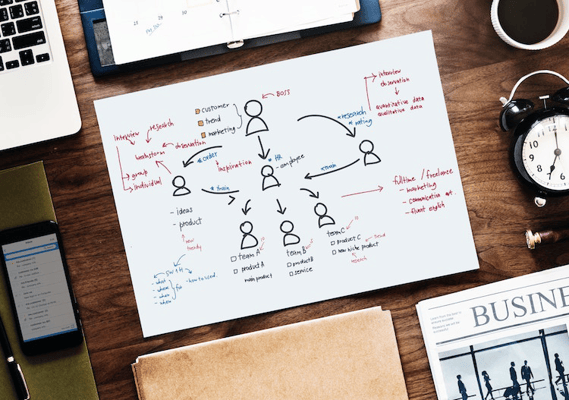 We needed to support more inbound campaigns within weeks, and we needed to grow to support at least 40 consultants within three years.
Our purpose at HubDo is to support independent consultants and agencies around the globe with marketing tech stacks and inbound expertise. My passion is to help as many businesses owners as possible, to help them grow and to create prosperity in their local area.
Here's the story of how we quickly built a world-class team to take on a challenging inbound campaign for a client.
Where We Started
In my prior 16 years at Cisco in EMEA and APAC, I became ingrained with a supportive ethos to apply innovation and process to help others achieve good business goals.
To visualize our immediate challenge, I'm using an aircraft analogy: Just as flying a commercial jet requires a highly trained crew with a mix of expertise, a crew following rigorous processes yet adapting to any challenge, this too is our vision.
With growing demand from the consultants, I worried that we wouldn't find the talent to build the crew we wanted, and if we did, they wouldn't form into an agile team fast enough to execute as one.
Within weeks, by carefully selecting the best candidates available — candidates with skills and culture fit and educated by HubSpot Academy — HubDo provided an expanded world-class inbound flight crew to deliver services for consultants like Peter Preston and his client Coomera Anglican College. Marketing manager Elda Koro needed Peter to fill the school's upcoming Principal's Tour with a new audience of parents from the expanding areas, an important enrollment event for the school.
Together, we over-achieved and ensured Peter Preston did not let Elda down. Here's how we did it as a business.
Step 1: Recruiting Your Inbound Crew
Growing the core team meant expanding the Global Center of Excellence (GCOE) at HubDo's main operations office in Clark, in the Philippines. The GCOE is where most campaigns are coordinated across the globe, inclusive of local creative writers and specialists. To grow, we needed more a-players.
To me, an a-player is one who is not only hungry to learn but highly motivated to share knowledge to strengthen the team around them. A-players are not threatened when another joins the team with stronger skills. Rather, they embrace it as an opportunity to learn and grow.
A-players are connected to other a-players, and they attract and want to work with more a-players. This is a key reason why, once we got started with a few, we could grow quickly with the best team members you could hope for, of whom I'm extremely proud.
Those who have not visited the Philippines may know little of the country. We've come to love the culture and the people, and the rest of the world could learn a great deal from the high priority that Filipinos place on looking after family and each other.
Some teams operate in a distributed fashion, working across the globe. This provides a lot of flexibility, but I was adamant that the core team should be full-time in the same room, to work together, play, eat, and even karaoke together. It's difficult to foster a family without the close proximity of working together, at least occasionally — especially for the effectiveness of multi-element inbound campaigns.
If a team does have to work remotely, I recommend they all gather at some point to build human bonds of trust. On this trip in early 2017, we spent two weeks with the Clark-based team. Together, we shared rituals like taking on the challenge to eat the Filipino delicacy called balut (I'll leave you to Google that). For a group who did not already know one another, we quickly became a family, and I miss them when we're not there.
You hear a lot about the importance of establishing company culture. Unless you define it in advance, those who join will define it organically.
We were about to triple this HubDo team, and it was time to define our own. If HubDo were a person, the culture would define that person. This means that every new hire must pass through the "airport scanner" of culture fit, because a hire who is not a match with any core culture item will weaken it and potentially the whole team. In our inbound analogy, this could bring the whole aircraft down. We had to define and rigorously check for culture fit in every interview.
Culture is to recruiting as product is to marketing. — HubSpot's Culture code
Our culture at HubDo can be described as iCROWD. This stands for:
integrity (small "i," humble integrity)
C (rise to the Challenge)
Results
Openness
World Class
Don't Let Anyone Down
It was hard to dismiss candidates who clearly had skills but simply weren't motivated to learn fast, to adapt, to embrace challenge, and to rise to it. Most importantly, we needed each team member to have a sharp focus on results and to not let anyone down, which includes colleagues, family, the local community, consultants, and their clients.
With the team now at 12, I'm absolutely convinced that defining iCROWD was the most valuable thing we have ever done for HubDo, because today it defines us all.
Holding out to find the right individuals took a bit longer, but it meant the HubDo team could move forward as one. Very quickly, the larger team of a-players was formed.
Now the additional learning could begin. We had to quickly step up the learning and embrace every skill on the team. It was time to coordinate as a team to learn to fly, but this is also where culture backfired in an unexpected way.
Step 2: Flight School Training With HubSpot Academy
Imagine boarding a flight where the crew was hired based only on interviews. I expect, at a minimum, staff has operational and safety training with up-to-date certifications. They must know the specific model of aircraft and be ready to adapt to any situation.
In our analogy, we treat the HubSpot software like the airbus series aircraft. The cockpit fundamentals for the smaller A318 aircraft are similar to that of flying the enormous A380. Similarly, a HubSpot certified inbound marketer can operate HubSpot Basic through to HubSpot Enterprise.
HubSpot Academy became the secret sauce that enabled the newly formed group to quickly operate as a team.
What I hadn't expected was that our culture was about to backfire on us.
A friend and ex-colleague of mine, who's now a global people and culture consultant, explained to me that each positive culture trait can also have a dark side: The "Darth Vader" trait, where positive can become negative.
In this case, the cultural aspect of Don't Let Anyone Down meant that in our training, nobody wanted to fail an exam, ever. Everyone felt that a fail would be letting us (and me) down. We had to push through that and make sure people knew it was expected that they would fail each exam on the first attempt, learning as much from this as from the course itself.
I'm grateful that HubSpot makes all courses and exams available in the Academy tool at no cost. Exams can be taken again at a later date. I estimate that this alone has saved us around USD$25,000 based on the 82 certifications the team has achieved in the first half of 2017.
So how and why did we push through? To challenge each other, make it visible, celebrate success, and reward progress, I told the team I'd automatically provide a pre-set base salary increase upon each certification passed, which reinforced how vital the training was for the success of supporting the consultants and their clients.
The Certification Badger
To gain the latest knowledge I needed to lead the team, I personally sat every certification I could. This not only gave me an appreciation of who needed to do each course but also set the expectation that I was not expecting others to do something I wouldn't.
We needed to make sure the consultants each had the same core skills so that we could move swiftly as one. I set the challenge for each to pass several certificates and, when completed, would share their new badges on our collaboration on Basecamp.
Holding the bar as high as I could by passing many in advance was a tough initial commitment on time and exams, but it really paid off. Each consultant badge was also made visible, immediately published to the website. Each consultant put their new training into practice quickly, to solidify the learning.
Not only is HubSpot Academy stocked with a-grade material, but by gathering so many certifications, or badges, I earned the title of Badger.
The Certification Wall
To reinforce the importance of certifications in the GCOE team and to push through the dark side of Don't Let Anyone Down, I told the team I expect each exam to be failed the first time, but I also expect each certificate to go up on the wall.
By making it visible to all, there's a now a momentum of learning, where any new team member is made aware that passing the Inbound Certification in the first month is expected from all, otherwise they're now essentially letting the rest of the team down.
It's given rise to the certification wall: 82 certifications so far across the consultants and GCOE team, and this achievement pays off for us all every day.
Having every person Inbound certified brings a core common language and understanding. No time is lost explaining personas, journey stages, offers, landing pages, forms, CTAs, emails, or workflows. All team members have core strengths based on their role and, where possible, can back each other up. Additional courses build on specific skills depending on their role on the team.
Download The HubDo Guide To HubSpot Academy Certifications by Role.
Common certifications helped the team bond and operate as one, challenging each other to be ready for the next campaign. So in a rapid flurry of learning, HubSpot Academy brought a common understanding to the whole team, not just of honing their own skills but, even more importantly, to understand each other's role. This is why both broad and specialized certifications help to create a strong, collaborative, and agile core team.
Step 3: The Inbound Destination
Planes are not built to sit on the ground. Our flight crew was built with the purpose of enabling consultants to deliver results to each client. As the new core team had been rapidly expanded, with common culture, bonding, and a rapid alignment of certifications, we were ready by mid-January to deliver new campaigns, including Peter Preston's challenge for marketing manager Elda Koro.
Coomera Anglican College has been established for 20 years in one of the fastest-growing regions in Australia. The college cannot expect that newly settled parents in the expanding suburbs will know of their outstanding reputation.
The Principal's Tour is the primary enrollment event, so together we needed to attract new contacts in order to allocate remaining available places. This challenge is ideally suited to inbound marketing due to the ability to define clear target personas and to appeal to the particular stage of the buyer's journey that each parent is in.
The goals for the campaign were set: Take the remaining 15 places (from a total of 30) for the upcoming tour on March 2, and attract those who were more likely to choose Coomera Anglican College and did not already know the school.
Once the event was full with registrations, the landing page would be changed so that additional leads from that point on would be wait-listed for the next tour in May, pre-filling new places for that event, too.
The event has limited capacity due to the personalized experience it offered, so targeting — especially in PPC campaigns on Google Adwords and Facebook — had to be precise.
We set the goal of 20 new registrations to allow some flow to the next event, and we assembled a HubDo team with the right mix of skills for this campaign.
Step 4: The Inbound Flight Plan
Following the HubSpot campaign planning process, there was little time to lose to define the steps needed to take the campaign live as quickly as possible. Here's where the real work between the team's execution and the HubSpot software come together.
One of the best productivity tools in HubSpot is the campaign planner. Completing the campaign template quickly aligns your plan around the specific goals of the campaign: start and stop dates and target personas along with their stage of the buyer's journey. Each element covers conversion, promotion, and nurturing is captured in one sheet. HubDo created a simple template to first plan the campaign as a group using a worksheet, which was then uploaded to HubSpot > productivity > campaigns.
Completing the campaign planning included:
Creating offers that interested parents would download regarding the college and the Principal's Tour.
Establishing the primary landing page for the event.
Establishing links on thank you pages to further engage interested parents, with appropriate additional content for the target persona.
Email automation workflows to automatically communicate with parents who registered and to send an appropriate series of messages to provide timely information before the date.
The production of creative elements such as downloadable offer documents to be used on landing pages and ads for PPC campaigns.
Step 5: Taking Flight
Approval was given to commence the campaign. The crew could take their positions and apply "forward thrust" for this inbound campaign to get "wheels up."
Using scrum methodology as an agile marketing team, HubDo scrum leader Remmy took the helm of the campaign. Elda and Peter participated as members of the scrum team for some of the daily calls, known as a huddle.
An initial 16 hours were allocated to address several items uncovered during a pre-audit of the HubSpot account relating to contacts, content, social media, and CTAs. A further 11 hours were needed across the team to set up the Principal's Tour campaign, including amended Google Adwords and new Facebook ads.
The creative elements, landing pages, related pages, and workflows were quickly established. A carefully crafted Facebook ad campaign was defined for the target area and custom audience. This way, the ads would only appear for those most likely to be interested in and well suited for the event.
By mid-February, 12 ideal registrations had been made. The team continued to develop and add FAQ documents, college prospectus, and variations of ads to feature aspects of the school for different families.
Through the campaign visibility, we tracked visitors converting to leads and registrations, and we could see that we were on a trajectory that would reach our target destination on budget and on schedule.
By February 17, the event was fully booked with ideal prospects. The campaign was "preparing to land" as the inbound team did their equivalent of "disarming doors and cross-checking."
By February 24, the event had closed with a total of 55 attendees. Objectives were met with the number of new contacts much higher than previous years, and a good number of new registered applicants on the night. The campaign landed safely back on the tarmac and taxied to the terminal.
The Results: A Successful Flight From a World-Class Team
In a short time to plan, execute, manage, and close, that first campaign attracted more than 20 new families to the first Principal's Tour of the school year, resulting in seven applications for enrollment with a value of over $440,000 to the school. The ongoing campaigns are now set as a regular "monthly flight" of setting and meeting goals for upcoming events for the college.
Inbound marketing isn't necessarily a long-haul flight. Sometimes it's a short sprint. By carefully selecting team members for culture fit and growing their skills with HubSpot Academy, HubDo was able to quickly triple the team size and form a world-class team. Localtag consultant Peter Preston could immediately plan and deliver for Coomera Anglican College, and I'm proud to say we didn't let Elda down.
"The project has been incredible, fast paced, and packed with activity. It was reassuring to have such a professional and capable team by my side. I feel very fortunate to be working with you all" — Elda Koro, Marketing Manager for Coomera Anglican College.
Tools used for this campaign.
HubSpot Marketing Professional; Basecamp for collaboration; and Asana to manage the flow of tasks in the scrum calls. Paid ads were operated on both Google and Facebook business manager.