"At first I thought the goat program was really dumb. It couldn't possibly generate customer interest. But, it turned out to be the best marketing campaign I've ever seen. Customers really responded to it. And the goats have essentially become the Formation mascot."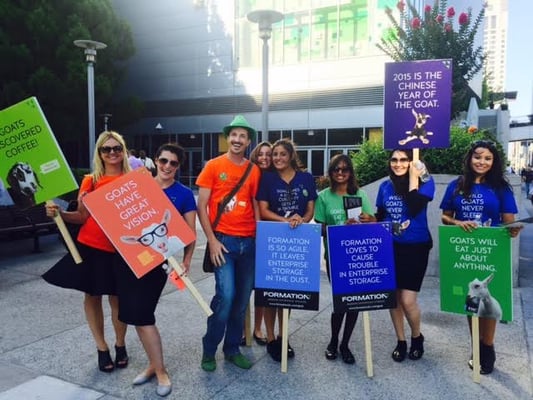 ⎯ Kevin Chew, Chief Customer Officer, Formation Data Systems
Marketers spend a lot on tchotchkes. A lot. As in over $20B in 2014! So, as Formation geared up for VMworld last September, we wondered what we could give away that wouldn't end up in the dumpster or the ubiquitous junk drawer.
Actually, it wasn't even shelf life so much as impact. What could we give attendees that would make them think about our company for more than two seconds?
So we decided on a different approach altogether. We'd spend money on something that makes the world a better place. Doing well by doing good. We'd heard about the work that Oxfam does, giving goats to families in need. And what a dramatic difference one goat can make.
And like most great ideas, this one was simple: every time a prospect sat down with us for a demo, we'd donate a goat through Oxfam in the prospect's name. To date, we've donated almost 100 goats.
From Idea to Marketing Campaign
Of course, every marketing campaign has a process and infrastructure that either supports it or dooms it a failure. We couldn't afford a tradeshow booth at a high-profile show like VMworld SF so we morphed into guerilla marketers.
We hired a team to stand across from Moscone Center carrying clever goat signs. One side would say something like, "Wild goats never sleep!" and the other, "If only they could code, we'd hire some." We had more than a dozen variations.
We'd asked passersby, "Do you want a goat?" And when you ask tradeshow attendees if they want a goat, it usually gets their attention. In the entire history of technology tradeshows no attendee was ever asked if they wanted a goat.
It was a fantastic ice breaker! And it immediately garnered attention. We explained to attendees that if they would be willing to see a FormationOne demo and we would donate a goat on their behalf to families in places like Haiti and Ethiopia. And a lot of people said yes!
We had a marketing hit on our hands and one that saves lives. So we took it to another technology show in Las Vegas at the Gartner Data Center.
We created goat cards and goat t-shirts. I personally spoke to nearly all of the 2500 attendees at Gartner Data Center and became known affectionately as "The Goat Lady". Seriously, I'd be in a taxi line and I'd hear "Hey, it's the Goat Lady!" Our CEO would talk to people and they'd say "Oh, you're the goat company." Impression made.
Extending Campaign Reach
At live events, our goats have become a huge draw. But we wondered if we could extend the campaign beyond events and take an inbound approach. So we took the goats to live video.
The kind goat cheese makers at Sky Hill Farm agreed to let us use their farm. We scripted stories that reflected three important Formation messages and the goats became a metaphor for out-of-control data growth.
You can see the GoatBuster videos here: Episode 1: Goats in Coats | Episode 2: Fred's in DisArray | Episode 3: Goats Gone Wild
Since they went live on YouTube, the GoatBuster videos have:
Attracted 4000 views
Boosted web traffic 270%
Increased social media visits 1700%
Generated 479,000+ re-marketing impressions, 2500+ clicks
Formationds.com/goat is the landing page we created for the program. We use this for publicity and to encourage people to sign up for a demo. The URL is printed on pins and cards and other collateral we give away and it has worked because its short and memorable, and of course features adorable goats. When people hit the landing page they are reminded about the program and encouraged to sign up for a demo. The page also includes some messaging for our software platform.
A blog post coincided with the launch of the GoatBusters video series. Our VP of Marketing, Rick Walsworth, used the blog to get people to see the videos and to let our audience know that we took our goat program to video. It was a way to get viewership.
Cause marketing is not a substitute for clear tactical and strategic thinking and good nuts and bolts planning. But the next time you're planning for a tradeshow ask yourself how much better you could be if you shifted money from mouse pads and selfie sticks to causes that impact people's lives. Formation did it and it was incredibly successful--for us and for the families to whom we donated.
Formation is still running our See a Demo, Get a Goat program. We'll be giving away goats at Cloud Expo in NYC June 7-9 so stop by booth #229 and get your goat!