There's an old business adage that says, "You can't manage what you can't measure."​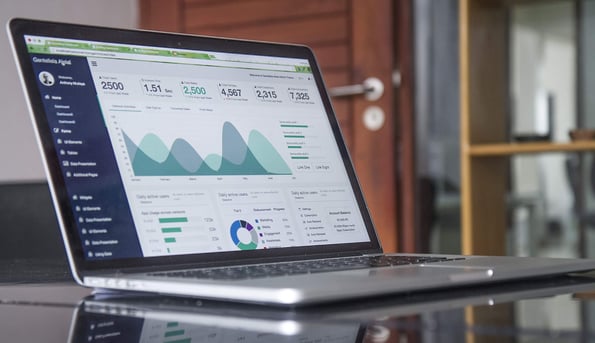 ​In other words, it's impossible to know what's working (and what's not) if there are no defined metrics to judge success.​
Today, businesses need to focus on generating, analyzing, and applying data. That's where business analytics comes in.
What is Business Analytics?
Business analytics refers to the skills, technologies, practices for continuous iterative exploration and investigation of past business performance to gain insight and drive business planning.​
​But I'll let you in on a little secret: To get good at business analytics, you and your team need to level up your data literacy.
Gartner, one of the world's leading research firms, defines data literacy as:
The ability to read, write and communicate data in context. This includes an understanding of data sources and constructs; analytical methods and techniques applied; and the ability to describe the use case, the application, and the resulting value.
In this context, and for the sake of simplicity, think about a data construct as the way your data is structured by the software you use.
Most businesses use databases to store and organize their larger datasets so that information can be searched and retrieved quickly. But over time, as you collect more customer data, you'll need to be more critical about the software solutions you're using. Why?
The needs of your customers will change.
You need accurate data.
You need reportable data.
To stay compliant, you need to protect your data.
As you reach larger audiences through channels that excite them, Excel spreadsheets and disparate systems won't cut it anymore. You need a platform that accounts for your entire customer journey and grows with you.
Every year, a percentage of your data will degrade. You need a software solution that's fast and makes data clean up easy. This ensures your marketing, sales, and service teams don't waste time or resources tracking down and nurturing false or duplicate leads.
A centralized system helps you organize, consolidate, and report on your data so that you can make decisions with the fullest picture possible. Use a platform that can account for data that's unique to your industry and to your customers.
Compliance regulations, such as the General Data Protection Regulation (GDPR), Health Insurance Portability and Accountability Act (HIPAA), or California Consumer Privacy Act, hold you responsible for the security of the data — even when it's stored in the cloud across different platforms.
As you can imagine, it's not enough to simply use a database to store your information anymore. And your ability to read, write, and communicate data in context needs to go hand-in-hand with the software solutions you use to collect, manage, visualize, and apply your company data. Let's dive into those in a little more detail.
Collecting Meaningful Business Data
Data helps you better understand your leads and customers. It informs you how well you're supporting existing customers post-sale. Data can even tell you what products and services to offer. With the right reporting, you can create cross-team alignment and transparency where there used to be silos. And that's just the beginning.
None of this matters, however, if you don't know where your data is or how to access it. The first step to creating a data-driven team is knowing what data is being collected, where it is housed, and if there are any missing pieces. If you find that you're missing insight or information about any area of your customer journey or business processes, it's time to audit your tech stack.
You wouldn't hire a new team member without an interview. Similarly, you always want to be "interviewing" and evaluating the performance of your software. Make sure you have the right tools in place and that they are accessible to team members who need them most.
What to focus on here:
Understanding your integrations and the way data flows between systems
Auditing your integrations to ensure data is being stored correctly
Identifying software solutions that grow with your team
Tools to help you along the way:
HubSpot App Marketplace
Discover new integrations and connect your tools, teams, processes, and data with a single, connected system.
Managing Your Business Data
Hard truth time. If you're collecting information on your leads, prospects, and customers, but you can't trust or report on it, you don't really have data. You have a problem.
Storing data in disparate systems hides its true value from your team. At best, this will create duplicate effort and waste valuable time without the full story. At worst, it leaves you at risk for data compliance and security issues in the long run. You don't want any of these to become a reality.
Managing your data is about learning how to consolidate, organize, and clean it over time. These practices will allow you to develop consistency. And consistent behaviors in this area means you can reap the full benefits of automation while personalizing and optimizing your content and interactions at scale.
What to focus on here:
Understand how your data is structured in your CRM
Identify how and where custom business data is being stored
Audit your database to ensure your data is "clean"
Determine if any automated solutions could help manage your database
Tools to help you along the way:
HubSpot Standard and Custom Objects
HubSpot Properties
HubSpot, at its most basic level, manages relationships. The backbone of this system are the standard objects that HubSpot has: contacts, companies, deals, and tickets. For more advanced use-cases, you may opt to create your own custom objects or explore other objects such as marketing events.
Properties are used to store data on certain objects in HubSpot, such as contacts, companies, deals, tickets, and products. When you need additional properties to gather information for your business processes, you can create new custom properties.
Visualizing and Aligning Behind Data
This is what typically comes to mind when the words "reporting" or "analytics" get thrown around.
Reports tell you what is happening and help you transform raw data into a digestible format. Did your campaign receive the expected amount of traffic? Did your team close as many deals this quarter as last quarter? Reporting helps give you a health check on how your initiatives are performing.
Similarly, analytics focuses on exploring and interpreting data or reports in order to glean valuable insight as to why certain trends happened the way they did — this information helps you create replicable processes. The key to mastering this competency is fully understanding how your reporting tools work. Knowing when and where to find the answers you're looking for is key.
What to focus on here:
Implement best practices of data visualization
Report on effectiveness and efficiency of your team(s)
Analyze your performance of your initiatives against the business goals you've set
Tool that are here to help:
HubSpot Report Builder
For Marketers: HubSpot Attribution Reporting
For Sales Reps: HubSpot Sales Analytics
For Services Agents: HubSpot Feedback Surveys
Create beautiful, custom reports to answer even your most complex questions. Report on virtually any metric from HubSpot Marketing Hub, Sales Hub, Service Hub, any record from HubSpot CRM, or data from any integrated apps you may be using via the HubSpot App Marketplace.
An attribution report is used to understand the journey someone takes from the first time they set foot on your website to the time they become a customer — basically, measuring the conversion path to see what made someone convert. In order for marketers to be successful, they need to understand all of the influencers that drive conversions throughout the funnel.
Currently HubSpot has two types of attribution reports:
Contact Create Attribution: determines what marketing activities are creating the most new leads (Marketing Hub Professional and Enterprise & CMS Hub Professional and Enterprise)
Multi-Touch Revenue Attribution: determines which marketing and sales activities are driving the most revenue for your business (Marketing Hub Enterprise)
The Sales Analytics tool has the most relevant sales reports to help sales managers and their team members to understand better how they are performing. These reports are derived from the values of certain default deal properties and deal pipeline settings.
Once you've set up and conducted your customer loyalty survey, customer support survey or customer satisfaction survey, analyze the feedback and track performance over time to improve your business processes. You can view customer feedback performance over time in your service dashboard with pre-built customer feedback reports, or you can view data for individual surveys for a more granular breakdown of survey responses.
Applying Your Business Data
It's not enough to have data. You need to translate and use it to inspire conversations that lead to action. In other words, what are you doing with the trends you've uncovered? How are you putting your data into action?
Effective application is about fostering a data-driven culture at your company. It is not enough for a company to have just one person work with and implement data analyses. If that were the case, hiring a single data scientist would be sufficient — and it's not.
How do you create a community around data? Creating a community around data means establishing a culture where people are not only driven by results but are also driven by learning. This means teams not only looking to adapt but also innovate around the needs of the customer. Data is an exciting, renewable resource for growth and ingenuity, but only when it's used widely and consistently.
What to focus on here:
Presenting a compelling argument
Share key information with your team, manager, and stakeholders
Plan next steps and what you're going to do next with the insights you've uncovered
Tools to help you along the way:
HubSpot Dashboards
You can create new dashboards and customize their reports for your personal use. If you want to share a dashboard with others in your HubSpot account, edit its visibility. You can also clone dashboards that are visible to you and delete dashboards you've created to reduce clutter. Use "Full screen mode" to present this information to your team or throw it up on a monitor to inspire action around certain metrics.
Admittedly, reporting strategy can quickly feel abstract, so let's take a look at an example of a team that integrated data throughout their business and created a culture of data-driven decision making.
New Breed is a premier inbound marketing and sales agency focused on full-funnel tactics. As the Top HubSpot Partner in North America, they can solve their client's unique challenges by aligning people, processes, and platforms for the world's fastest growing B2B companies.
The issue? Before using HubSpot, New Breed Marketing was your typical marketing agency specializing in traditional branding and websites. But they'd also take on any creative marketing project that would come their way, whether it be 3D graphics, video shoots, or even radio production.
This type of project-based work was a problem for New Breed, both internally with their team and externally toward clients. Internally, this made their business model hard to forecast. Externally, it was hard for New Breed to justify the long-term ROI of their services without any specialized focus or measurable way to track campaigns.
The solution? HubSpot's fully integrated inbound marketing platform. With all of a client's online marketing tools constantly exchanging information in one place, New Breed was able to better manage a client's entire online marketing strategy. This helped New Breed's value proposition make a significantly greater impact on its clients, as they now had the tools to execute on a full-funnel marketing strategy that can drive and nurture leads.
After consolidating and managing their data all in one play, New Breed could now track and measure the ROI of a given campaign or marketing effort across every tool and channel using HubSpot reporting — since all of HubSpot's tools seamlessly pass data back and forth. More than that, New Breed could now better prove the ROI of a client's investment in their agency.
In particular, New Breed has found success by leveraging HubSpot attribution reporting. According to Guido Bartolacci, Head of Demand Generation and Growth Strategy at New Breed, "It is not hard to get started with revenue attribution in HubSpot. It's out of the box. As soon as you start closing deals in the HubSpot CRM, you'll have that rich insight about the customer journey and how that ties back to your company revenue."
By consolidating and managing their data all on the HubSpot platform, New Breed has been able to identify and to double down on what's working.
According to Bartolacci, "We've seen some incredible results, nearly an 80% increase in the attribution that blog posts have had to revenue in the past year, and we've more than doubled the amount of revenue that we've generated from marketing this year compared to last year. It's pretty cool."
Read more about New Breed's journey with HubSpot here.