Chances are, you write every day. Maybe you send emails, log notes, publish social posts, and more.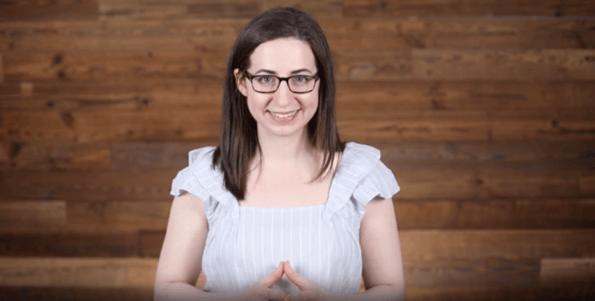 But have you ever thought about the kind of power your writing holds? It plays a huge role in your company's brand and your ability to establish trust and even drive revenue.
As HubSpot Academy's Content Manager, I believe everyone can—and should—focus on the written quality of the content they're publishing. That's why I recently launched a new lesson, "Writing for HubSpot Academy."

Why Is Writing Important for My Business?
This is a question you might be wondering yourself:
Why should I invest my time and money into writing, especially if I already took the mandatory English classes when I was a kid in school?
Strong writing isn't just for earning that A on your report card. Writing follows you into the career world, too. It plays a huge role in your ability to create content that puts your company's best foot forward. Let's look at some specifics:
Corporate branding: The content you write is a reflection of both you and your company. In fact, 80% of people say authenticity of content is the most influential factor when they're deciding to follow a brand.
Trust and revenue: A consistent brand creates trust between a company and its customers. And when that brand is presented consistently, revenue increases by 23%.
Credibility: Of all B2B marketers surveyed in the annual B2B Content Marketing 2019 study, 68% say they've used content marketing successfully to build credibility with their audience.
In every piece of content you create, you're communicating with the public. People need to be able to recognize your company, connect with your company, and trust your company.
Why Does HubSpot Academy Value Writing?
With all that said, writing is a skill that improves with practice, feedback, practice again, feedback again, and so on. Which is pretty much what we do here on HubSpot Academy.
Our main focus is you — our learner. We need you to trust us so that you can grow better. We need to prove ourselves as credible educational thought leaders. And we need to connect with our audience.
Why?
Because we're creating content to educate and inspire people. The unfamiliar can be scary, and learning can be intimidating. But writing changes all that.
Writing bridges the gap between something completely unfamiliar—like a new software or business strategy—and something completely familiar: a human voice.
What You'll Learn in "Writing for HubSpot Academy"
Here are the major topics you'll explore in the lesson:
Creating authentic content for your brand: Whether you're a team of 1 or 200, any content created by your company should be consistent. But this doesn't mean the same. In this lesson, you'll learn about consistency in the context of authenticity. By keeping this top of mind, any content you or your team writes will uphold the integrity of your company's brand.
The basics of style, voice, and tone: These terms are often mixed up in the content world. After taking this lesson, you'll be able to define all three and apply them to your own writing. This way, any content created at your company will have a consistent thread so that your audience sees and hears your company—not hundreds of different voices from your marketing department.
How HubSpot Academy does it: Whether you're planning on writing a guest post for us or just looking to get some creative ideas for your own content, I'll share with you how we use style, voice, and tone in our educational content to align with HubSpot Academy's brand.
Be Featured on the User Blog
After taking the lesson, you'll have the chance to put what you learned into practice—right here on the User Blog.
Send me an email at userblog@hubspot.com, and include the following in your message:
Your key takeaway from the lesson
How you're going to apply this key takeaway to your own writing
How you've used the HubSpot software to reach your goals or overcome a roadblock in your business
If selected, you'll have the opportunity to write your customer story article for publication on the User Blog. I look forward to hearing from you!
Ready to get started? Access the lesson right in your HubSpot account:
Don't have a HubSpot Learning Center account? Click here to create one (for free) and then take the lesson.
Let's Chat About Writing
If you have any questions about writing (or editing) content for your company, let's chat! Connect with me via the social links in my author profile, or send me an email at userblog@hubspot.com.