Producing email newsletters for B2B markets can be a vital part of your inbound marketing. Producing one, week after week, which actually gets read isn't always so easy. Luckily, publications of all shapes and sizes can create great newsletters—you just have to know your audience and what they will find most engaging.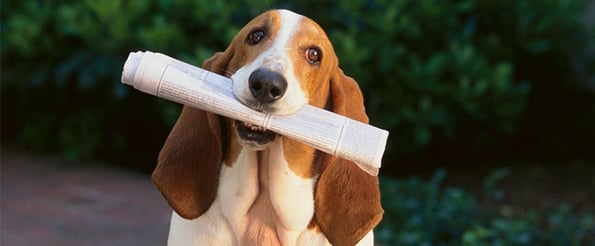 To get your creative juices flowing, here are 8 of the best B2B email newsletters we've come across recently:
1) Food Safety Update
Not exactly a catchy title unless you happen to work in food and beverage manufacturing and don't want to inadvertently make people sick. But to the right audience, Food Safety Update's content is pure gold, presented in a clear and easily digestible manner. We like the clean design that's smartly organized and well-labeled so readers know exactly what type of content they'll be viewing (featured articles, sponsored white papers, events, products, etc.). They break up all that text with attractive thumbnails and tastefully designed display ads that don't detract from the content. Unsubscribing is easy, as is social sharing.
2) GreenBuilder
GreenBuilder offers another tastefully designed newsletter that makes it easy to quickly find what you want. We especially like the text-only top with hyperlinks to featured articles—it gets you to the meat of the email fast. The graphics below help to separate additional linked articles with thumbnails and concise summaries. They also make it easy to share on social media with icons at the bottom, as well as text-based links at the top. The article titles are engaging and the writing is crisp and written with a very specific reader in mind.
3) InterDrone News
Yup! Would you believe there's a really cool newsletter aimed at folks who build drones or use them in their work? Who knew? This newsletter is sparse on the bells and whistles, but has a super easy to read layout, direct and to-the-point writing, and the content stays on topic. The line breaks in particular are a great tool for moving readers' eyes down the page.
4) Dental Products Report
DPR writes catchy headlines and article titles that get dentists' attention. We can see why it's so popular. The layout and images are more reminiscent of a well organized website than a newsletter, and their use of topics along the top make for easy navigation. Their CTAs aren't subtle—it's clear what actions they want you to take. But their copy is direct, benefits-laden, and clear. They also create a sense of urgency where appropriate and incorporate social proof with testimonials from other dentists.
5) Chemical Processing Weekly
As far as B2B newsletters go, this one is not what you would expect. Forget the clinical, scientific vibe. It has more of a retro, down-home feel. We especially like how they incorporate polls and a reader questions to get engagement up. The headlines appeal to chemical engineers, content is concise, well-organized and stays on topic, native ads are clearly identified. They keep the reader's needs first by offering content from both their own publication, in addition to compiling top industry news from outside sources.
6) Smart Meetings News
Aimed at corporate event planners, this newsletter is attractive and fun to read (e.g. How to Stay Healthy at Conferences Using a Smartwatch). We like how it's organized—more timely news is up top, with industry articles and events following. They include polls for favorite hotels and venues, and make it easy to share as well as return to the main website. The colors are bright, the photos enticing, and social sharing a breeze.
7) SD Times' Featured Resources
Software developers love this newsletter because it's filled with valuable educational resources, each tied to a unique and relevant industry issue. We like the way they use color and white space—the design is inviting, cheerful, and easy to read. The CTAs aren't buried in the text, but bold and easy to engage with.
8) SP TechCon News
This event-specific example gets right to the point. It shamelessly urges you to spend up your remaining training bucks at their upcoming conference. We like their direct style, and the alternating use of color for the different classes makes it easy to read. There's no way any IT professional can mistake the message, and if the idea of Austin in February wasn't luring enough—they also provide an extensive sample list of classes.
Newsletters can be a great tool for any publisher, regardless of industry. Take a few notes from the examples above, and think about what your market is talking about, the expertise you have to offer, and how you can package these pieces into the most engaging format possible. These publishers knocked it out of the park, now it's your turn.