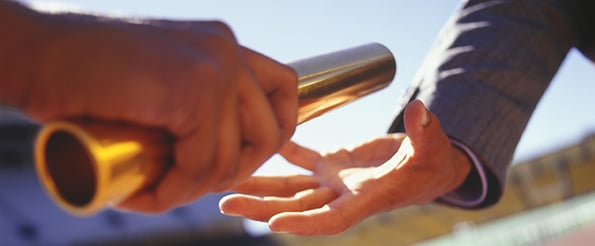 As education marketers, you're more than a collateral factory for the Admissions department. But do they know that?
Sometimes it seems a great divide separates Marketing and Admissions. Many schools experience this interdepartmental tension, which slows down the recruitment process. Admissions complains about lead quality. While Admissions' inconsistent follow-up on leads frustrates Marketing. This makes handing off leads a chore instead of a routine process.
Yet when Marketing and Admissions work as partners, they share greater visibility. They see how all their combined activities interrelate and support their institution's enrollment goals. When that happens, both student enrollment and mutual professional respect increase.
Imagine what it would be like if both departments worked together as a team. Together you're stronger — navigating the delicate and complicated journey from recruitment to enrollment. To help you create that partnership with Admissions, here are our three best tips:
1) Create a Service Level Agreement (SLA) to Establish an Enrollment Partnership
A smooth hand-off process starts long before getting any leads. Start by creating an SLA with Admissions. SLAs, common in service organizations, ensures your school meets its obligations to its prospective students. At HubSpot, we encourage our clients to create SLAs between Marketing and Sales. It spells out each department's roles and obligations in their lead generation and conversion process. The same idea applies to finding prospective students and converting them into enrolled students.
An effective SLA also defines goals and success metrics that Marketing and Admissions must meet. Crafting the SLA together takes agreement on critical terms, especially what makes up an "Admissions Qualified Lead (AQL)." These are the criteria that define when a lead is ready to hand-off. When you agree, complaints of bad leads go away. Consider some of these criteria to include:
What demographic, expressed interests, and behavior triggers qualify a lead?
Does it take a volume of actions, say downloading many pieces of content?
Are there any "rocket to the top" actions that trigger an AQL, say scheduling a campus tour?
Clarifying any criteria that will send an AQL back to Marketing. For instance, a lead met the formal AQL triggering criteria. But Admissions can see this lead isn't quite ready to speak with them. It takes patience and observation to help Admissions define what they see. Only then can you translate those criteria into an SLA.
Defining what actions and results are expected of each person in the process.
Drawing a direct connection between Marketing's lead generation goals and Admissions' enrollment goals.
Enjoying the teamwork inspired by having shared goals
The first metric, often set by a group of stakeholders, is your enrollment goal. The rest of your goals fall into place from there. For example, you have an idea of how many students you need to accept to reach your enrollment number. Based on that, calculate how many leads you need in your contact database. Finally, how many prospects at open houses and visiting your website will you need to get enough leads? When you both agree on these numbers, you're working as partners, instead of adversaries.
Working together also means clear and regular communications on both sides. Check-in meetings help make that easy (more in tip #3).
The SLA may include a Marketing goal of attracting a specified number of people to open houses. Of those prospects, a certain number should become leads, and admissions then commits to touching each AQL a certain number of times. For example: Admissions sends X emails and makes Y phone calls over a certain period of time.
Below you'll find in-depth guidance on what metrics to include in your SLA and how to calculate them. The template uses sales terminology. You'll want to change it to fit the metrics and terms your school uses.
Speaking of templates....
2) Use a Consistent Strategy and Templates to Streamline the Lead Hand-off Process
Don't fumble here. The goals and action steps on each side of the house are clear in the SLA. The hand-off process must run smoothly so it doesn't become the weak link.
Outline this process with Admissions, step-by-step:
What triggering criteria turn a lead an AQL? This is part of your SLA.
How does Marketing notify Admissions of new AQLs? Ditto for Admissions sending leads back to Marketing? Is it a spreadsheet report? An email? Is the information automatically synced between databases, or manually sent?
What information is included in the report about the AQL? Besides contact information, what about content consumed, program web pages they've visited. Have they looked at financial aid information, or not? Should the "Return to Marketing" report include the reason why, how many times admissions made contact, etc.?
How often is a hand-off report sent? Is it a weekly or daily spreadsheet listing all AQLs? Or are emails about a specific prospect sent immediately once a prospect becomes an AQL?
Who gets these reports? Who allocates responsibility for specific AQLs to the person in Admissions accountable for follow-up?
Besides documenting the hand-off process, create templates to track and communicate necessary information. If you both agree to hand-off individual AQLs via email – develop a formal email template. Same for emails that Admissions should use when they return a lead to you. Using marketing automation simplifies this with workflows. A workflow's rules can automatically:
Extract the correct information
Place it in the appropriate email
Send it to the right person
At whatever frequency you define
3) Have an Ongoing and Open Feedback Loop to Foster Communication and Success
An SLA only works when there's mutual monitoring and accountability. Hold regular SLA meetings to review where everyone's metrics stand against the goals.
At the meeting, discuss why you're ahead, or behind, on your numbers. It's also a good time to clear up any blips before they become full-blown issues. If Admissions thinks too many prospects on the last report weren't qualified — resolve the problem. Are the workflow rules parsing the data correctly? Do the AQL criteria need tweaking?
Use it to address higher-level issues, such as:
Why has there been poor attendance at open houses?
Website traffic to the admissions page has dropped, what's going on?
Has traffic to Admissions' page gone down?
Have downloads of the "Admission Checklist and Deadlines" content jumped?
Dissect the reasons and build on the strengths you identify for future successes.
Decide how often to meet. A monthly meeting could focus on higher-level, more strategic topics. Use weekly meetings for tactical issues. Whatever the schedule is, make sure both departments treat it as a priority.
Conclusion
You're both responsible for meeting your school's enrollment goals. Work together to set underlying goals, clarify mutual responsibilities and tasks, and establish a clear hand-off process.This will help you connect the work of both departments, improving both efficiency and effectiveness. It leverages your combined resources in the smartest way possible, while also showcasing the value Marketing brings to the process. Most important, it ensures you're seen as an indispensable, valued partner in the enrollment process.