Just a short while ago, robots were the stuff of fiction.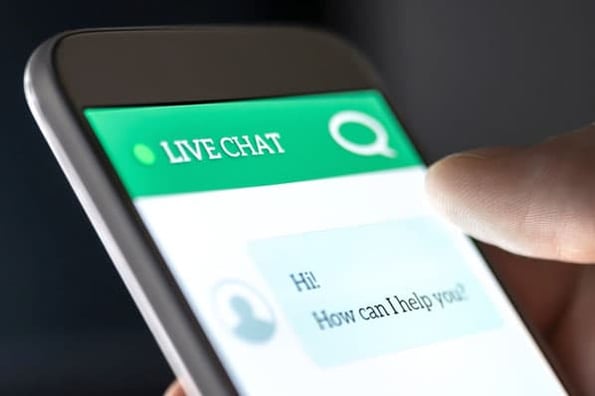 Sure, artificially intelligent beings graced movie screens and the pages of novels, but the robot revolution hadn't arrived yet. Maybe in another few decades, along with flying cars.
But the truth is, artificial intelligence is already here, and you probably engage with it more than you think.
As it turns out, you're not alone. We surveyed more than 1,000 consumers and determined that 63% of respondents were already using AI technologies -- they just didn't realize it.
And that's because AI technologies are being developed, in part, to help make humans' lives easier by independently -- and intelligently -- completing tasks for them.
AI is already in use in a myriad of marketing use cases. From content curation, to SEO, to email marketing, different tools are already being used by brands -- not only to make human marketers' lives easier, but to make them better at their jobs.
When processes are optimized and made faster by technology, not only can businesses achieve better outcomes, but humans also have more time freed up for critical thinking, data analysis, and long-term planning when they aren't bogged down with more rote tasks.
Here's a rundown of how forward-thinking brands are already using AI in marketing.
14 Marketing Use Cases for AI
1. Website Design
AI can assist marketers in a variety of use cases -- even from the very beginning of the marketing process -- including the building of the website.
The Grid uses AI named Molly to design websites, and a few creators are already using platforms "she" has built.
The Grid's value proposition? Molly can build websites at a fraction of the time -- and cost -- it would require hiring a team of developers and software engineers to complete the same task. The Grid starts at less than $100 per year for one website -- a bargain compared to a salary.
Creators can input content into The Grid -- like images, text, and calls-to-action -- and Molly builds the site using the power of AI. Check out the demonstration below:
2. Content Creation
Content writers might think jobs are safe from being replaced by AI, and for now, that's mostly true. But tools like Wordsmith and Quill are already being used by the likes of The Associated Press and Forbes to create clickable news content. Moreover, HubSpot's AI Content Writer is a powerful tool that can significantly enhance a business's online presence by generating engaging webpage copy, blog posts, and social media updates. Using templates and fill-in-the-blanks to enter relevant data and keywords, these tools can generate unique written content that actually reads like it was written by a human. (Maybe not a Pulitzer Prize-winning human, but the sentences and stories make sense.)
Here's an example from The Associated Press:
Then, marketers can edit AI-generated content using Hemingway App, a simple AI that makes prose bolder, clearer, and more concise by highlighting complex sentences and suggesting different word choices, as shown below:
3. Content Curation
There's nothing worse than the moment when you finish an amazing new series on Netflix. But luckily, you can usually start binge-watching another show right away -- thanks to the power of AI.
Brands like Netflix and Amazon are already using AI to curate recommendations to keep customers engaged and consuming and continuing to subscribe. Using AIs like IBM Watson, brands can learn more and more about consumers by analyzing their behavior -- and providing curated content and recommendations for them.
Under Armour uses data from Watson to customize emails it sends to its app users, and the San Francisco Museum of Modern Art uses an "artbot" that answers requests to see specific types of art with curated photographs and paintings. I tried out the artbot below -- send it a request at 572-51:

4. Voice Search
AI has already had a tremendous impact on the way users conduct online searches, and, in turn, that's changing the way marketers create and optimize content.
Two big AI advances have changed online searches -- and search engine optimization: voice search, and Google's RankBrain.
Innovations like the Amazon Echo, Google Home, Apple's Siri, and Microsoft's Cortana make it easier for people to conduct searches with just the press of a button and voice command. That means the terms they're searching for are changing, too -- now, instead of typing in "restaurants in Boston," users can ask a device, "where should I go to dinner tonight?"
5. Smart Home Skills
Along with voice search, smart home devices have also lead to the development of branded, AI-powered "skills." With a skill, you can complete a task or activity by speaking or replying to your home device.
For example, Jeopardy promotes its show by offering Alexa and Google Home users a skill which allows them to play the game and answer questions asked by host Alex Trebek. When you exit the game, Trebek's voice tells you when and where you can tune into Jeopardy based on your location and timezone.
In another skill, Uber allows you to ask Alexa to order an UberEats meal delivery, or an Uber car.
Skills like these leverage AI to boost brand awareness while allowing prospective customers to access a product or service simply through voice.
6. Google RankBrain
RankBrain is Google's machine-learning algorithm that was created to deliver more relevant search results. It interprets queries and, using the power of AI, serves up the best possible results according to what it interprets from the language. For example, if you searched for "president" on Google in the United States, RankBrain might interpret that you wanted information about the current president and would serve you information about the individual -- and not just the office of government.
Conversational search queries and algorithms are changing thanks to AI -- and, in turn, these changes are forcing search engine marketers and content creators to adapt. Long-tail keywords have been replaced by conversational keywords, and writing blog post after blog post about every topic imaginable has been replaced by the topic cluster keyword strategy, as outlined in the video below. In fact, we're adapting our blogging strategy to this new model here at HubSpot -- and that's partly because of AI.
7. Automated Emails
Brands are using the power of AI to customize marketing emails based on customer preferences and behavior to engage them more and -- hopefully -- prompt them to convert or make a purchase.
Using tools like Boomtrain, brands can send out customized email newsletters based on previous interactions recipients have had with content. AI helps send customized, personalized content recipients might be more likely to interact with -- and click through.
Online lingerie brand Adore Me used Optimove's AI to segment its customer list into different types of prospects and customers to increase purchases and subscribers to its membership pricing program. The AI automated the segmentation process and started sending customized content based on each recipient's lifecycle stage via email, text messages, and in-app notifications. Segmenting customers and contacting them on different platforms helped Adore Me increase its monthly recurring revenue (MRR), average sales price (ASP), along with doubling its active customer base.
When it comes to marketing automation, AI can free up valuable human marketers' time -- and quickly create more targeted marketing materials that convert better among customers.
8. Social Media Feed Personalization
What's wonderful about social media is its ability to connect people from around the world to talk about and share topics or stories they care about. It's something users have clearly gleaned to -- considering that global social media users number in the billions.
Of course, that also means advertisers want to capitalize on social media's popularity -- and not all advertisers are good advertisers.
So platforms like Facebook, Instagram, and Twitter have made it easier for social media users to hide ad content they don't like or derive value from -- and this information helps customize the user experience for them while providing advertisers and publishers with more audience insights on the platforms.
Here's an example of an ad I can hide on Facebook -- and I can even choose a reason why I don't want to see it:
Platforms use these insights to algorithmically curate a news feed better suited to user preferences, and ad buyers don't have to waste money serving ads users have already indicated they don't like.
Facebook is using AI to mitigate and prevent websites from sharing content that provides a bad user experience. It's training artificial intelligence to identify and recognize patterns in low-quality sites -- things like little original content, clickbait headlines, and multiple disruptive ads. These low-quality links -- and the original domain -- will be penalized in the News Feed and likely result in significant decreases in traffic for the publisher.
Instagram is now also toying with the idea of using AI to defeat bullying or abusive comments. While it has not rolled this algorithm out yet, the company has already spoken about the project to various news publications.
9. Social Media Management
When it comes to marketers using AI on social media, some tactics have been highly discouraged by major social platforms. For example, Instagram and Facebook have banned hundreds of accounts believed to be run purely by bots.
However, this does not mean marketers can't use bots to assist them in their social media marketing strategy. For example, many brands have successfully and legitimately connected chatbots to Facebook Messenger. This allows users to quickly ask a customer service bot questions that don't require a phone call or full human conversation. While this is technically automated, the company pages themselves are still managed and supervised by humans.
10. Image Recognition and Manipulation
Do you like playing around with neat filters and facial lenses that turn you into a dog, a bumblebee, or a cat on TikTok or Snapchat? Have you ever transformed yourself into an elderly person through FaceApp? These augmented reality capabilities are powered by AI image recognition.
Using neural networks to recognize and identify shapes and faces, Snapchat, Facebook, Instagram, FaceApp, and TikTok have made it possible for you to barf rainbows, turn into a cute animal, or swap faces with your friend -- to horrifyingly funny results.
Source: BoredPanda
These disappearing messaging platforms are used by millions of people worldwide -- not only for private communication with friends, but also by brands trying to connect with audiences on a more authentic and personal level. Through the power of AI, brands can connect with people in unique and personal ways where audiences are spending time online -- namely, on social media.
11. Advertisement Bidding
If you've purchased keyword ad space using GoogleAdWords lately, you've already used AI -- in the form of its automated bidding system. Advertisers can automatically bid for the lowest possible cost per click (CPC) to efficiently and effectively capture traffic from Google results.
And now, Adgorithms has AI that they want to take over entire advertising campaigns -- named Albert. Programming advertising will make up the majority of ad buying going forward, but Albert will handle the bidding, integration, management, and execution of ad campaigns across platforms -- from email, to search engines. to social media.
Human marketers and business leaders tell Albert about a campaign's desired outcome, target audience, and geographic area, and "he" handles the rest. And because Albert is AI, he works a lot faster than people, and he can identify different audience niches and buying patterns by analyzing data, too.
Harley-Davidson of NYC started using Albert, and "he" made triple the sales the in-person dealership typically made in a single week. The brand credits Albert for its 40% motorcycle sales growth and 566% growth in website visits.
12. Chatbots
Lots of brands have started communicating with customers using messaging apps like WhatsApp, Facebook Messenger, and Slack. It's fast, customers are already using these tools to communicate with friends and coworkers, and let's face it -- sometimes, you just don't want to hop on a phone call to get an answer.
And chatbots seek to make that process even easier. GrowthBot seeks to provide answers to commonly-asked questions about marketing and sales professionals -- without them having to hunt down the information themselves.
Here's how GrowthBot works in action on Slack: Users can ask specific questions about different industries and brands, and the highly technical answers are served up quickly without having to track them down:
Chatbots' wealth of information -- like GrowthBot's -- helps marketers and salespeople quickly find and analyze information about their industries and competitors to get their jobs done more efficiently. Neat, huh?
13. Task Management
Spending time on menial tasks can really drain energy needed to create and execute unique and memorable campaigns. With AI-driven services like "IFTTT," or "If This, Then That," marketers can schedule certain automated tasks to get completed when other actions happen.
IFTTT offers a variety of "applets" for marketers which can enable one marketing task or action to automatically complete another. For example, you can set your Facebook photo to update itself automatically when you update your Twitter photo, or get a notification when your company name is mentioned in various publications or on Twitter.
These types of tasks are small and not monumental, but they can save you hundreds of minutes over time that could be used on more productive marketing projects.
There are also a number of other programs that can assist with task management, including HubSpot's own software, where you can automate certain emails through a workflow. This type of service might be helpful if you find yourself spending all of your time managing email lists and writing regular marketing or transactional emails.
14. Sales Handoff
And finally, once marketers have successfully created content that's generated leads ready to work with a salesperson, AI can assist with the handoff process.
Conversica created AI named "Angie" to work for CenturyLink, one of the world's largest telecommunications providers. CenturyLink needed help identifying hot leads among the thousands of leads it generates every day from its large presence online and in media. Angie sends initial emails to new leads to determine if they're ready to talk to a human sales representative -- which saves reps time and effort, more efficiently segments leads, and saves CenturyLink money on hiring another human being.
At CenturyLink, Angie can identify 40 hot leads per week, and for every dollar spent on "her," she brings in $20 in revenue. The AI can understand 99% of email replies sent when "she" reaches out to leads -- which saves the company time and helps leads communicate on their desired platform.
What About Me?
At this point, learning about all of the use cases for AI in marketing might be giving you a bit of anxiety about your own job security. If that's the case, you're not alone.
While it's true that part of the appeal of using AI is its low cost and high levels of efficiency, there are only so many things AIs can replicate. In fact, some of the best use cases for AI in this blog post involve AIs and humans working together to solve problems and achieve goals faster and more efficiently. So don't think of AI like a robot trying to steal your job -- think of AI like technology that will make your job easier, much like computers and internet did over the last century.
If anything, the growth of AI in marketing might make you excited about a future where you have more time freed up for higher-level projects, and more rote tasks are taken off your plate. Learn more about how AI is used and the future of artificial intelligence from new HubSpot research.
Which AI technologies will you consider implementing? Share with us in the comments below.