Have you ever come across a post on LinkedIn or Instagram from your favorite celebrity or influencer, explaining how they use their own brand's services or products?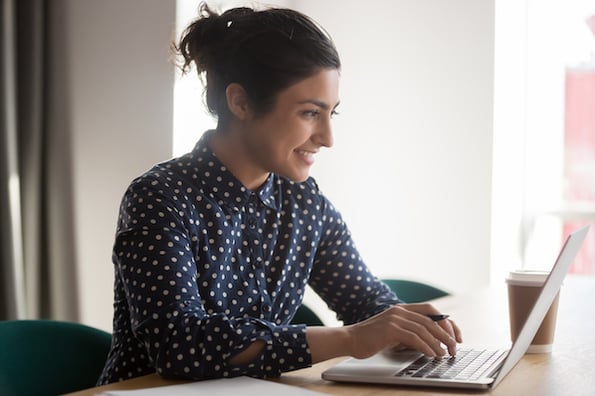 You know what I'm talking about. Maybe your favorite Instagram influencer just posted a photo, with the caption explaining how the photo editing packs she curates have helped her become a better photographer.
Or, perhaps it's famous chef Gordon Ramsay, with a new YouTube tutorial on how to make Holiday-themed classics — complete with expert tips — which persuades you to Google his corresponding cookbooks for more insight on how to cook like a pro.
Regardless of the situation, you can probably recall a recent time in which your attention was drawn to a product because someone you respect has exhibited high praise about it. That person has explained how the product makes their life better or easier.
And now, they can't live without it, so why should you?
This form of marketing is called attraction marketing. Let's explore what attraction marketing is, and how to do it for your own brand, next.
What is attraction marketing?
Attraction marketing is a term for a method of marketing a product or service. It works by providing valuable information about the item before convincing customers to buy. It's a powerful marketing strategy for both lead generation and brand loyalty.
Ultimately, instead of marketing messages taking the angle of "This is why you need this," attraction marketing tends to take the angle of "This is why I need this." It's a technique that gives companies a knowledgeable reputation that precedes their products.
Attraction marketing helps you set your brand apart from competitors by focusing marketing efforts on what makes your product or service the more attractive option.
Inbound marketing is a good example of attraction marketing — for instance, if I've received a ton of high-value content from a brand, including blog posts, ebooks, and webinars, then I'm more attracted to that brand when it comes time for me to purchase a product or service that aligns with theirs.
Home Depot is a good example of attraction marketing. The home supply company offers weekly classes and DIY workshops on how to use their equipment, offering free value to prospects without forcing them to purchase anything. These weekly classes builds loyalty and trust, which makes their products or services more attractive to their audience, and more likely to purchase from them.
Ultimately, offering content that's accessible and valuable to the customer piques their interest in your product or service, and builds your reputation.
It's also a great method for lead generation — by sharing accessible, educational content, you are converting possible leads early on in their buyer's journey. By the time they make a purchase decision, your brand and its content will already be in that person's mind.
Are you ready to frame memorable marketing messages with attraction marketing? Let's go over a formula, or framework, you can refer to when building those messages.
How to Implement Attraction Marketing
The biggest thing you want to do with attraction marketing is share your story. This is a technique you can use to emotionally connect with a lead or customer, and provide them answers to their questions before they even ask.
For instance, if a customer wants to know, "How will an ecommerce tool like yours help me be successful with my online business?", a YouTube video you made about the best ecommerce tools for small business owners would answer their question, and make the customer feel like you catered to their needs directly.
The other big parts of implementing attraction marketing are the helpful features and defining the reusability of your product. Let's dive into that a little deeper.
The biggest thing to take note of when you're starting an attraction marketing campaign is to share your story. You want to be able to connect with customers on a level that only comes through when they know the story of a brand. When you tell your story, you're ensuring your marketing campaign doesn't just feel like a blatant advertisement.
1. Build an emotional connection.
So, how does one tell their story with attraction marketing? By using key words and phrases that will build an emotional connection with potential customers. Instead of communicating that your product "really works," share how using the product empowers you as a marketer, or as a consumer.
2. Name the product and helpful features.
When you're building this message, mention the product by name. Hyperlink a product page, if possible. Connect a product feature to the task it helps you solve.
For example, if one of the features of your service is automation, mention how the automated services use machine learning to make your life easier. That way, customers can visualize how their lives would be improved from the experience of using your service.
3. Emphasize the future value.
Finally, it's a good idea to mention how using the product or service is such a delightful experience that you've fit it into your lifestyle. Is the chatbot you've created part of your daily routine? Has the developing tool you're launching helped you with data entry?
If the customers know how you use your own product, they'll be more inclined to seek more information. After all, who isn't on the hunt to make their lives easier?
Using this formula will help you build attraction marketing messages that will matter to your customers. It'll show how your brand is customer-obsessed, but also shows that there are humans behind the product who enjoy it as much as audiences will.
To make sure your campaign is the most effective it can be, we've put together a list of tips to bring your attraction marketing ideas from good to great. Let's take a look at a few, next.
Attraction Marketing Tips
Now, let's dive into some best practices for using attraction marketing as a marketing method.
1. Pick the right channel.
When you use attraction marketing, you have to pick the right channel for your messaging. For instance, Twitter won't work so well if you're trying to tell a story. You only have a certain amount of characters to get your point across, which isn't much to engage a customer.
For this reason, choosing a platform that supports long-form content is most likely the winning strategy. However, if you only have accounts for visual platforms, like Twitter and Instagram, use graphics and video to deliver your message.
On Instagram, you can leverage stories to explain your message through a carousel, and entice audiences to engage with you. Alternatively, you can make a post on your main feed, similar to entrepreneur, Lauren Tickner:
To promote her online business course and consulting firm, Impact School, Tickner uses attraction marketing. Notice how Tickner uses the caption to tell a quick, impactful story. It improves readability by breaking up the text, and leaves the takeaways, or challenges, in the middle of the story.
2. Show some personality with your messages.
When you talk to the customer, make sure you're coming to them as a person, rather than a marketer. In order to connect with your audience, you have to know what they respond to and cater to their interests.
For example, do you know how your brand fits into a customer's life? You can use that as an angle and frame your story from there. If your product makes the day-to-day functions of a developer easier, your story can include a narrative about how data collection was a pain … until your product came along, that is.
3. Mention the facts about your product.
It's important to note that, even though you're telling a story in your narrative, you need to keep the information factual. If you're using statistical data, make sure the data is current. If you're explaining features of your product, maintain accuracy.
You want to build the trust of leads and keep the trust of existing customers, so transparency is key. For instance, if your tool does "X" and "Y," but you need an outside source to accomplish "Z," that's something customers should know.
It's important to put your best customer service foot forward, especially when using attraction marketing. This is a hugely customer-facing method, and should be treated as such.
Customers might have questions and comments, so while you're coming off as personable in the campaign content, you have to keep that up beyond the content and its copy.
Attraction marketing gives your business a relatable scope. It offers customers a way to envision a business's offerings in their lives without connecting to an influencer. (And saves you money). So, if you want to appear more approachable to your customers with your next launch, think of giving attraction marketing a whirl.