Don Draper wouldn't know what hit him. Gone are the decadent days of the liquid lunch, three-piece suits, and Madison Avenue dominating the marketing landscape. Modern marketers have to be a jill-of-all-trades, with one foot in the real world, and one in cyberspace.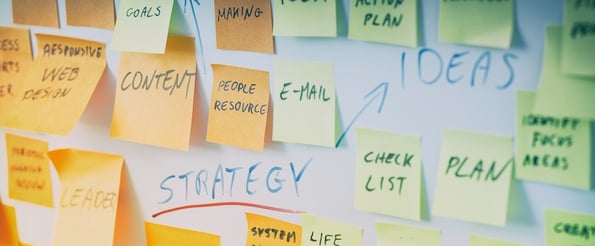 We live in an age of digital disruption and a constantly evolving marketing playground. 96% of B2C marketers believed they were experiencing "significant change" in 2014. That number would likely be 100% today.
Radio, television spots, billboards, full-page spreads in glossy magazines, and direct mail packages have been replaced by their online counterparts. In fact, companies with a comprehensive strategic vision combined with digital tactics perform 26% better on average.
Even online, though, certain tactics have already become obsolete. Banner ads and email blast campaigns, for example, don't really cut it anymore. Evolve, or perish. Embrace digital, or be left behind. Diversify your channels, or risk being invisible.
Today, your marketing mix should include social media, SEO, influencers, PPC ads, a mobile-first mentality, segmented and transactional email, remarketing, content marketing, detailed buyer personas, big data, analytics ... and probably about a dozen more components I'm forgetting at the moment.
Obviously, that's a lot of moving parts. So what's a marketer to do? Where do you focus first if you want to improve?
As always, you turn to the experts. I reached out to a handful of experts and influencers, asking them two simple questions:
What's the most important advice you can give a marketer in 2017?
What are some traits and qualities that make a marketer successful?
Here are their responses. Read, learn, enjoy.
Marketing Advice for 2017 From the Experts
A prolific contributor to The Huffington Post, Forbes, and Entrepreneur, Rampton is an online influencer, serial entrepreneur, and CEO of Due.
Question #1: "Don't get stuck in a rut, relying on the same tactics year after year. Continually reassess what you're using and doing because online marketing, social media marketing tools, and audience preferences change faster than you realize. You will be left behind. I re-evaluate what we're doing at least once a year and stay on top of new platforms and channels I need to incorporate in an upcoming marketing strategy revision."
Question #2: "A successful marketer needs to be flexible, open, an active listener, and creative."
Handley hardly needs an introduction: she's a bestselling author, keynote speaker, LinkedIn influencer, and chief content officer at MarketingProfs. Forbes named her the most influential woman in social media. See what all the fuss is about at her personal website.
Question #1: "Us[e] voice and tone consistently across all channels and accounts to convey brand. Your tone of voice is a differentiator in a sea of same, yet most organizations vastly undervalue it. Most spend a lot of time on the visual elements of their brand -- but not a lot on tone of voice (what you sound like). So -- embrace tone of voice as your gutsiest, bravest asset!"
Shah's list of SaaS startups reads like a who's who of success: He's the co-founder and former CEO of Kissmetrics, co-founder of Crazy Egg, and co-founder of Quick Sprout.
Question #1: "Always strive to find uncommon ways of marketing yourself and your business. That's how you'll discover some of the biggest, high leverage opportunities that others have not caught on to yet."
Question #2: " A childlike curiosity will serve you well not only in marketing, but also life in general. Never lose it."
With over 16 years of high tech marketing experience, Killebrew has led teams at both IBM and Fisher Investments. She describes herself as a marketing technologist, and is currently working with Nomiku.
Question #1: "This advice is a longstanding truth: Always put the customer first. Customer-centricity has always been a foundation to good marketing, but it's becoming exponentially more critical as the customer has more control and less attention, more options and less tolerance for poor experience."
Question #2: "Marketers must be inquisitive with a true thirst for learning. The landscape is changing daily -- everything from the consumer expectation and attention, effective channels, strategies and methods, and the technology required to execute it all. Marketers must be inventors with a love of experimentation and iteration to serve their customers well and stay competitive."
Aagaard is an international speaker and senior conversion optimizer for Unbounce, the landing page and conversion specialists. With stints in Europe and North America, Aagaard describes himself as a practitioner and theorist on the subject.
Question #1: "Do everything you can to understand your target audience. The better you understand what reality looks like through their eyes, the easier it will be for you to make the right marketing decisions. In online marketing, we're seeing everything through a digital lens. It can be easy to forget that you're in the business of influencing real human behavior and decision-making -- not just moving numbers around in a spreadsheet. Your marketing activities will only be effective if they have real impact on your real target audience. My best advice is to invest heavily in customer insight and market research."
Question #2: "Having a strategic approach to problem solving is absolutely crucial. You need the ability to approach a complex situation, look at the data, cut through the clutter, carve out the best way forward and then 'attack'! Also, being bold enough to admit when you're wrong is very important. Stubbornly clinging to cherished notions and personal darlings rarely leads to insight or better results."
He's the CEO of Marketing Insider Group, an internationally recognized keynote speaker, and an in-demand author, blogger, and contributor. Brenner has passion for and insight on both leadership and marketing strategies that work.
Question #1: " Set a measurable and customer-centric goal focused on the impact you create for them and your company. My favorite metric to use is subscribers. Subscribers will tell you if the content you create is actually helping your customers. And subscribers have the added bonus of having real value to your company!"
Question #2: "Successful marketers have the courage to support the best ideas from across the organization. Not the stuff you did last year, or the thing your boss thinks will work, but the ideas that create real impact for customers."
Bilazarian is the CEO and founder of Teamable -- an employee referral and diversity hiring platform. Previous investment banker, Vietnam hotel builder, and rugby player, she's a graduate of the Wharton Business School.
Question #1: "Be authentic and hold yourself to a high standard in terms of the quality of content that you associate with yourself and your brand. Make it genuinely data-driven and tactical. Go back to the standards of a college thesis with the content you create -- cite scientific sources, offer unique and contrarian insights supported by data, and so on. Learn real data science so that your experiments lead to the right conclusions with the minimum input. Understand how to optimize ROI with limited resources. Learn from your cutting edge customers and put what they're doing out into the world, again in a scientific manner, so that the discipline your product supports evolves forward."
Question #2: "Data-driven, creative, contrarian, and intuitive. That's the kind of marketers we need today."
Wolf was previously the founder and CEO of Conversioner, and is the founder and chief optimizer at GetUplift, a boutique conversion optimization agency. She's a guest blogger, keynote speaker, trainer, and advocate for using emotional targeting and persuasive design.
Question #1: "You're not the hero of the story, your customer is. Most businesses tend to focus their entire marketing strategy by talking about their product or service, the features they provide, and their pricing. However, no matter what you're selling, customers care more about the why than the what. If you make it about them, they will listen, they will read, they will convert, and they will come back."
Question #2: "Skills and techniques can be taught, but passionate, dedicated people are extremely rare and should be held on to. It's not about how advanced they are, or if they know how to set up a campaign in AdWords or a variation in an A/B testing platform. It's about their passion to learn, grow, and drive the company forward."
Lemkin is a SaaS founder, investor, and enthusiast, as well as the driving force behind SaaStr, a company that provides advice, wisdom, and investment funds to four to five SaaS startups each year. He previously worked at Adobe, and is a top three most popular author on Quora.
Question #1: "Understand what playbook works at which stage. Eventually, all playbooks converge. That, and protect your brand at all costs. Later, that and the quality of your team is all that will matter."
Question #2: "Humility. A great marketer knows what she knows how to do, and what she doesn't, and she seeks out help wherever she needs it. An arrogant marketer -- or worse, a defensive marketer -- is one destined for a series of short stints."
Hyder is a digital marketing strategist, bestselling author, CEO of Marketing Zen, a web and television personality, and a prolific guest contributor to sites including Forbes.
Question #1: "Marketing today is an entire ecosystem and it is evolutionary. The best marketers approach it in that way -- by constantly learning, measuring progress, and focusing on the bigger picture."
11) Lars Lofgren, I Will Teach You To Be Rich
Lofgren is the senior director of growth at I Will Teach You To Be Rich, the lifestyle and finance company started by Ramit Sethi. He previously worked in growth and marketing for Kissmetrics before switching to his current position.
Question #1: "If there's only one thing you do as a marketer, work to be a solid copywriter. It's the foundational skill of all marketing and also has the highest leverage. It'll help you with every single campaign and every single project. It also teaches you the core concepts of marketing such as target market, value props, positioning, persuasion, sales, and so forth. And as most marketers are terrible copywriters, it's the fastest way to uplevel your own career and set you apart."
Question #2: "A relentless drive for truth. The best marketers don't delude themselves about what's working and what's not. They're great at self reflection, taking feedback, and understanding when the market wants something different than what they're offering."
What Marketing Means in 2017
If there's a running theme here, it's that you need to be excruciatingly careful with your brand, and an all-consuming sense of curiosity is worth more than any formal credential.
Your brand is your digital word. Protect it. Your curiosity can keep you on top of emerging trends, new tech tools, and developing platforms, channels, and tactics. It can allow you to stand out.
Modern marketing isn't about where you studied the field, or what company you interned for, or even how clever you can be with taglines and slogans. It's recognizing that not only have the rules changed, but it's an entirely new game. It's customers first and foremost: where are they (online), how are they accessing (mobile), what do they want and expect (premium service and experience)? Your job is to identify and then think like them.
Are you up for the challenge? Do you have the right people in place to make it happen? The individuals here are walking the walk, and talking the talk. Their advice is good advice.
Are you set up to follow it? If yes, then do. If not, make the necessary changes. Your future self will thank you.