Whether it's on Facebook Messenger, their website, or even text messaging, more and more brands are leveraging chatbots to service their customers, market their brand, and even sell their products.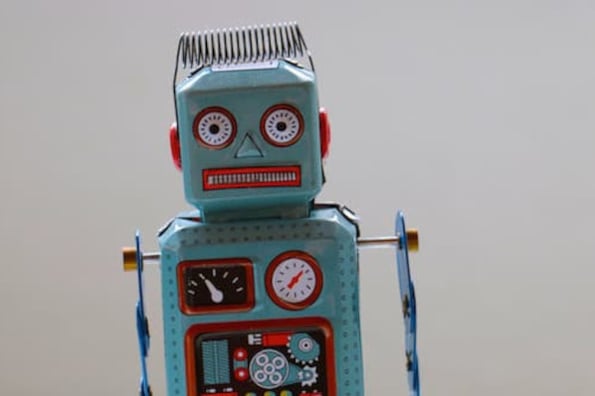 But even though most chatbots can handle moderately sophisticated conversations, like welcome conversations and product discovery interactions, the if/then logic that powers their conversational capabilities can be limiting. For instance, if a customer asks a unique yet pressing question that you didn't account for when designing your chatbot's logic, there's no way it can answer their question, which hangs your customer out to dry and ultimately leaves them dissatisfied with your customer service.
Fortunately, the next advancement in chatbot technology that can solve this problem is gaining steam -- AI-powered chatbots.
What is an AI chatbot?
An AI chatbot is a program within a website or app that simulates human conversations using NLP (natural language processing). Chatbots are programmed to address users' needs independently of a human operator. Common functions of chatbots include answering frequently asked questions and helping users navigate the website or app.
By leveraging machine learning and NLP, AI chatbots can understand the intent behind your customers' requests, account for each customer's entire conversation history when it interacts with them, and respond to their questions in a natural, human way.
If you're currently using a standard chatbot, but want to upgrade to an AI-powered one, we've put together a list of the best AI chatbots for 2021. Read on to find the right one for you.
HubSpot has an easy and powerful chat builder software that allows you to automate and scale live chat conversations. Your customers will be able to get answers to frequently asked questions, book meetings, and navigate the site. At the same time, their answers are saved in your CRM, allowing you to qualify leads and trigger automation. Keep in mind that HubSpot's chat builder software doesn't quite fall under the category of "AI chatbot" because it uses a rule-based system. However, HubSpot does have code snippets, allowing you to leverage the powerful AI of third-party NLP-driven bots such as Dialogflow.
Because HubSpot is a CRM platform, using the HubSpot chatbot in conjunction with code snippets gives you the advantage of easy integration across your marketing, sales, and service tools.
Intercom is software that supports live chat, chat bots, and more to provide messenger-based experiences for prospects. Using machine learning and behavioral data, Intercom can answer up to 33% of queries and provide a personalized experience along the way.
Developed by one of the leaders in the AI space, IBM, Watson Assistant is one of the most advanced AI-powered chatbots on the market. Pre-trained with content from your specific industry, Watson Assistant can understand your historical chat or call logs, search for an answer in your knowledge base, ask customers for more clarity, direct them to human representatives, and even give you training recommendations to hone its conversational abilities.
Watson Assistant can run on your website, messaging channels, customer service tools, and mobile app. The chatbot also comes with a visual dialog editor, so you don't need any coding experience to develop it.
Drift provides conversational marketing and sales software powered by both automation (rule-based) and artificial intelligence (NLP). According to their website, "Drift's conversational AI is trained on over 6 billion conversations to identify the patterns that engage and convert visitors into qualified pipeline." This means the machine learning that the chatbot comes with is already pre-trained and ready to go.
Infobip's intelligent chatbot building platform enables you to create and deploy a smart virtual assistant that supports your customer service and sales results by bringing a new level of automation, speed, and availability.
Significantly reduce customer support costs and increase customer satisfaction with an AI chatbot that can recognize intent on customers' favorite channels including WhatsApp, Facebook Messenger, Apple Messages for Business, Viber, Instagram Messages, Twitter Direct Messages, Telegram, LINE, Live Chat, SMS, RCS, and Google's Business Messages.
Botsify is an AI chatbot platform that enables businesses to easily build custom chatbots for their websites and different messaging platforms. It comes with two pricing options. Chatbots can be easily created on the platform thanks to its straightforward drag-and-drop interface.
Additionally, Botsify integrates with numerous well-liked messaging and communication platforms, including Facebook Messenger, WhatsApp, and Instagram, enabling companies to connect with clients on the channels they prefer. All in all, Botsify is a great choice for companies seeking to quickly and easily add chatbots to their websites or messaging channels.
Appy Pie Chatbot is a prominent chatbot development platform that helps users design highly-intuitive chatbots equipped with a wide range of conversational marketing tools. Appy Pie is extremely user-friendly as a no-code chatbot maker. With an accessible bot maker, anyone can create conversational bots for their website, app, or social media handles regardless of their technical background,
Chatbots built on Appy Pie are highly scalable and have multiple use cases. For example, you can support your customer service or use Appy Pie to drive higher sales and revenue by accelerating query resolution and boosting customer satisfaction.
Mindsay is an easy-to-use, low-code conversational AI platform that lets anyone build a bot. You can easily and quickly improve your customer service quality and team's productivity.
If you use Mindsay, the company has expertise working with leading brands across industries that have allowed the company to tailor conversational AI to any business needs. With this customized customer service automation platform, you can have a chatbot ready to go (regardless of technical skills) quickly.
Trusted by customers like Intuit, Edible Arrangements, and Vodafone, Bold360 patented its own natural language processing technology to help brands build chatbots that can understand your customers' intent without the need of keyword matching and learn how to deliver the most accurate answers to them.
Bold360's conversational AI can interpret complex language, remember the context of an entire conversation, and reply to customers with natural responses. Customers can even buy your products through the chatbot. You can also give your chatbot its own personality and run it on most messaging channels.
Zendesk offers live chat and chatbots as part of their Zendesk Chat service. Built with powerful automation combined with the technology of Answer Bot and Flow Builder for creating AI-powered conversation flows, it allows you to configure your chatbot to answer common customer questions without writing code.
Image Credit
ProProfs ChatBot uses branching logic to help you map out a conversation with customers. By integrating ChatBot with ProProfs Help Desk and ProProfs Knowledge Base, your team can create tickets for complex questions or provide links to relevant answers during an ongoing conversation.
While you'll be provided with multiple templates to choose from, there are additional options to customize your chatbot even further. It even offers detailed reports that help you analyze how your chatbots are performing on the website and if they are successful to engage more visitors on your website.
Salesforce Einstein is AI technology that uses predictive intelligence and machine learning to power many Salesforce features, including Salesforce's Service Cloud and chatbot offerings. It is capable of solving customer queries with its intelligent conversational features, and you can count on it for triage and routing and data-driven insights.
Armed with deep-learning based natural language understanding and adaptive multi-taking capabilities, Ruali, an AI-powered chatbot for enterprise brands, can understand the context of a conversation, predict user behavior, grasp customer preferences, take actions, switch to different tasks, and ask customers for more clarification.
Rulai also integrates with most messaging channels, customer service software, enterprise business software, and cloud storage platforms. You can either build a Ruali chatbot from scratch with its drag-and-drop design console and let its AI adapt to your customers or you can implement a pre-trained chatbot that has been fed data from your specific industry.
By collecting over 20 years of messaging transcript data and feeding it to their AI-powered chatbot, LivePerson can automate almost every industry's messaging and integrate with most messaging channels like your website, mobile app, Apple Business Chat, text messaging, Google Rich Business messaging, Line, Facebook Messenger, WhatsApp, and Google AdLingo.
LivePerson's BotStudio also lets you build chatbots from scratch, without any coding knowledge, and its analytics dashboard can track metrics like real-time sentiment, bot containment rate, bot conversation time, total conversation time, average order value, and bot contained sales, allowing you to grasp the impact your chatbot has had on your business' bottom line.
Designed specifically for enterprise brands, Inbenta's chatbot leverages machine learning and its own natural language processing engine to detect the context of each customer conversation and accurately answer their questions. Inbenta also offers a dialog manager, which allows you to craft custom conversation flows and paths.
Additionally, when Inbenta's chatbot realizes that one of your customers needs to talk to a human, it'll escalate the conversation to the appropriate support agent. To make your chatbot seem more human, you create a custom avatar for it, too.
Trusted by customers like Medium, Shopify, and MailChimp, Ada is an AI-powered chatbot that features a drag-and-drop builder that you can use to train it, add GIFs to certain messages, and store customer data.
Ada can also integrate with most messaging channels and customer service software, send personalized content to your customers, ask for customer feedback, and report on your bots' time, effort, and cost savings. According to their website, Ada has saved their customers over $100 million in savings and 1 billion minutes of customer service effort.
Vergic offers an AI-powered chatbot that can serve as your businesses' first line of customer support, handle transactional chats, and transfer more complicated problems to your actual customer service agents. It's like a hybrid chatbot that can boost your employees' productivity.
By leveraging natural language processing and natural language understanding, Vergic can also perform sentiment analysis, share documents, highlight pages, manage conversational workflows, and report on chatbot analytics.
Brands across retail, financial services, travel, and other industries are automating customer inquiries with bots, freeing up agents to focus on more complex customer needs. Acquire offers intelligent, no-code chatbots as part of their customer experience platform.
Acquire chatbots are easy to set up with a visual editor, allowing you to create custom flows that work for your brand's needs. The platform integrates with a number of third-party bot providers, making it easy for brands to leverage additional libraries.
Editor's note: This post was originally published in March 2019 and has been updated for comprehensiveness.