The best bitcoin wallets are the safest bitcoin wallets. And out of the four types of wallets you can use -- hardware, software, web, and mobile -- the crypto community generally considers hardware and software wallets to be the most secure.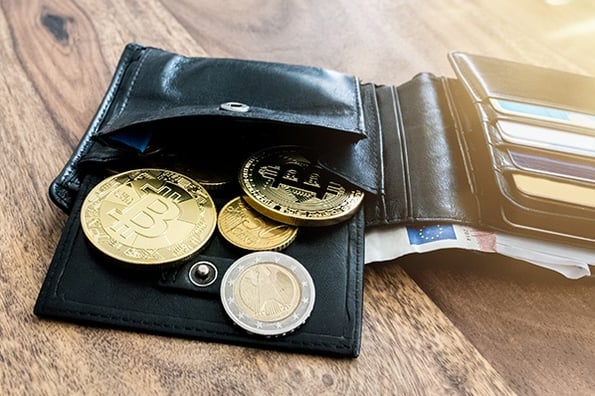 If you're wondering why hardware and software wallets are more secure than mobile and web wallets, I'll explain below.
Mobile wallets are the most convenient, but people who have a certain set of impersonation tricks up their sleeve can easily hack it. Web wallets are just as risky -- they technically own your private key. So if cybercriminals can hack your web wallet provider, they can also steal your private key and your crypto funds.
On the opposite end of the spectrum, hardware wallets are like external hard drives for your bitcoins. They're the most secure way of storing your bitcoins because they limit your funds' exposure to the internet and potential hackers. Software wallets are installed on your computer, but they're more secure than mobile or web wallets because they can encrypt your private key and account recovery phrases.
With this in mind, we decided our curated list of the best Bitcoin wallets should only feature hardware or software wallets. So read on to find a wallet that can safely and securely store your cryptocurrency.
Which bitcoin wallet is the safest?
Ledger
Trezor
KeepKey
BitBox
CoolWallet S
Copay
Electrum
Jaxx Liberty
Exodus
9 of the Best Cryptocurrency Wallets for 2018
1. Ledger (Hardware Wallet)
Ledger offers two of the most secure Bitcoin wallets on the market: the Ledger Nano S and the Ledger Blue. Engineered for maximum security and simplicity, the Nano S looks like a bluetooth dongle and and only has two buttons you can press. It also protects your private key with a pin code and the same type of smart card chip passports and credit cards have. If you ever lose your Nano S, it's backed up by a recovery phase, so you can just restore your account on a new Ledger device.
The Ledger Blue has all the same functionality as the Nano S, but it looks more like an iPad than a bluetooth dongle. So instead of controlling the hardware wallet with just two buttons, you manage your Bitcoins on a color touchscreen.
Compatible With: PC, Mac, and Linux
Price: $99.99 for Ledger Nano S, $269 for Ledger Blue
2. Trezor (Hardware Wallet)
Picture Credit: Trezor
Just like Ledger, Trezor also offers two types of hardware wallets: the Trezor One and the Trezor Model T.
The Trezor One is the more affordable option and recommended for Bitcoin beginners. But even though it's technically for crypto novices, the wallet still has robust functionality. You can store all your coins, keys, and passwords on it, use it to encrypt your data on the cloud, and get your own personal recovery seed, in case you ever lose it. The Trezor One also has a monochrome display with two buttons for simple and secure use.
The Trezor Model T has all the same functionality as the Trezor one, but the only difference between the two hardware wallets is that the Trezor Model T boasts a color touchscreen and is more expensive.
Compatible With: PC, Mac, and Linux
Price: $104 for Trezor One, $174 for Trezor Model T
3. KeepKey (Hardware Wallet)
KeepKey is a sleek hardware wallet that works with the wallet software on your computer to help you generate your private key, securely store it, and verify your Bitcoin transactions. To provide you with the most secure private key, KeepKey generates one with its hardware-based random number generator, protects it with a pin code, and will only store it in the hardware itself. KeepKey also gives you a backup key to recover your hardware wallet without compromising its private key, if it ever gets lost or stolen. Transacting Bitcoins on your KeepKey is just as secure as generating and storing your private key -- you have to approve each of your transactions by punching in a pin code and pushing the wallet's confirmation button.
Compatible With: PC, Mac, and Linux
Price: $129
4. BitBox (Hardware Wallet)
Picture Credit: BitBox
BitBox is a small plug-in hardware wallet, kind of like a bluetooth dongle, that lets you store, spend, and receive Bitcoin, Ethereum, and Litecoin. They pride themselves on their wallet's physical and digital security. For instance, BitBox's protective case is made from the same material used in bullet-proof glass, and to safely secure your crypto funds, they leverage a dual chip system that guards your information on a high-security memory chip.
Compatible With: PC, Mac, and Linux
Price: $69
The CoolWallet S is the world's only hardware wallet for mobile devices. The wallet looks like a thick debit card, and it uses encrypted bluetooth technology to wirelessly connect with your mobile device. To quickly and securely send or receive cryptocurrency from your phone, all you have to do is download the app and sync your wallet to it. The CoolWallet S also leverages an EAL5+ certified Secure Element microchip to safely store your coins.
Compatible With: IOS and Android
Price: $189
6. Copay (Software Wallet)
Picture Credit: 99 Bitcoins
Copay is a multisig wallet, which means you share your crypto funds with a group of people, like your family, friends, or coworkers. A shared-funds wallet is one of the most secure ways to send cryptocurrency and prevent fraud. For instance, to send Bitcoin from your Copay wallet, your entire group has to approve the transaction, just like how nodes verify each transaction of a cryptocurrency on their blockchain. Another one of Copay's best features is that you can store multiple bitcoin wallets on your account, like a personal wallet and a business wallet. And since Copay's software and server is open source, enterprise companies and cryptocurrency experts can also create their own version of the Copay wallet to gain full control of their crypto assets.
Compatible With: PC, Mac, and Linux
Price: Free
7. Electrum (Software Wallet)
Picture Credit: Bitcoin Electrum
Since its inception in 2011, Electrum has been one of the most popular Bitcoin wallets in the crypto community -- it's free, easy to use, and, most importantly, safe and reliable. To protect your Bitcoin funds, Electrum encrypts your private keys, stores them in your computer, and has two-factor authentication. Electrum's major advantage over other software wallets is that it's faster and hogs less space on your computer because its servers index Bitcoin's blockchain instead of downloading it entirely. You can also recover any stolen crypto funds with your secret phrase.
Compatible With: PC, Mac, and Linux
Price: Free
Picture Credit: Jaxx Liberty
Founded by one of the co-founders of Ethereum in 2014, Jaxx Liberty doesn't want to tie their users down to one cryptocurrency wallet or software. They give you a Masterseed that manages the private keys for all your blockchain-based assets and lets you use them on any other cryptocurrency wallet or software. Another one Jaxx Liberty's top features is its Blockchain Interface, which lets you convert your digital assets to other cryptocurrencies.
Compatible With: PC, Mac, and Linux
Price: Free
9. Exodus (Software Wallet)
Picture Credit: Exodus
In addition to being a cryptocurrency wallet, Exodus is also a crypto portfolio and crypto exchange. You can trade, manage, and store your cryptocurrency all in one platform. To help you clearly understand the performance of your crypto assets, Exodus visually displays your portfolio in charts and graphs. Their exchange also has a clean, intuitive design to help you confirm that you're trading the crypto assets that you mean to trade. And if you want to store your cryptocurrency safely and securely, Exodus' wallet will encrypt your private keys and transaction data for your eyes only.
Compatible With: Windows, Mac, and Linux
Price: Free