In the world of social media marketing, there are hundreds of tools and software with features capable of helping you with different aspects of your social media strategy. These tools — also known as social media management tools — can assist with social media creation, collaboration, planning, scheduling , sharing, analysis, and more.
In this blog post, we'll cover what social media management tools are, how your team can benefit from them, and 20 of the best options available today.
Let's get started.
What is social media management?
Social media management is the process of handling (managing) your entire social media strategy. This includes planning, publishing, engaging, strategizing, and analyzing your social media content across the social platforms your business uses. It also entails understanding your social media strategy's level of success so you can improve upon it.
Get certified in social media strategy with a free social media marketing course.
Social Media Management Tools
As mentioned above, there are a plethora of social media management tools available today. Some are meant to help with a wide array of social media management needs. Meanwhile, other tools are meant for specific types of social media management (e.g. tools for agencies) or facets of social media management (e.g. social listening or analytics). No matter your needs, goals, or industry, there's a social media management tool for you.
Why use social media management tools?
Social media management tools assist with your social media strategy — typically, they have scheduling, publishing, collaborating, listening, and/or reporting capabilities. They also often have the ability to streamline interactions with followers cross-platform, offer access to all of your social accounts via a single dashboard, and analyze your success. They may also integrate with other tools your team uses such as your Marketing Software or CRM.
The 20 tools below are separated into categories based on what they're meant for — as you read their descriptions, keep in mind that some of them overlap categories. For example, many of the general tools are great for small businesses — and many of the free tools are too.
Best General Social Media Management Tools
The following tools are ideal for all social media management teams — you can customize them to help you meet your specific needs and goals.
Key Feature: Manage your entire social media marketing strategy on one platform.
HubSpot monitors all interactions, conversations, and audiences on your Facebook, Instagram, Twitter, and LinkedIn profiles. It allows you to effectively target specific audiences with personalized messaging using context from the contact database in your CRM as well as data from your Marketing Software. Meaning, with HubSpot, you can manage your entire social media strategy — from planning to sharing to analysis — from a single and central location.
You can also use HubSpot's Social Media Management software to turn your content offers into social posts, schedule posts weeks in advance, and monitor trending keywords that are relevant to your brand and audience.
Key Feature: AI-powered social media scheduling tool to help you create and manage posts effectively.
SocialPilot is a versatile social media scheduling tool that helps streamline your social media marketing activities, all from one place. It supports social media platforms, including TikTok, Facebook, Twitter, LinkedIn, Instagram, YouTube, Google Business Profile, Pinterest, and Tumblr.
With user-friendly AI assistance, you can generate creative content ideas, copy, and hashtags. Craft posts tailored to each platform, encompassing stories, reels, and shorts. You can easily edit images using Canva and enhance your brand visibility with unique watermarked logos on images.
Additionally, you can efficiently manage your social media with features like scheduling first comments, creating UTM Parameters for tracking, and utilizing the social inbox for instant engagement. SocialPilot also offers team collaboration, RSS feed automation, bulk scheduling, URL shortening, and white-label reporting.
Key Feature: A social publishing tool that supports all major social media platforms.
Meltwater is an all-in-one suite that includes many social media management functionalities.
Meltwater's Social Publishing enables users to manage and schedule their social media posts across multiple platforms from a centralized dashboard. With Meltwater, users can make use of multi-platform management, content scheduling, a content calendar allowing users to visualize their scheduled posts over a specific period and collaborate within teams, as well as advanced social analytics and reporting options and dashboards.
The social media management suite is part of Meltwater's all around offerings and can be integrated with all other suite options.
Key Feature: Social listening tools that help you learn more about your audiences behavior on the platforms you use.
SproutSocial is one of the many social media management tools that assist with social listening, publishing, engagement, and analysis. The tool streamlines the processes of sharing relevant content on social platforms as well as creating and sending personalized messages to prospects, customers, and followers — all of this support frees up valuable time for social media managers.
Customer service features exist to help you offer assistance to customers on social when they want and need it. With Sprout Social you'll be able to develop a better understanding of who your audience members are and what they want from you on social as well as how you can improve upon your current strategy.
(Note: Sprout Social's customer care functionality integrates with HubSpot.)
Key Feature: Free social media scheduling for up to 3 accounts with unlimited posts.
Social Champ is an all-in-one social media management suite with several unique features and price plans that can suit all. With its vibrant UI and clean dashboard, Social Champ knows how to manage multiple social media platforms, covering all the essential aspects of social media marketing.
Other than scheduling, the tool offers engagement and analytics features. The platform offers an exclusive Free plan that fits right for all kinds of businesses, especially small businesses.
Social Champ's Free plan offers unlimited post-scheduling on all nine platforms with cutting-edge features. Only one user can access the centralized dashboard managing three social accounts simultaneously.
Key Feature: Customer service dashboard helps you respond to and stay on top of all customer queries.
Falcon.io is a social media marketing platform with a social media management solution that saves you time by helping you maximize reach, impact, and engagement among your audience.
The software has social listening capabilities to help you identify target audience members and prospects, understand what people are saying about your brand on social media, identify opportunities for engagement, and efficiently respond to any customer comments or concerns.
There's also a content calendar that makes cross-platform social media planning easy and quick. Plus, you can view and respond to all customer messages and questions on one dashboard so no queries go unresolved.
(Note: Falcon.io integrates with HubSpot so you can easily sync customer data for campaigns, create custom audiences, and offer effective customer service via social media.)
Key Feature: Collaboration happens in context, right next to the post, and in real-time.
Planable is a social media content collaboration platform that helps teams create, plan, schedule, and approve content faster and in real-time.
What differentiates Planable from other social media management tools is its collaboration-centric approach. You can create engaging visual content with your team in one go and tag people in comments to leave feedback and choose to send notifications to the right persons. This makes feedback time, editing time, and collaboration super smooth and accessible.
Regardless of the size of your team, with Planable, you can establish your own collaboration process using one of 4 different approval levels: none, optional, required, or multi-level. This way, you can prevent half-done content from going live and keep everyone on the same page – both clients and team members.
Key Feature: The Engage inbox syncs all your social/messaging conversations in a unified inbox in real time.
Statusbrew is a social media management tool that helps you manage all your socials from a single platform. With Statusbrew, you can easily schedule your social content and set up approval workflows so that no content is published without the senior authority's consent. You can also run social campaigns and generate reports around them to measure performance and analyze effectiveness, engagement, and more.
Statusbrew also enables you to set up automated or saved replies for repeat questions about product prices, discounts, order details, etc., and assign conversations to the concerned people within the team. It also offers AI-backed sentiment analysis to help you better understand the customer's emotions and get back to them with suitable responses.
Best Free Social Media Management Tools
Here are some effective free social media management tools. It's not uncommon for tools to have a free version as well as paid plans that you can upgrade to as you grow and require greater functionality from your tool.
Key Feature:Social media scheduling for up to 30 social posts, for free.
Hootsuite is a social media marketing and management tool. It has a dashboard through which you can manage all aspects of your social media strategy. Although there are paid plans with more capabilities, Hootsuite offers a free plan that works well if you're a small business. With the free plan, you can schedule up to 30 social posts in advance.
You'll also be able to manage three different social profiles from your dashboard with Hootsuite's free plan. Lastly, this option works for small businesses because only one person has access to the account.
Key Feature:Manage all of your business' different Twitter accounts in one dashboard.
Although TweetDeck is just for Twitter users, it's a powerful social media management tool if you're on the platform. This free tool allows you to simultaneously manage multiple Twitter profiles via a central dashboard.
Schedule Tweets ahead, monitor your competition, set alerts for your most important Tweets and Twitter activity, and manage your lists with ease. You can also customize your timelines as well as view and respond to conversations and Tweets in real-time via your dashboard.
Key Feature:Create a custom posting schedule for each of your business' platforms.
Buffer has a free plan that you can move to once you've completed your free trial with the software. Similar to Hootsuite, Buffer's free plan works well if you have a small business with a small social media presence. This plan offers the ability to manage three social channels. You can schedule 10 posts in advance and only one user has access to your Buffer dashboard.
Best Social Media Management Tools for Small Businesses
Here are some social media management tools meant for small businesses.
Key Feature: Create, plan and share customized content across all your social media platforms.
SocialBee is a social media tool that allows you to create, categorize and publish content on all major social media platforms like Facebook, Twitter, LinkedIn, Instagram, Pinterest, Google My Business, and TikTok.
SocialBee is best suited for solopreneurs, startups, and small businesses, as well as freelancers and agencies. When using this app, you can use reporting and analytics to track the performance of your accounts, recycle evergreen content and expire time-sensitive posts, curate content through RSS feeds, create designs by using the Canva integration inside the post editor, have a real-time preview of your upcoming posts, use URL shorteners to track your links, all while having multiple workspaces and team collaboration features.
With SocialBee, you can handle all your social media management needs from one place with ease and at an affordable price.
Key Feature: Schedule the best content in your industry with viral content and smart scheduling.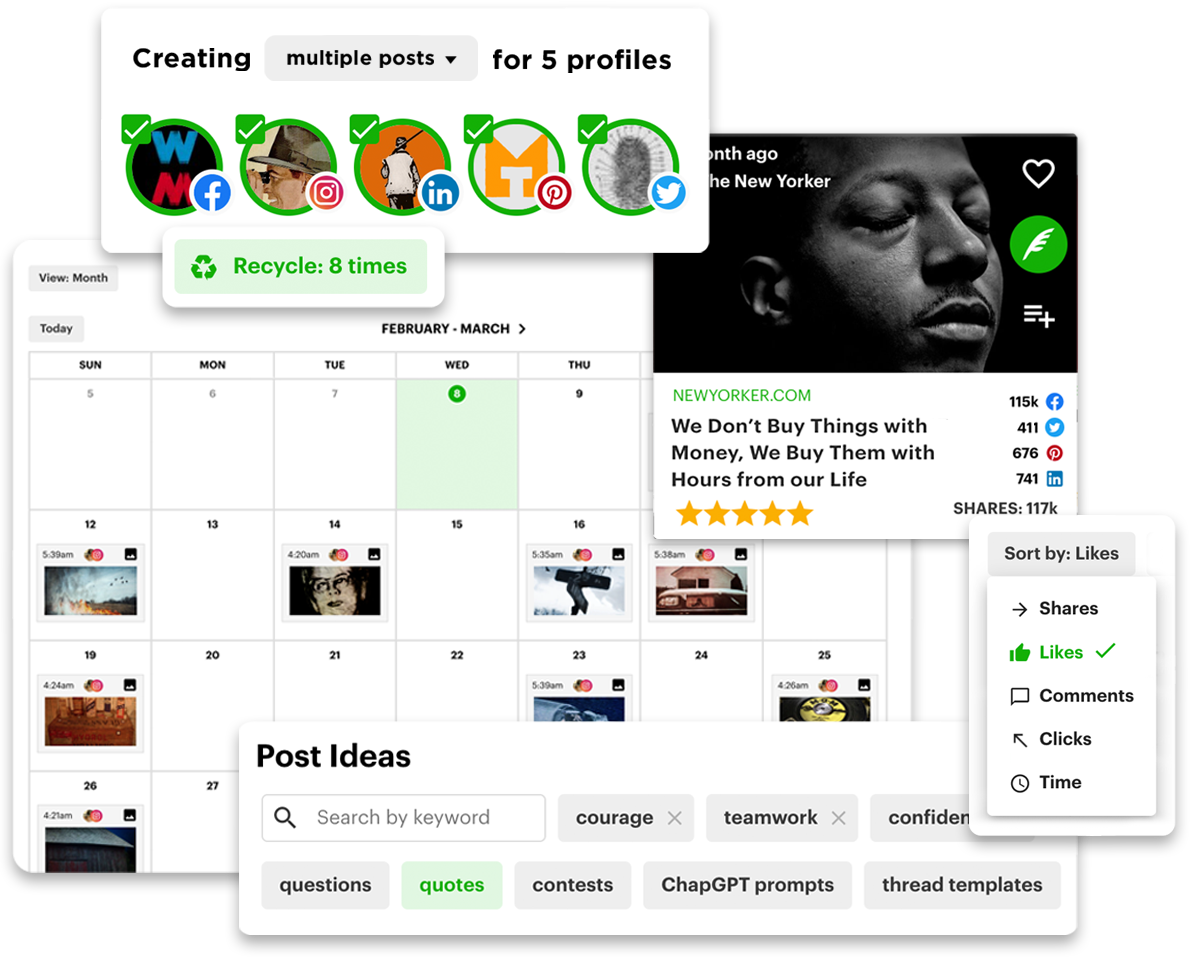 Post Planner is a social media scheduler that helps you discover, create, categorize, and schedule posts to every major platform — including Instagram, Facebook, Google Business, LinkedIn, Twitter/X, TikTok, Pinterest, and YouTube.
Post Planner is perfect for small businesses and brands that need to grow a robust following quickly. The app is famous in the industry for helping its users get 510% more engagement compared to other posting apps. They do this by serving up the most viral content from across the web. Users can then curate, share, and use AI to replicate the best content — taking away all the guessing!
Post Planner offers all the features many other schedulers have, including content categories, post recycling, media editing (including Canva), visual calendars, live post previews, and more. They also have the easiest-to-use bulk scheduler I've ever seen. You can literally create 50-100 optimized posts for 5 different networks in a matter of seconds.
Perhaps best of all, Post Planner is super affordable. In terms of value for money, makes an ideal option for small business.
Key Feature: Easy-to-use social media scheduling tool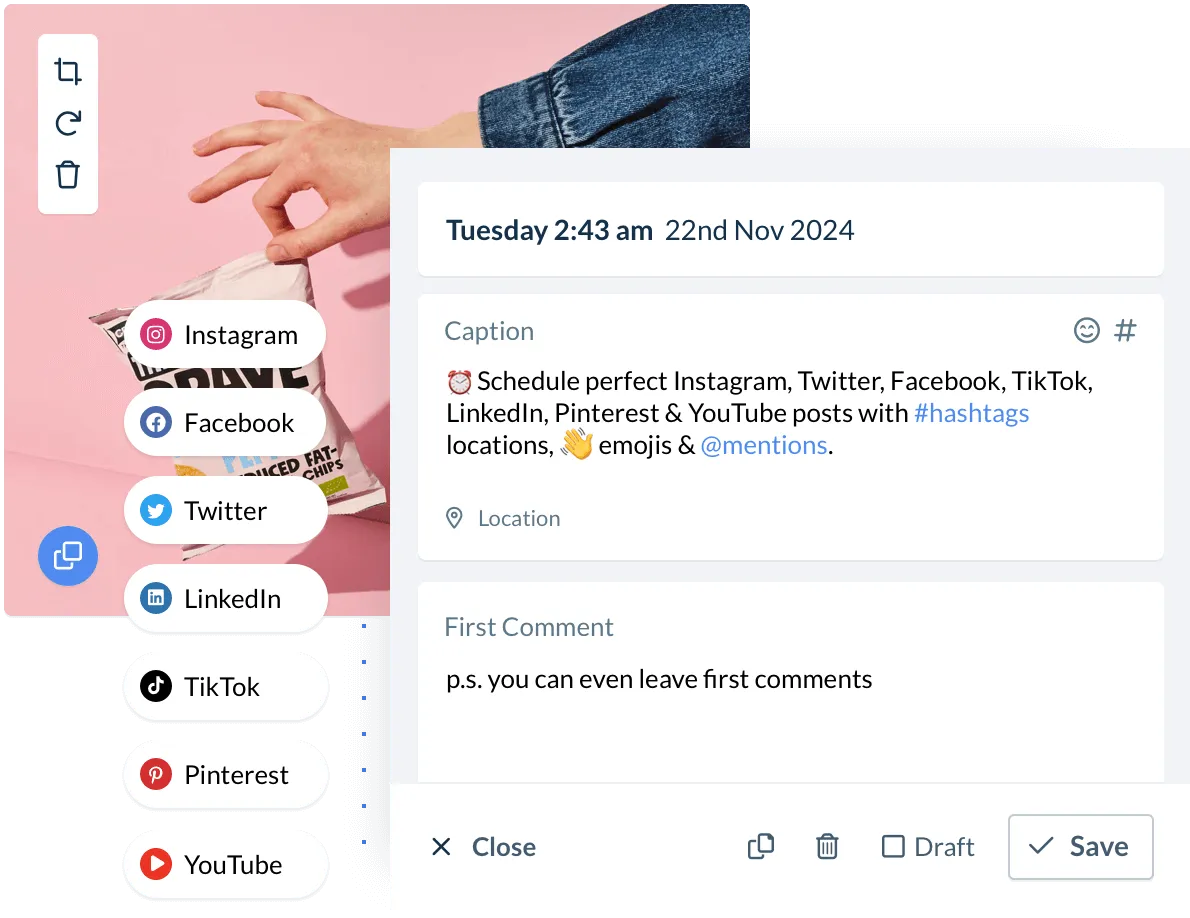 Hopper HQ is an innovative social media management solution designed to streamline your content scheduling efforts across multiple social channels. Simplify your content planning and scheduling with just a few clicks, effortlessly managing profiles on Instagram, TikTok, Twitter, LinkedIn and more.

Hopper HQ offers a suite of features and analytics to optimise your performance and achieve tangible results. With Instagram Hashtag Explorer, you can discover trending and relevant hashtags, expanding your reach and boosting engagement. Save your best-performing hashtags as templates for future posts, maximizing your impact.
You may also benefit from the in-house editing feature, which ensures that you always publish visually captivating content. Hopper HQ seamlessly integrates with Unsplash, granting access to an extensive library of high-quality stock photos to enrich your visual storytelling and captivate your audience.
Key Feature: Cross-post social media content on all of your profiles for maximum reach and impact.
Everypost is a social media tool that allows you to manage multiple profiles and accounts at once. Customize your social posts, schedule them in advance, and share them all via a single platform.
Tailor social content for different platforms and then cross-post it from Everypost to streamline the process of sharing content across profiles. Use the tool to collaborate internally and manage roles — this way, you can delegate content to certain people on your team as needed.
Key Feature:Access to metrics that help you understand the ROI of your social media tactics.
Agorapulse is a social media management platform that helps you improve social engagement and relationship building across your social profiles.
With this tool, you can schedule your content, interact with followers, and get reports to determine the success of your strategy and ROI of your engagement. There's also a single inbox through which you can view, share, and respond to customer comments and questions.
Real-time collaboration makes it easy to send different team members customer inquiries and work on content together. Take advantage of the flexible scheduling features to either schedule individual posts or bulk schedule posts.
Additionally, the Agorapulse CRM that this tool automatically comes with tracks followers and their interactions with your brand so you can learn from those engagements now and reference them in the future.
Key Feature:Pull content from your other marketing tools to share on social media.
ContentCal is a social media management tool meant for planning and publishing content. There's an easy-to-use visual calendar you can pair with approval flows to ensure specific posts are shared at the right time.
Pull in content from other tools — such as Facebook, Slack, Google Drive, or Dropbox — to share on social. You can also collaborate with team members and ask for their feedback easily using the tool's comments feature.
Best Social Media Management Tools for Agencies
The following social media management tools are ideal for agencies.
Key Feature:Content suggestion feature gives new ideas for content that is sure to resonate with your clients audience.
Sendible is a social media management platform specifically designed for agencies. The tool has an interactive and customizable content calendar so you and your team can view and collaborate on all social posts that are created, planned, and shared.
Use the content suggestion feature to get new ideas for content that's likely to resonate with your client's audience. There's also a single-view inbox so you can look at all client messages at once — plus a priority filter option which allows you to filter and prioritize chats.
Lastly, set up user hierarchies and workflows to set permissions for certain team members — this way, certain people have to sign off on client content prior to it going live.
Key Feature:Workflows allow for easy collaboration between agencies and clients.
Nuvi is a social media management, marketing, and customer experience (CX) platform. It includes management tools for social listening, planning, publishing, engaging, reporting, and more — all with an end goal of creating an excellent experience for your customers and clients. Add permissions to your workflows so team members at your agency can collaborate and ensure all content is reviewed by the necessary people prior to it going live.
Create, plan, and schedule your content so it goes live when it needs to. Then, measure performance and keep an eye on competitors to understand what social media strategies are working best for them.
The engagement feature will make it easy to prioritize social media engagement and allow you to organize, prioritize, and share those engagements internally with the correct team members. Plus social listening features will ensure you don't miss a beat across any of your accounts.
Key Feature:Create content mock-ups so clients can seamlessly give approval and feedback before publishing.
HeyOrca! is a social media management tool for agencies. The platform allows you to manage all of your social content and clients in a central location so you can offer a seamless and memorable customer experience.
The content calendar allows you to share your plans for scheduled content easily with team members and/or clients. Create multiple content calendars — each with unique team members and social profiles — for each of your clients to keep things organized.
Create mock ups of all content you plan to share on social so your team members and clients can give the go-ahead prior to it being shared. You can also easily share your content with clients via HeyOrca! to get their feedback (and you can choose which versions of that content you want your clients to be able to see or not see).
Lastly, offer clients easy-to-understand reports to show them how successful the content you're creating for their social media profiles is.
The management tools we reviewed above have the power to help you reach (and exceed) your social media goals. Determine what you need out of a tool to help you identify which option has the capabilities and features needed to help you achieve those goals.