I write content for the HubSpot Blog every day, and after more than a year of doing it, I like to think I have a good system.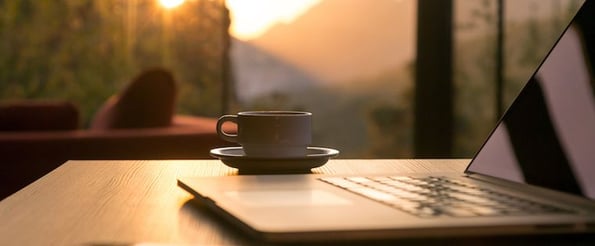 It starts with drinking seltzer and listening to instrumental pop music, and it usually ends with a finished article. But I wondered if others might have better strategies and more efficient hacks than Polar's Dragon Whispers seltzer and 2Cellos' cover of "Despacito."
So I asked the rest of my teammates about their processes -- how they source ideas, and any of their hacks and tricks for putting pen to paper (or fingertips to keyboard), and getting the job done.
Unsurprisingly, I got a lot of good advice -- from not allowing yourself to delete anything written during the first draft, to saving the introduction and title for last -- so I wanted to open up the discussion to a larger group of marketers on inbound.org.
Whether you're an experienced blogger or are just getting started, I've compiled suggestions for every stage of the writing process -- along with some general tips for writing clearly and concisely, staying focused, and knowing when you're done writing.
14 Helpful Blogging Tips
Sourcing Blog Post Ideas
1) Source inspiration from sites like Quora, Reddit, and inbound.org.
When you're at the very beginning of the writing process and wondering what topic or idea you want to tackle, Paul Skah recommends finding out what types of questions your target audience is asking before getting started.
Sites like Quora, Reddit, and inbound.org, where people ask and discuss common questions and challenges, can inspire blog post ideas. Once you have an idea of what to write about, you can choose specific keywords to target.
2) Or, ask your colleagues and peers common questions to guide your blog post's focus.
Shauna Ward recommends finding blog post inspiration by asking members of your own team what your audience wants to know. Whether you're targeting your blog post to attract new visitors or help convert leads, your colleagues will give you the specific guidance you're looking for.
3) Don't be afraid to freewrite if you have writer's block.
My colleague Eric Peters recommends writing -- about anything -- if your blog post is having a slow start. In fact, morning freewriting has been recommended to improve general productivity for anyone.
Getting Started on New Posts
4) Start with a completely blank document and brain dump everything you know about a particular subject.
Caroline Cotto's method for starting the blog writing process is to do a brain dump -- to write anything and everything you know about the subject in a blank document, and then, go back and find themes, arguments, and gaps in information to continue researching and writing about.
5) Outline blog posts with a working title and headings to guide your brainstorming and writing as you go.
HubSpotter Emma Brudner, meanwhile, believes in starting out with a bit of guidance -- namely, a title and headers to organize the blog post's content as you write.
6) Do your research first, then bullet out main points, then write it all out.
My colleague Meg Prater has a different method -- starting with research. After she thoroughly researches a blog post topic, she jots down the points and facts she wants to include in bullet format, then organizes them into an outlined version of the full blog post.
7) Write your introduction once your post has evolved.
Tatiana Morand advocates for saving the first for last -- the introduction. Revisiting the introduction -- once you've worked out your arguments, main points, and body content -- can help ensure it captures the reader's attention and sets them up for the rest of the blog post.
Writing and Finishing Posts
8) Focus on clarity, not complexity.
HubSpot Marketing Blog Editor Karla Cook offered a plethora of writing advice below, but my favorite suggestion was to "focus on clarity, not complexity."
Instead of trying to write complex sentences using technical vocabulary and multiple phrases, write so your reader can get the necessary content as efficiently as possible. And that means writing sentences that are clear, concise, and get to the point -- not necessarily in the most artistic fashion. Remember, you're writing a blog post -- not a short story.
9) Write first -- delete later.
My fellow HubSpot bloggers Aja Frost and Amanda Zantal-Wiener are avid believers in banning the delete key while writing the first draft of a blog post. They advise to write as much as possible, even in stream-of-consciousness style, and then to go back and delete when it comes time to edit.
10) Keep your writing process nimble. Take breaks and come back to content later if you need to.
Lydia Cockerham advises bloggers not to be afraid to take breaks or go on a writing marathon, depending on how the words and inspiration are flowing. She mixes longer and shorter writing chunks to take breaks and allow time to think and brainstorm during the process.
11) But make sure you make decent progress before stepping away from a blog post to stay motivated.
On the other hand, Ivan Kreimer suggests not stopping until you've finished writing a certain number of words to keep yourself motivated and to complete your blog post in good time -- his threshold is 750 words.
12) Rely on multitasking to help you stay focused while writing.
Kenny Pattle uses multitasking to keep himself focused and on-track while writing blog posts -- by setting 30-minute timers by completing other tasks on breaks. By planning other tasks and projects while working on a post, you can stay focused by the necessity to stay productive and get everything done.
13) If music doesn't work for you, create your own soundtrack.
Instrumental Britney Spears just isn't for everyone, so Ward recommends skipping the tunes and creating your own ambient noise soundtrack to keep you focused while you write if music doesn't help you stay focused.
14) Come up with at least 5-10 title options to choose from.
Once you've finally finished your blog post, it's time to get it ready for publication -- and that means choosing a title. As the blog post evolves, so too does your original idea for it, and that includes your working title. Joe Goldstein recommends reviewing the finished blog post, creating as many as 10 of them, and choosing the best fit for the piece with multiple options in front of you.