Makeovers aren't just for 80's movie montages -- they're also an important way for brands to future proof, reach new audiences, and remain relevant in competitive markets.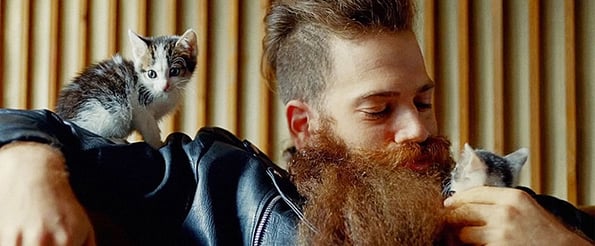 But changing up your entire image comes with considerable risks -- especially for bigger, more established brands. If you pivot too far away from your core identity too fast, you could alienate your base audience. But if the changes aren't big enough, no one will notice.
If you're considering shaking up your brand and could use some guidance on the line between not enough and too much change, we're here to help. Let's explore how six major companies were able to refresh their well-established brands for the better.
6 Successful Big Brand Makeovers
1) Kentucky Fried Chicken
In an appeal to millennials, the ubiquitous chicken chain recently resurrected the goateed visage of their founder and original mascot, Colonel Sanders, to appear in print, TV, and social ads.
Colonel Sanders -- the real man behind the brand -- appeared in KFC ads until close to his death in 1980. In his trademark white suit and western bowtie, Sanders' big personality and natural salesmanship proved to be pivotal in the fast food franchise's success.
During the 1990s and 2000s, KFC pivoted away from their founder's iconic image, first phasing out actors who played Sanders and then removing the animated version of him as well. The mascot-free look was accompanied by a push to focus more on the quality of the brand's food, staff, and American roots under the slogan "So good."
But the company soon realized that the Sanders-free KFC didn't resonate well with the coveted millennial set. So in 2015, KFC brought on global ad agency Wieden + Kennedy for a much needed brand facelift to boost sales and increase engagement.
The new colonel -- who has been played by a number of actors over the last year, including Darrell Hammond and George Hamilton -- is a quirky, patriotic spokesman for the brand. And even though not everyone loves him, KFC is happy that they've got people talking about them again.
"So far the response has been about 80% positive, 20% hate it," said KFC's parent company's CEO Greg Creed. "Now they at least have an opinion. They're actually talking about KFC, and you can market to love and hate; you cannot market to indifference."
2) AXE
AXE is no stranger to controversy. The male grooming brand has been slammed in the past for ads featuring hordes of scantily clad women appearing whenever a man applies body spray. Their ads have found their way onto many sexist campaign roundups, including Adweek's Most Sexist Ads of 2013.
This year, AXE's parent company Unilever decided to make a big change, vowing to drop sexist messaging and stereotypes in all their ads. This has signaled a completely new direction for AXE.
"Masculinity today is going through seismic changes. More than ever, guys are rejecting rigid male stereotypes," Matthew McCarthy, the senior director of Axe and men's grooming at Unilever said to Adweek. "We've been part of guys' lives for decades, and Axe champions real guys and the unique traits that make them attractive to the world around them."
In their latest campaign by Amsterdam's 72andsunny, AXE changes up their usual formula of six-pack abs and heterosexual pursuit, opting instead for a broad and inclusive representation of masculinity.
3) The Milk Processor Education Program (MilkPEP)
If you picked up a magazine or flipped on the TV in the 1990s or 2000s, you were likely to see a celebrity proudly brandishing a milk mustache with the tagline, "Got Milk?"
Developed by ad agency Goodby, Silverstein & Partners, the "Got Milk?" ads are commonly cited as one of the most iconic marketing campaigns of all time. For nearly 20 years, MilkPEP used the slogan to promote the consumption of dairy milk nationally.
But the pervasiveness of "Got Milk?" couldn't stop dairy milk sales from slumping beneath the growing popularity of dairy-free nut milk in 2014. "The milk industry has had a tough bill over the last few years. Consumers seem to be forgetting about milk," Julia Kadison, the then-interim CEO of MilkPEP said to USA Today. "They needed to be educated or reminded of the nutritional value of milk."
The decline in dairy milk sales prompted MilkPEP to stop producing "Got Milk?" ads in favor of an updated "Milk Life" campaign. The $50 million revamp by New York's Lowe Campbell Ewald puts the focus on regular people instead of celebrities, and highlights dairy milk's high protein content. Another series of Milk Life ads try to differentiate dairy milk from popular alternatives like almond milk.
4) Buick
To shake off their grandfatherly image and appeal to younger drivers, Buick re-launched several updated versions of their cars in 2014, along with a new, hilariously self-aware advertising campaign.
The "That's a Buick?" TV spots, which began in 2014, played on Buick's older, out-of-touch image, showing unbelieving consumers that the sleek, modern car in front of them was actually a Buick.
"We're attacking that false familiarity directly, because we've got this new portfolio now," US Vice President of Marketing for Buick, Tony DiSalle, said to Automotive News today. "We know that consumers' perception takes a long time to change."
The ads were produced by DigitasLBi, and deftly introduced the fresher, cooler side of the car company. And in 2016, Buick is taking things even further into millennial territory, enlisting the help of up-and-coming comedians Ellie Kemper and Max Greenfield to give the brand an edge.
5) GoDaddy
Known for their bawdy, provocative ad campaigns, the domain registrar and web hosting company has made deliberate steps away from their macho image in recent years, choosing instead to focus on the small business owners who depend on their services.
For years, GoDaddy's marketing seemed centered around the adage that "all press is good press." They stoked controversies left and right with their racy television spots, and many of their ads were denounced as sexist. GoDaddy CEO Blake Irving even revealed in a New York Times interview that a group of female small business owners were pressuring Etsy to stop doing business with GoDaddy because of their ads' portrayals of women.
Under the helm of CMO Phil Bienert and with direction from global ad agency TBWA/Chiat/Day New York, the company's advertising is now pivoting to better serve their real target demographic -- female small business owners.
"We've had some famous, very notable messaging in the past, and as we've evolved in the U.S. -- where 58% of small businesses are owned by women -- we've had advertising that reflects who the audience is, getting away from the tactics we've done [before]," Bienert said to AdAge.
GoDaddy's latest ads depict funny, fictionalized accounts of small business owners, such as an artist who designs little hats for cats.
6) Bud Light
In 2016, the beer of choice for football games and college parties received its first rebrand in 15 years, along with a humorous new series of ads parodying the presidential election.
The new logo and can design is decidedly less sporty and more reminiscent of craft beer label trends. In a nod to their parent company's 160-year-old brewing tradition, a retro Anheuser-Busch crest appears front and center. The composition might be a nod to original Budweiser packaging, but the reimagined packaging is intended to appeal to a new generation of beer drinkers.
"Anheuser-Busch is seeking to find the right look and messaging to attract more millennial drinkers, who may have never even consumed Bud Light, while maintaining brand loyalty among established drinkers of the brand," Eric Shepard, the executive editor of Beer Marketer's Insights, told Entrepreneur.
Despite being the dominant beer on the American market, Bud Light has seen sales slip in the face of craft beer's growing popularity. Along with their craft-beer-esque packaging revamp, they're also updating their sense of humor to align with modern tastes.
"If you look at the humor that was relevant back in the '80s, '90s, early 2000s, it was very different than the humor that is [relevant] right now," Bud Light vice president Alexander Lambrecht said to Business Insider.
Bud Light's newest commercials were created by Wieden + Kennedy, and focus on a fictional political party -- The Bud Light Party, naturally -- led by comedians Amy Schumer and Seth Rogen. The topical ads take a relaxed but direct approach to politics, with Rogen and Schumer throwing their support behind gay marriage, equal pay, and of course, beer.
"We don't care, we'll sell you a beer!" Rogan says in one of the spots promoting gender identity.
Feature image from AXE's "Find Your Magic" ad, via Fast Company.