2017 was a year of experimentation.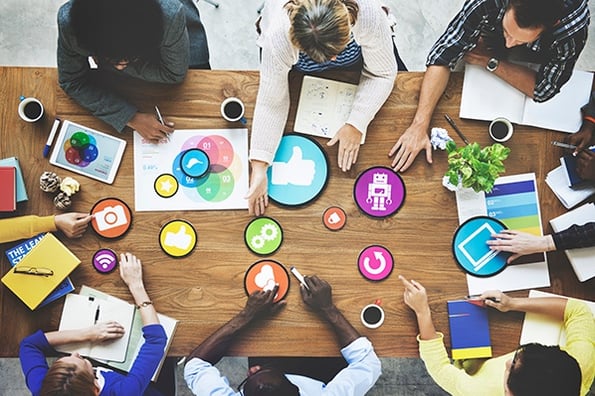 We were committed to shifting our entire social media strategy to grow our viewership and audience, while continuing to engage with our audience where, when, and how they wanted.
To successfully do this, we spent the year experimenting with how to best deliver content on all platforms, particularly on Facebook.
We succeeded in some risks and failed in others. It was a hefty undertaking.
Here, we've compiled our five biggest social media lessons from 2017. We are hopeful that these lessons will prepare you to successfully shift your own social media strategy (without any of the setbacks).
Social Media Lessons from 2017
The most important factor on Facebook is still your audience.
Live or die by the first three seconds.
People want to be seen and included.
Topical is key.
Native is better than non-native.
1. The most important factor on Facebook is still your audience.
Facebook can be intimidating for social media teams, particularly those with smaller budgets. Fortunately, we found money isn't the biggest factor when it comes to performing well (which is ideal, for both us and our audience).
The biggest factor is your audience, measured through views, view retention, and engagement.
Here's the deal: Facebook is a discovery model platform. Its primary goal is to make the audience happy. So you'll only get ROI if you create quality content for your audience.
For example, we put equal money behind a Walking Dead spoof video, and a Berlin city pride video. We had a firm understanding of both target audiences and posted at days and times best suited for them.
Our audience greatly preferred the Walking Dead video, which meant Facebook rewarded this video by expanding our reach and capturing more viewers.
Basically, we got more bang for our buck with this video because our audience liked it, not because we paid for it.
2. Live or die by the first three seconds.
You know how you only have seven seconds to make a good first impression?
It's even shorter for video.
It's imperative to engage your audience in the first three seconds of your video, or you'll lose them. So we focused on telling our entire story in three seconds, and then retelling it with more detail throughout the rest of the video.
The better we became at optimizing the first three seconds, the more our average watch time increased.
3. People just want to be seen and included.
The more our videos dug into a specific, targeted audience, the better they performed. Here's why: we believe if someone can affirm their identity through a piece of content (like an entrepreneur sees herself in a video about "top 5 traits for entrepreneurs"), then that video is more likely to be shared, commented on, and liked.
People are vocal in communities that strongly correlate to their identities and relate to their passions. Essentially, they want to feel included and seen on content that relates to them.
The "top 5 traits for entrepreneurs" video might alienate a broader audience (those who don't identify with the qualifier "entrepreneur"), but it encourages an entrepreneur audience to be more vocal: to share their opinions, tag their friends, and share the video on their pages.
And, like we've said, audience engagement is key to success.
4. Topical is key.
When something really big, good or bad, is circulating the news outlets, you've probably noticed the consequences on your newsfeed: instead of puppy videos and a friend's engagement pictures, you'll primarily see content related to that event.
Both Facebook and Facebook viewers are interested in seeing content that is most relevant in that time and place.
It's important to understand that news, seasons, cultural events, and holidays can have an impact on whether or not your video performs well. When evaluating your video's performance, keep this in mind.
5. Native is better than non-native.
Although we had our hunches, we wanted to verify whether people actually prefer native content to non-native content.
For a long time, HubSpot's Facebook page consisted primarily of non-native video content and link posts. We decided to compare one of these non-native video posts with a native video almost identical in content.
We had a clear winner: Facebook as a platform, and Facebook's audience base, clearly favored native video content. The native video was viewed almost 160x more than the non-native link.
This supported our commitment to a major strategy shift, both in 2017 and in the future.
Big Takeaway for Your Business:
In 2017, we focused primarily on video as our content format, and primarily on Facebook as our platform. We made these decisions strategically: Facebook is where the majority of our audience lives, and videos are well-received by this audience.
For you to find the same level of success, you also need to dig deep to understand where your audience lives, and which content format your audience prefers. It might look different than ours, and it might require you to shift in a different direction than we did.
It might even take you a year's-worth of trial and error (but hopefully, with these tips, a little less error).
Looking Forward to 2018
Now that we've succeeded in producing high-quality native content that engages and grows our audience, we want to do the same thing in 2018: only better, bigger, and more.
Here's the real bottom line: don't lose sight of what your numbers actually mean. Getting views, comments, and likes on Facebook isn't about "winning" at Facebook, it's about creating strong relationships between your audience and your brand.
And targeting ads, optimizing content, and finding the right community to engage with isn't just about "spending your money wisely." It's also about finding the right leads, where and when they want to be found.
Dig into that, and strive for ceiling-breaking results in 2018.
Good luck!