Did you know that it takes 5 to 7 impressions for people to remember a brand? With branding, the goal is to continue making those positive impressions on an ongoing basis. One way to do that is through brand activations.
In this post, we'll dive into what brand activations are, how to strategically plan a brand activation, and give you some ideas to inspire your own branding events.
What is brand activation?
Brand activations are events, experiences, and interactions that forge lasting emotional connections between a brand and its target audience. These activations are usually a specific campaign or event that is meant to generate brand awareness and interactivity with your audience.
While a brand activation is a singular event or campaign that is meant to elevate your brand it shouldn't be confused with ongoing brand strategy. So, what does brand activation strategy look like? Let's dive in now.
Brand Activation Strategy
Before you get started with planning different brand activation events, it's important to understand the goal of each separate campaign.
The best way to plan a strategy is to identify your goals. It could be customer acquisition, user sign-ups, social media engagement, etc. Ultimately you'll want to increase brand awareness, however, narrowing down your goal, even more, will make it measurable and attainable (hello SMART goals).
Once you know your goals, you can begin brainstorming various brand activation events or campaigns that you can do to achieve your goals.
For instance, let's say your goal is user sign-ups. One brand activation for that goal could be going to a trade show. There you can talk to potential customers and then hopefully sign up users on the spot (depending on your offerings).
Once you have a list of ideas, goals, and metrics, it's time to begin your brand activation plan. You should decide on one campaign or event to move forward, plan the logistics of that event, and use your brand playbook (with a clear vision, value propositions for key targets, brand personality, character, voice, and experiences). Keep in mind that brand activations don't necessarily need to be events, but can be sampling campaigns, social media contests, or other digital marketing campaigns.
Now, let's go over some ideas to help you come up with your own brand activation plan. Below, we'll have the ideas separated by the goal to give you an idea of how to strategically brainstorm brand activations.
Brand Activation Ideas
Goal: User sign ups
Experiential marketing event
Trade show
Digital marketing campaigns
Goal: Increased impressions/brand awareness
Sampling campaign (giveaways)
In-store/virtual events
Digital marketing campaigns
Influencer marketing
Goal: Customer acquisition
Digital marketing campaigns like PPC, display advertising, etc.
Interactive events
Live demonstrations
Goal: Social media engagement
Social media contest
Social media movement
Behind-the-Scenes series
Influencer marketing
Now that we have some ideas, let's look at some examples of brands that have run excellent brand activation events.
Brand Activation Examples
A colleague, Clifford Chi, uses this as a great example of brand activations. He usually doesn't pay much attention to subway ads, but Vitamin Water's "Brandon" was so funny, it made him laugh out loud. Then, a few weeks later, when Chi was walking around Boston, he strolled past Forbes' Under 30 Summit and saw someone holding a sign that said, "Need Handshaking Tips?".
That person was a part of Vitamin Water's "Brandon" marketing campaign. There were also other members of the campaign, handing out Brandon's business cards, some swag, and even bottles of Vitamin Water.
The funniest (and most impressive) part of the "Brandon" marketing campaign, though, was that the members acted like they actually worked for Brandon.

Vitamin Water's "Brandon" campaign resonated with so many people because instead of just giving subway riders a quick laugh on their way to work, they made the extra effort to interact with their target audience and bring the ad to life. To make things even more personal, Brandon accepts all of his LinkedIn requests.
2. Revolve | Revolve Festival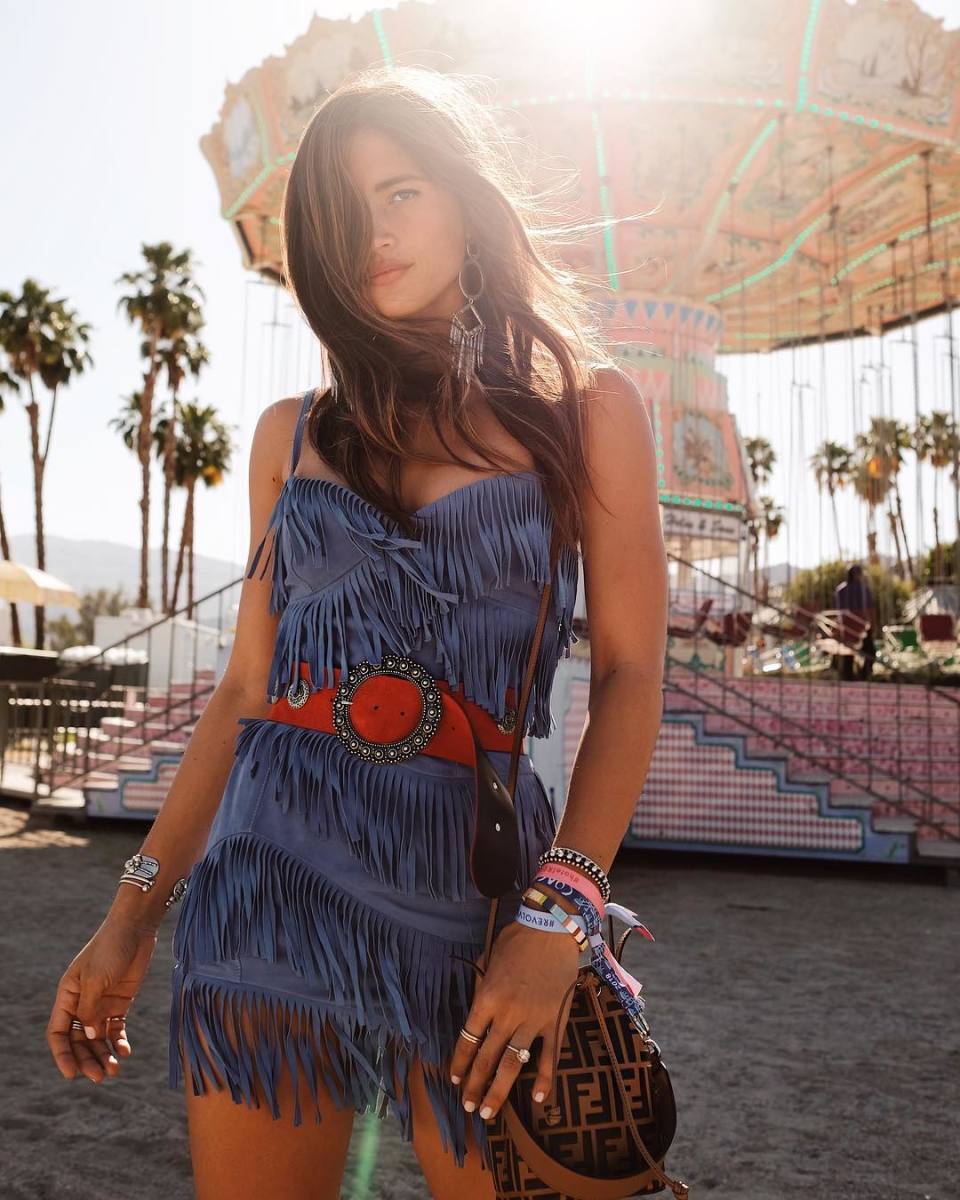 An excellent example of brand activation is the Revolve Festival that Revolve holds at Coachella each year (or at least has for several consecutive years). This is often known as the celebrity party of the year.
Revolve hand picks celebrities and influencers (macro or micro) to party while the music festival is occuring.
Revolve Fest trends on social media almost each year it happens because of the influencer marketing that the company focuses on. Influencer marketing helps the company bring in sales for its clothing line and more. In fact, influencers drive 70% of sales for the company.
Each of these festivals is a brand activation to bring in sales and drive awareness for the brand.
3. HBO | SXSWestworld
To promote the second season of their hit show Westworld, HBO built a miniature replica of the show's Wild-West-themed amusement park in Austin, Texas for attendees of SXSW 2018 to explore.
With over 40 "hosts" who guided attendees on their own unique narrative within Sweetwater, the attendees felt like they were actually in an episode of Westworld, traversing a town full of trotting horses, troublemaking bandits, and money-hungry gamblers.
The park also contained clues of season two's storyline and new characters, which helped generate a ton of suspense and anticipation for its upcoming premiere.
Each year HubSpot holds the INBOUND event. This brand activation is a way to drive brand awareness, customer sign ups, and ultimately help our customers in whatever way we can as a company.
INBOUND is an excellent example of brand activation because it's a singular event each year that drives engagement and interactivity for HubSpot.
With INBOUND, we can provide an experience for our customers and any business that wants to learn from the best of the best.
5. Netflix | Altered Carbon at CES
At CES 2018, Netflix designed one of the most popular booths at the event. But it didn't showcase the inner workings of their recommendations algorithm or their process for green-lighting shows. It actually spotlighted a concept their show Altered Carbon revolves around -- immortality.
In their booth, fictional employees from Psychasec, the company that offers transfers of their clients' consciousness to new bodies, or "sleeves", in Altered Carbon, pitched the benefits of their service and even displayed some models of their sleeves.
Netflix deeply immersed CES' attendees in the narrative of their hit sci-fi show, and it made them feel like they could actually live forever -- if only Psychasec's service was real.
6. CALM | Project 84
In the U.K., suicide is the number one cause of death of men aged 18 - 45. CALM, a suicide prevention charity, decided to spread awareness for the issue by creating 84 life-size sculptures of hooded men, which is the number of men who take their own lives every week in the U.K. and placing them on top of one of U.K.'s top TV network's building.
Every sculpture is unique and tells the story of a real person who committed suicide. And to produce as much publicity for male suicide prevention as possible, ITV, the TV network CALM partnered with, agreed to air the campaign on their morning show and dedicate three days of programming to male suicide. The campaign also promoted a petition that urges the government to take suicide more seriously and take greater action to help solve the urgent issue.
Brand Activation Takeaways
Putting on a brand activation event or campaign can help you increase brand awareness, impressions, and ultimately bring in new customers. With tactics like experiential marketing, digital campaigns, influencer marketing, and in-person or virtual events, you can engage and interact with your audience in a personal way.
To succeed with brand activation, it's important to focus on your audience, make your experiences shareable, and be creative.
Editor's note: This post was originally published in April 2019 and has been updated for comprehensiveness.