Uber, Amazon, Netflix, Airbnb, and Tesla all have one thing in common: even though they're some of the best brands in tech, the strength and viability of their business models are what propel them to the top of their industries.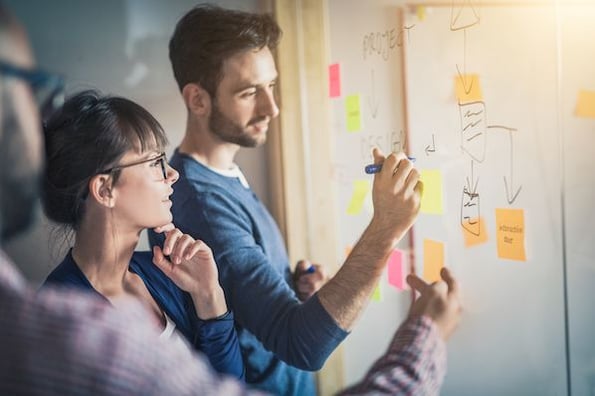 A compelling brand image can attract a lot of attention and new customers, but without a sound and realistic business model to monetize all that attention and retain those customers, you'll never grow or reach your potential as a business.
If you need some help refining your business model, check out how these top tech companies run the business side of things.
Billion Dollar Business Model Examples: Uber, Amazon, Netflix, Airbnb, and Tesla
Uber's Business Model
2017 Revenue: $37 Billion
In 2009, Uber made it their mission to scrap the idea that taxis were the only way to get around a city. Today, Uber facilitates 15 million rides a day -- without owning a single cab.
Uber achieved its monumental success so quickly by staying laser-focused on the speed, convenience, and cost of their service.
For example, customers can book a ride with the nearest drivers, see exactly how much their fare costs, and track their driver's location all without leaving the app. Drivers can either reject or accept the ride request based on the user's rating, and if they reject them, the rider's request goes to the next nearest driver.
Riders can also cancel rides before or after their driver arrives, but they'll have to pay a fee if they cancel their ride two minutes after requesting or if they take five minutes or longer to meet their driver.
Uber charges riders based on the estimated time and distance of their route and the current demand for rides in the area, which is billed directly to their credit card. To attract new drivers and retain current ones, Uber only keeps 20 - 25% of the fare and gives their drivers the rest.
Uber also charges customers a different fare depending on the type of car they want to ride in, which are Economy, Premium, Extra Seats, and More.
Economy offers carpool opportunities with other riders or rides for one person or a group in a sedan.
Premium offers Uber Black, which is a luxury ride with a professional driver.
Extra Seats offers luxury rides for 6 people with professional drivers in a Black SUV or an Uber XL.
More offers local taxi cab and wheelchair accessible rides.
Another way Uber makes money is through surge pricing. During times of high demand, like days with bad weather, rush hour, or holidays, they charge more per mile, based off the number of available drivers and ride requests in the area. It's one of their most profitable revenue streams.
They also leverage their 40 million monthly active users and the visibility of their app as another way to make money. Restaurants, hotels, and other businesses can all advertise on the Uber app.
Uber's other revenue streams include UberEATS, UberFreight, UberElevate, and their own line of self-driving cars.
Amazon's Business Model
2017 Revenue: $177.8 Billion
With a market value that's 46% larger than Wal-Mart, Target, Best Buy, Macy's, Nordstrom, Kohl's, JC Penney, and Sears combined, Amazon is one of the most successful companies in the world. And they can credit their company's financial health to their constant innovation and entrance into different markets, which gives them a variety of revenue streams.
Here are the top four ways Amazon makes money:
Retail (67% of Net Sales)
The bulk of Amazon's revenue comes from selling goods directly to consumers on their website. Since they order massive amounts of products from wholesalers, they can negotiate a cheaper cost and sell them for a lower price than their competition. They also ship their products faster because they can store inventory in their own network of warehouses. Amazon even manufactures and sells their own products, like the Amazon Echo and Alexa.
Amazon Marketplace (17% of Net Sales)
Amazon Marketplace is a platform that lets third-party sellers sell products on Amazon's website. Sellers can also buy a service called Fulfillment By Amazon, which stores, packs, and ships your products from Amazon's world class facilities.
Amazon earns commission off each of their third-party sellers' sales, which is a hefty sum since 51% of their sellers make over $100,000 a year on the platform. Sellers can also buy ads that list their products on the top of Amazon's search results and homepage.
Amazon Web Services (9% of Net Sales)
Amazon Web Services offer cloud computing infrastructure services to businesses for a yearly subscription fee. Migrating your company's data to the cloud lets your customers access your software on any computer at any time through the internet, like Netflix.
Amazon Prime (5% of Net Sales)
By paying a subscription fee every month, Amazon Prime gives customers access to free two-day shipping on all items, free same-day shipping in eligible zipcodes, streaming services like Amazon Video, Amazon Music, and Twitch Prime, unlimited photo storage on Amazon Photos, the Kindle library, audio books, and much more.
Netflix's Business Model
2017 Revenue: $11.6 Billion
If you work in the SaaS industry, Netflix's business model is probably pretty similar to your company's. Their subscribers pay for the service each month and can cancel their subscription anytime. To retain as much loyalty and revenue as possible, Netflix needs to focus on keeping their customer relationships long and healthy.
Fortunately, big data and analytics lets Netflix keep their customers happy. Knowing their subscribers' behavior and preferences on the platform allows Netflix to personalize each of their customers experience with unique recommendations. They can also predict and understand if the content they buy and create will actually resonate with their subscribers.
Streaming and DVD services are Netflix's only two revenue streams, but they rake in almost $1 billion per month.
To attract new subscribers to their streaming services, Netflix offers people a free month trial of any of their plans, and after it ends, they can continue their membership by paying for one of three plans:
The basic plan for $7.99 per month, which lets you watch Netflix on one screen only
The standard plan for $10.99 per month, which lets you watch Netflix on two simultaneous screens
The premium plan for $13.99, which lets you watch Netflix on four simultaneous screens
The majority of Netflix's revenue comes from streaming, but they won't abandon their DVD service anytime soon. It helped them enter the movie rental market, eventually tear down Blockbuster, and still makes a profit today.
Netflix's DVD and Blu-Ray arm offers free 2-day shipping and no late fees. You can subscribe to one of three plans:
A starter plan for $4.99 per month, which lets you watch one disc at a time with a two disc limit per month
A standard plan for $7.99 per month, which lets you watch one disc at a time with an unlimited amount of discs per month
A premier plan for $11.99 per month, which lets you watch two discs at a time with an unlimited amount of discs per month
Airbnb's Business Model
2017 Revenue: $2.6 Billion
Airbnb is like the Uber of accommodation. They connect over 140,000 travelers with hosts in more than 190 countries everyday, without owning a single property.
Airbnb blew up in popularity because they gave hosts an opportunity to run a side hustle that has no overhead costs and attracted travelers with more affordable and authentic visits.
Guests can book a room in a local hosts' home that's much cheaper than a hotel -- most hosts don't depend on Airbnb as their main source of income, like a hotel does. And staying at a local's home better immerses guests in their destination's culture.
Airbnb also has a relatively simple listing and booking process for hosts and guests. When a host lists their property details like pricing, amenities, and location on Airbnb, the platform will send a freelance photographer to take professional photos of their home to put on their listing.
When travelers search for a place to stay, they can filter properties by price, amenities, and city. Once they book the property through Airbnb, the host has to approve the guest. Hosts can gauge their potential guests' character by looking at their reviews from past hosts on Airbnb and their social media profiles. The guests and hosts can rate and review each other after the stay.
Airbnb's business model is unique because they earn revenue from both their hosts and guests. Since they offer free listings to their hosts and free membership to their guests, they collect a commission fee from hosts and a transaction free from guests. Airbnb charges hosts a 3% fee for every booking they get through the platform and charge guests 5-15% of their booking cost.
They also offer a subscription to their own travel magazine, partner with hosts who provide work-ready homes for business travelers, and partner with locals who lead guests through immersive experiences in their community.
Tesla's Business Model
2017 Revenue: $11.7 Billion
Tesla is unlike any other car company. They engineered and introduced luxury sport cars that run entirely on electricity and entered the automotive industry with an uproven business model: a direct sales approach complemented by superior customer service and their free Supercharger network.
Direct Sales
Most car manufacturers sell their cars through franchised dealerships, but Tesla wanted to cut the middleman out and create a better buying experience by selling their cars in flashy showrooms and galleries. Tesla also lets people customize and purchase cars on their website.
Service Centers
At Tesla's service centers, customers can charge or service their cars. And by building service centers in certain areas, they hope their commitment to customer service will catch the attention of other luxury car owners and generate more demand.
The car company also offers the help of Tesla Rangers -- mobile technicians who service their customers' vehicles at their house. They can even fix a car's software issues online since Teslas can send data to technicians through the internet.
Supercharger Stations
Tesla's network of supercharger stations lets customers fully charge their cars for free in just 30 minutes. Tesla built this network and offer free charging because they know no one will buy their cars if it's hard to charge them. An ample amount of charging stations around the country will accelerate the acceptance of electric cars, just like how gas stations enabled the world-wide adoption of gas cars.
Other Revenue Streams
Tesla also sells home charging installation services, energy storage systems for homes or businesses, solar panels, solar roofing, powertrain systems and components to other auto manufacturers, and will start producing an electric semi-truck in 2019.
What Business Model is Right For Your Company?
Choosing the right business model for your company is crucial, but you should take your time when considering your options. Even though each of these companies rake in billions of dollars of revenue each year, they all have different business models.
There's no business model that's perfect for every company. But if you can discover some untapped opportunities in your market and truly understand your customer's pain and pleasure points, you could find the perfect business model for your company.