If you're growing a company, chances are you're challenged with choosing the right tools to help you grow.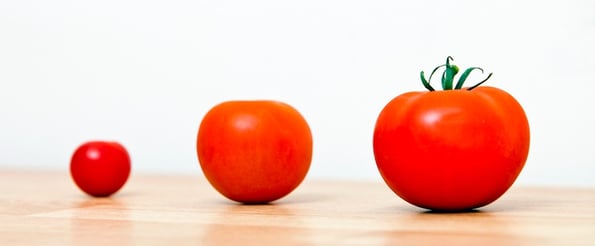 Both at HubSpot and at other businesses I've helped advise, I've seen marketing and sales teams experiment with all sorts of different tools they've hoped would drive growth. Some of these tools did help the team grow. Others slowed growth down or blocked it altogether. At HubSpot, we've seen opportunities to build new growth tools for marketing and sales teams and we've worked hard to fill those gaps.
One of the most important lessons I've taken away from growing businesses is that most growth problems come not from ideas, but from execution. You might have a growth-driven team, a great vision, and the dedication to achieve your lofty goals. But having those things isn't enough to actually grow.
To execute on your strategy, you're going to need a powerful set of tools that leverage every stage of the customer experience, from the first point of contact, through the sales and marketing process, and over the lifetime of the customer.
The foundation of a strong growth stack starts with the following:
A CRM system that serves as the foundation for all the other growth tools you're using, which is where all of your customer data is stored.
A marketing platform to attract the right people, convert them as leads, and communicate with them through the purchase process and once they're a customer.
A sales platform that helps your sales team identify the right people, connect with them, and close them as customers.
Some companies are in the position to implement a growth stack right off the bat and then enhance and customize it with the right collection of integrated tools. Others need to start with free tools and build to a full growth stack over time. (Note: There is a free version of the HubSpot Growth Stack.)
For those companies just getting started, here is my shortlist of the best free growth tools for modern businesses. The list comprises a blend of free HubSpot tools and those from other companies that we've used and recommend.
The 11 Free Growth Tools I Recommend
A Free CRM
You can't build a skyscraper without a solid foundation. A CRM (Customer Relationship Management tool) is just that -- it acts as the base layer of growth where all your business functions' information is organized and can be easily analyzed. In all honesty, it's impossible to grow and scale your business without a CRM.
Your CRM is the software that sits at the core of your digital system. It tracks every interaction your sales team has, stores all your marketing leads and customer data, and improves communication across your organization. The more you grow, the more important this becomes.
The problem is, most traditional CRM systems are hard to implement and use -- especially for small to medium-sized businesses (SMBs) with limited time and resources. Sales teams have trouble adopting them internally, and you can bet that doesn't help your business grow whatsoever. If you're looking for a clean and intuitive CRM that'll make your sales reps more efficient -- regardless of their experience levels -- I'm very proud of the free CRM our team at HubSpot has built.
Free Growth Tools for Marketing
I'm a big fan of visualizing progress. Growth teams tend to have a lot of ideas, a lot of projects, and a lot of experiments going on at the same time. We've found Trello to be the best tool for tracking that progress. Each idea, project, and experiment can live on its own card, which teams can use to take notes, assign tasks, set due dates, and so on.
Here's a real example: Our VP of Marketing Kieran Flanagan uses it to track, from start to finish, all the experiments his growth team runs. What's especially remarkable is that his team members are located in various parts of the US and Europe, but with Trello they're able to stay organized and effective, and make a big impact on business growth.
The folks at Trello put together their own list of business growth apps, inspired by ours. Check it out here.
Data beats intuition. You can't really know what your audience wants without getting inside the heads of the people who already regularly visit your site to find out why they visit your site, and Hotjar's tools are perfect for just that.
These guys are on the cutting edge of helping people figure out what drives people to different parts of their website. They're making it possible for people to build and grow their website in a way that actually resonates with people. We actually just launched an integration with Hotjar that shows Hotjar poll responses in HubSpot users' contact timelines.
The Heat Maps and Visitor Recordings are my favorite parts of the tool, though, and here's why: They visualize what people are doing when they get to your site by showing clicks, taps, and scrolling behavior. This is so important for a business because each of these actions shows what people do and care about on your site. It'll also help you find the biggest opportunities for improvement and testing. (And you should always be testing.)
Image Credit: Hotjar
Search Engine Optimization (SEO) is key to growing traffic, which is a big driver of business growth in the online age. Simply put, you need to do it, and you need to do it well. If you want more people to find you on Google, you'll need a keyword tool to help you prioritize which keywords to focus on.
There are a few good keyword tools out there, but Google Keyword Planner is a great starting point for narrowing down the right keywords, gauging competition around each one, and learning how many people are searching for them.
Bots are pretty freaking cool, and there's business value to them too -- they can make simple processes more efficient, giving your team time back in your day and helping you intelligently answer questions around your business. I could not be more excited about bots. That's why I spent a lot of time this year building a chatbot for growth professionals called GrowthBot. I originally started building it because I wanted it myself, but others have told me they find it helpful, too.
So how does it work? By connecting to a variety of marketing systems (like HubSpot, Google Analytics, and more), GrowthBot is able to give you more convenient access to information you already otherwise have, and give you access to information you didn't know you had. In the first case, you could ask it the question, "How was organic traffic last month?" and it'll tell you. In the second case, you might ask it, "Which public SaaS companies are using HubSpot?" or "Which PPC keywords is uber.com buying?" and it'll spit back the answer in just a few seconds.
A big mistake I see growing marketing teams making is spending all their time driving traffic to their website, but not turning that traffic into leads. The problem is, if you're not learning about the people who are showing interest in your business, you're leaving critical lead and sales numbers on the table.
To help you take a page that gets a good amount of traffic and turn that traffic into leads, some really smart folks created a feature within HubSpot's new free marketing tool called Lead Flows. Lead Flows are unobtrusive widgets -- pop-ups, dropdown banners, slide-ins -- that you can add to any of your website pages to direct your most interested readers to more in-depth content, available for free download behind a lead-generating form.
The best part is they involve no technical setup or coding whatsoever, so you can set them up in minutes (seriously, minutes) without having to make changes to your existing site. Let us know what you think of Lead Flows on Product Hunt.
There's a lot you can do with social without spending any money. Social media is an amplifier. It takes time, but if you build a following, it is a great way to take that awesome content you're producing and spreading it further and wider.
For social media marketing on all the major networks, Buffer is a great place to start. It connects your business' Twitter, Facebook, LinkedIn, Instagram, and Google+ accounts in a single platform and lets you share text, links, photos, and videos, either immediately or to schedule for later.
Image Credit: Buffer
Tools that make creating visual content easier are important for growth, especially for a business with limited design resources. Being able to create great images in a short amount of time will help make your website, your emails, your social media posts, and every other marketing asset more engaging and attractive to your audience. Simply put, better visuals = more engagement = more traffic = business growth.
Canva makes it easy and fast for people who aren't designers by trade (like me, as my team knows well) to create visual content quickly.
Image Credit: Entrepreneur's Organization
Free Growth Tools for Sales
The easier you make it for your sales team to interact with leads and prospects, the better they'll be at closing customers, which you most definitely need if you want to grow your business. join.me isn't software -- all your reps have to do to start a call is open up the desktop or mobile app or log in online.
There are a lot of meetings tools out there, but this one is one of the fastest, most reliable, most intuitive, and easiest to use. And if you use HubSpot's free CRM, you can start a join.me meeting directly from your contact timeline.
Image Credit: join.me
Your sales reps are probably wasting a lot of time writing the same emails over, and over, and over again. There's a lot of value in streamlining the emailing process while still making sure sales reps are sending high-quality emails. If your sales reps can get their hands on personalized email templates, that'll save hundreds of hours over the long term. Templates, a feature of HubSpot Sales, lets you access personalized email templates for free from within your inbox.
What makes this tool particularly powerful for sales teams is that you can build a shared library of templates everyone can use. You can also aggregate data on how often emails with certain templates get opened or clicked, which helps you hone in on the approaches worth sharing.
This is one of my favorite email tools, not just for sales teams, but for personal use. It sends instant desktop notifications when the emails you send get opened. You'll see who opened the email, at what time, on which device, and where they were located when they opened it. If you want to look at all your notifications, or all your notifications on a specific email, then you can view the full history in a stream.
This list of free tools is a starting point for those looking to grow from startup into sustainable. Down the road, you'll want to integrate your growth tools together into a true growth stack. For those looking to take the next step, we've mapped out our version of a complete growth stack over on Product Hunt. Take a look and let our engineers know what you think.