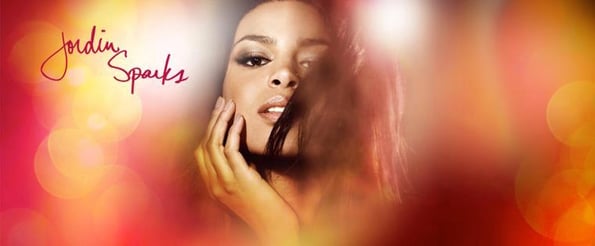 Musical artists don't become famous just because their music is good. (Just watch Katy Perry's lip-sync malfunction at the NRJ Music Awards and you'll see my point.) Believe it or not, pop stars have to market themselves just like we have to market our businesses.
And often, artists will hire entire marketing teams to do this, especially those trying to build their brand or rebrand entirely. These teams help them with everything from publishing to their Instagram feeds to partnering with brands to coaching them on how to act during television appearances.
Jordin Sparks, an American Idol pop music star with an eye for an edgier, more underground persona, is one such artist.
Remember her? In 2007, she was the youngest contestant to win American Idol at just 17 years old. She went on to sing that hit 2008 song "No Air" with Chris Brown, which sold over 3.5 million copies. She then signed with one of Sony's major labels, sold over 12 million records, got huge on social media, was nominated for a Grammy, and had three top-10 billboard hits with Chris Brown.
In other words, Sparks was the very definition of a mainstream pop princess.
Image Credit: Zimbio
Then, around 2011, she kind of dropped off the map (musically, that is).
Her solo music hiatus lasted about four years, during which she modeled for magazine spreads, starred in two films (including Sparkle with Whitney Houston), and dated Jason Derulo. She also made a decision that would redirect the rest of her career: She wanted totally rebrand herself from pop star to edgy urban artist.
How would she be able to pull that off?
Enter Bill Richards, VP Marketing at Sony Music Entertainment and the man leading a team of 12 to help manage Jordin Sparks' rebranding efforts.
This wasn't their first experience rebranding a celebrity. Of his 12-person team, half used to work at Jive, the record label that helped Justin Timberlake successfully transition from baby-faced boy band star to the edgier, more well-rounded and well-respected musician he is today.
Richards recognized Sparks' musical talent and saw a big opportunity to help her rebrand like he did with Timberlake. Recently, I had the chance to chat with him all about the marketing strategies and tactics behind Jordin's rebranding, which began a year ago and is still happening today. He dove in to the story -- which, he said, all started with writing and recording new, edgier music.
It All Starts With the Music
During her time away from the pop scene, Sparks began thinking seriously about reworking her public image. She developed a huge fan base after winning American Idol and releasing those hits with Chris Brown, and these fans knew her as a perfectly polished pop princess: beautiful voice, clean look, innocent song lyrics.
Image Credit: GalleryHip
But she wanted to give herself a bit more of an edge. "Less Carrie Underwood, more Rihanna," as Richards describes it.
They didn't know how the world might respond if Sparks were to take on this new sound, look, and vibe. "Here was squeaky clean," Richards explained. "Every time you saw her, she was in a pencil skirt. Our whole game is figuring out how to get the right rappers to get featured in her songs, getting co-writes, and making her edgy. We knew there was a risk. We wanted to give Sparks an edge that was authentic, yet tongue-in-cheek enough so that we're not pissing people off. You don't know until you do it. That's the reality of our world."
What was clear was that first, she needed to start with the music.
A little over a year ago, Sparks signed with respected hip hop producer Salaam Remi -- the same guy who produced Amy Winehouse, Nas, and other famous artists. Remi's goal for Sparks? To help her write and produce songs that are more edgy, cheeky, fun, and urban-leaning.
Together, Remi and Sparks produced and released Sparks' first big hit since 2008, called "Double Tap." The song title refers to the act of tapping an Instagram photo twice with your finger in order to "like" it. "Double Tap" was released in November 2014 and features the famous rapper 2 Chainz, a partnership Sparks secured thanks to Remi's respected reputation and deep network in the urban music scene.
Image Credit: AudioMack
Remi's work in getting Sparks' music right was the baseline from which she could start developing her new brand. From there, it's been up to Richards and his team at Sony to draw up the marketing plans.
Gaining Traction
Bill explained to me that when a pop artist releases an album, they'll typically send tracks straight to radio stations. This isn't the case when for artists like Jordin who are trying to reach an audience outside of mainstream pop.
Once Jordin finished recording an album's worth of tracks last spring with Salaam, he didn't go to radio -- instead, Salaam began releasing them one-by-one into what Bill calls the "urban mix show."
... The what, I asked?
"The urban mix show means the core movers and shakers in the urban world," Bill told me. "It's 'underground radio,' to a degree. If these guys aren't involved from the start, we'd have a lot of trouble. They have to accept it first, and then it spreads from there."
As it turns out, marketing in the urban music world is a bit of a word-of-mouth game. Jordin might be well-known in the pop world, but the team at Sony is treating her as if she were a brand new artist. One of the biggest challenges they knew they'd have to face is getting buy-in from influencers in that music scene.
One of the major influencers is the group of guys behind L.A. Leakers, a popular blog known for jumpstarting developing artists' careers in urban music. Richards and his team pitched Sparks' new mixtape #BYEFELICIA to the L.A. Leakers, and they bit. In late November 2014, they posted the very first leak off Sparks' "highly anticipated mixtape" to their blog, which included a sound clip teaser and a graphic announcing they'd be releasing the leak the following day at 11:11 a.m. PST.
Image Credit: L.A. Leakers blog
The L.A. Leakers partnership was a big success for Sparks, but there's a lot more work to be done to get buy-in from this new audience. Remi, Richards, and the marketers at Sony are smack dab in the middle of this process now. How's it going, I asked? "So far, so good," reports Richards.
Marketing: It's All About the Content
While Sparks has released several songs from her newest album, "Double Tap" has been the crux of the team's marketing strategy over the last several months.
"Today, it's all about content," Richards told me. Specifically, he's referring to content on social media sites like Vine, Instagram, YouTube, Twitter, and even SnapChat.
While Jordin has an active presence on social -- especially on Twitter, where she has 4.25 million followers -- the bulk of the content Richards is talking about comes from online influencers with huge social followings. He and his team seek out choreographers and cover artists and work with them to cover Jordin's song to post to their hundreds of thousands, sometimes millions, of followers.
"I can tell you the top 20 highest-trafficked cover song artists on YouTube," says Richards. "I'll message them and say, 'Hey, Joe in Milwaukee. If I send you an MP3 of Jordin Sparks' song ahead of the release, will you cover it?'"
Thanks to Jordin's history as a famous pop artist, he's found it pretty easy to get influencers to feature her songs on their channels. One such example is this Vine video, posted by choreographer Corey Scherer. It received over 51,000 views (called "loops" on Vine) in fewer than 28 minutes. As of this posting, it has over 1.5 million loops and counting.
With some of these artists, Richards' team offers to exchange exposure for exposure. After all, Sparks has a hefty following on social media, so even influencers gain from a link and a mention on Sparks' own personal accounts.
"Others, I'll pay in cash," says Richards, "for basically the same amount I'd spend on a 30-second radio spot on one of the top stations in New York. Instead, I'll give that money to Joe in Milwaukee who'll post it in front of his three million YouTube subscribers. You can't get that kind of authentic reach from traditional advertising."
This is how Richards' team at Sony helps Sparks cut through the noise. They try to secure a social post from an influencer every few weeks or so -- and when you add up all the views, they get into the tens of millions.
While the team at Sony focuses a lot of their efforts on social, they also take care of other parts of Sparks' marketing efforts, including her website, photo shoots, videos, and most of her public appearances. But, at the end of the day, Sparks' rebranding efforts were all about abandoning the classic, pop queen playbook in favor of much more grassroots marketing efforts.
What Would Drake Do?
Richards sums up their marketing philosophy like this:
"We'll ask ourselves, 'What would Drake do?'" Richards told me. "Drake doesn't go straight to pop radio. He puts up a mix tape, tweets clips of new songs, makes it seem like the record companies don't know about it (although they always do), and overall releases his music in a way that seems more personal to his audience. Pop is still shrouded with a corporate vibe."
To get the urban world to see her as the real deal, Sparks would need to do as Drake would and release mix tapes and song clips to her fans, followers, and influencers in a much more intimate way. "Talent-wise, she is the real deal. But she needs buy-in from a new audience -- and so far, it's working."
Featured Image Credit: Jordin Sparks' Facebook Page