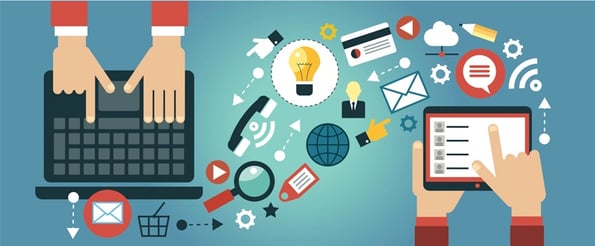 Since 2010, the Content Marketing Institute (CMI) and MarketingProfs have teamed up to produce annual benchmark reports that reveal the industry-wide pulse on content marketing.
In 2015, 54% of B2B marketers and 50% of B2C marketers cited "producing engaging content" as a top challenge. For B2B marketers, it was the most commonly cited challenge. For B2C, it was second.
The funny thing is that this problem isn't new. If we go back to the first benchmark report from CMI and MarketingProfs in 2010, we find the exact same results. Again, "producing engaging content" is cited as a challenge more frequently than issues like producing enough content, budget limitations, and executive buy-in. Not only is this an old problem, but also a consistent problem. Check out the top challenges from the reports in 2012, 2013 and 2014.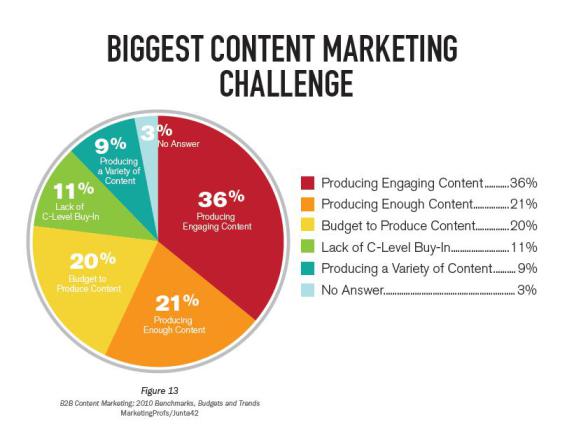 Despite the fact that overall content marketing adoption, production and budgets have increased significantly since 2010, relatively little progress has been made in quality; marketers are still struggling to produce the type of content that engages their audiences.
Why Is This Really a Problem?
There's a common thread in this content marketing saga: nearly all organizations are creating content, but less than half are confident in their abilities to create content that engages.
It's not just another content marketing problem; it's the content marketing problem. Think about it. If your content sufficiently engages your audience, it's much easier to get C-Level buy-in. It's also much easier to garner greater budgetary support (How many times have you heard your boss say "We have endless budget for strategies that work."?). Other common issues like producing enough content and producing a variety of content simply fall by the wayside when everything you do is working as it should.
Content marketing is a quality game, not a quantity game. If you create the type of content that truly engages your audience, the proof will be in the results.
How to Create Content That Truly Engages
The question becomes, then, how do you create engaging content? If it was easy, everyone would be doing it. But it's not; hence, the history of widespread under performance.
The secret is in the research. It's long been known that "publish and pray" strategy of the past simply doesn't cut it anymore, but how many content marketers really know all the different research tools and tactics that can be used to ensure content marketing success? And how many content marketers are honestly willing to put in the heavy legwork up front to guarantee that their content hits the bulls eye?
The solution I'm proposing for you today will allow you to take the critical first steps towards freeing your organization from the weight of content marketing failure by ensuring that everything you create resonates with your target audiences.
Audience, Competitive, Media and Trends Research
Content marketers are still marketers, and due diligence is an essential part of the job. As with any marketing campaign, understanding who your audience is, what they're looking for, where to find them, and how to deliver the most effective message is essential to intentional success. Sure, it's possible to get lucky from time to time without research, but repeatable success isn't possible without intimately understanding the components of the model below.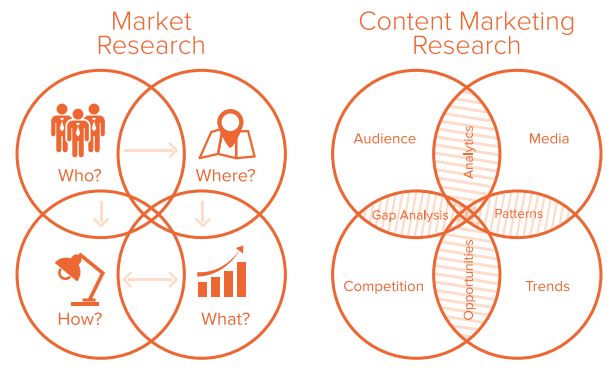 1) Audience research is the key to understanding the buying behaviors of your prospects. It's the foundation for creating buyer personas and journey maps, as well as connecting pain points to purchasing considerations. In the online space, keyword research can provide insights into a variety of critical audience behaviors, but don't stop there. Use web analytics to understand how your audience interacts with your website and where improvements can be made. Interviews with subject matter experts and customers will also help you fill in the blanks when pointed questions are used to reveal telling first-hand experience that can be worked into your marketing collateral.
2) Trends research is more or less exactly what it sounds like: an analysis of topical trends in your space. When done correctly, this research will show pathways to success by finding angles and opportunities for your organization to make its voice heard in the ongoing dialogue with prospects and customers. Tools like Google Trends and BuzzSumo will allow you to identify popular articles, trending topics, compelling questions, industry influencers and commonly cited resources in your space.
3) Media research will allow you to determine the top online media outlets and influencers in your space, an essential first step for your building your promotion plan. Creating a profile for your target media outlets (as well as your target audiences) will better inform your subsequent content creation efforts, too. Tools like Followerwonk, Cision and Anewstip will help you analyze industry publications, subject matter experts, influencers and social engagement metrics to glean insights for your own content marketing efforts.
4) Competitive research is a mixture of qualitative and quantitative data to understand the story each competitor tells and then identify how those stories resonate with your target audience. By picking up on your competitors' strengths and weaknesses, you'll be able to identify opportunities and threats for your own organization. Content inventories, local SEO evaluations and site audits will help you identify new middle- and bottom-of-the-funnel opportunities for content. Additionally, tools like Screaming Frog, SEMrush and Google's Keyword Planner will allow you to find keyword gap opportunities that competitors aren't taking advantage of.
Build a Research-Backed Foundation for All Your Content Marketing Efforts
The short of it is this: most content marketers struggle to create content that's engaging. However, by building a solid foundation of research from which to launch all your content marketing campaigns, you can mitigate, if not eliminate, the risk of failure entirely.
There are countless research tools and tactics that can be used to build the audience, trends, media and competitive assessments that will guide your content marketing efforts far into the future. Relevance has curated 19 of the most effective tactics and 12 of the best tools for you in our new Quick Guide for Content Marketing Research, a short read that you can print out and keep right at your desk.
Regardless of your content marketing KPIs, the consequences of under performance are the same across the board: wasted time and wasted budget. With the right research, you can rest assured that you'll be using your time and money wisely. The four-pronged framework provided in the guide is an excellent place for all content marketers to start.