Snapchat boasts 160 million highly engaged users who like watching and engaging with billions of photos and videos per day.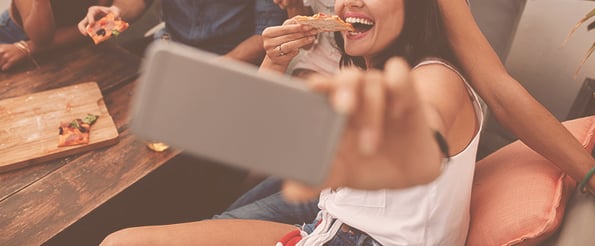 Suffice it to say, social media marketers need to capture and maintain the attention of their followers. But how exactly do you make that happen?
Below, we've featured nine ideas for how to make your snaps more creative and engaging, and examples from real brands to inspire you. And if you're looking for more brands to follow for ideas, might we suggest adding HubSpot on Snapchat?
Snapchat to Facebook: "I'm sorry that you're so jealous of me, but I can't help it that I'm popular." Our team weighs in -- listen below:
9 Snapchat Ideas for Brands
1) Geofilters
Geofilters are a fun way to share a time and place with your followers. Remember, brand social media accounts take followers to places they can't go themselves, so a Geofilter from an interesting place gives your brand personality and drives its cool factor.
Here's an example of a Snapchat Story using a Geofilter. The New York Times (@thenytimes) shared a Story from Hyde Park in London about one reporter's visit to a new exhibit at Kensington Palace. Pretty cool, right?
Try using a Geofilter the next time you're snapping from a unique location your followers might be interested in. You can access Geofilters by recording a video or taking a photo, then swiping left on your screen until the filter you want to use appears.
Brands can make Geofilters featuring their logo and branding to pop up around its facilities by submitting them to Snapchat -- learn more about that process here.
2) Event Tags
Like Geofilters, Event Tags take Snapchat followers to a cool event and give them a behind-the-scenes look. Mashable (@mashable) took its followers onto the red carpet of The Brit Awards in the Story below. While you might not have access to red carpets, try snapping from your next company event or a conference you attend to give your followers the inside scoop.
Find event tags using the same process as Geofilters -- swipe left until you find the tag you want to use. And like Geofilters, businesses can create unique tags for events and meetings -- learn how to do it here.
3) Emojis
In case you missed it, the above "sentence" says that emojis are great. In emoji language, of course.
Emojis offer hundreds of different symbols brands can use to embellish their snaps to make them more fun and engaging. Here's how Infatuation (@infatuation) did it in their Snapchat Story:
Emojis are featured in a ton of marketing campaigns these days, so try using them in your next few Snaps to tell more with pictures than words. Drop an emoji or two into your next snap by tapping the sticky note icon once you've captured a photo or video on Snapchat. Check it out:
4) Bitmojis
Bitmojis are friendly avatars we can create to look and dress like us for use in texting, messaging apps, and social media. Snapchat users can now add their Bitmoji to snaps, too. Here's what (or rather, who) mine looks like:
Brands can use Bitmojis to add personalization. Each day, the Snapchat library of Bitmoji options adjusts -- there are Monday-themed avatars about the woes of the weekend ending, and Wednesday avatars about making it halfway through the week, for example. They add humor and a "reaction" within the snap itself to make it more memorable and human, too.
When you record a Snapchat, you can either choose a Bitmoji from the sticky note emoji menu (as demonstrated above), or you can do what MTV (@mtv) did and use a Bitmoji filter. Swipe left once you've captured a snap to see what your Bitmoji is up to.
5) Text
If you haven't already heard, listening to videos is going out of style: Many social media users prefer to watch videos without the sound turned on. Snapchat lets you add text to photos and videos to provide context for your followers -- without them having to pop in their headphones.
Here's how NASA (@nasa) did it in their Snapchat coverage of a breaking news story:
To add text to your next snap, capture your photo or video, then tap the "T" icon -- one tap will let you caption your video, and two taps will let you use bigger, bolder letters on the entire screen.
6) Circular Video
Have you checked out Snap Spectacles yet? They're Snapchat-capable sunglasses that let wearers film in 360-degree circular video. Spectacles also make videos more interactive and responsive for the viewer -- check out this example of a 360-degree Spectacles video that General Electric (@GE) shared.
The Spectacles make snaps reformat whether the viewer's phone is vertical, horizontal, or spinning their phone around -- as I was when I filmed this screen capture:
If you're curious about Spectacles, you can buy them online here.
7) Lenses
Snapchat lenses are another way to make your images and videos more creative, and brands can purchase Sponsored Lenses to promote products and events. The price of these might be prohibitively expensive for most brands to create unique ones -- they're typically hundreds of thousands of dollars -- but that doesn't mean brands can't get in on the fun.
Here's an example of how Refinery29 used lenses to spice up a simple selfie interview with a musician. The lenses made the videos fun and interesting to listen to and watch, and they were free to use, too.
Snapchatters can access the lenses only when the camera is self-facing. Then, hold a finger over your face until the lens options appear at the bottom of your screen. Here's me turning on the lens options, and you can see what a sponsored lens from Almay looks like:
8) Hyperlapse and Slow Motion
When you film a video on Snapchat, you can filter it so it plays extra quickly, or in slow motion. This is a cool feature to make your Snapchat Story shorter or to break down a cool process your followers might want to see. Show a behind-the-scenes look at the construction of a product or event faster or slower to clue followers in to what your brand is all about.
Here's an example of Hootsuite using the hyperlapse feature to speed up the setup process for an interview the brand featured on Snapchat:
To speed up or slow down your video snaps, swipe left on your screen after you've recorded until you find the rabbit icon (hyperlapse) or the snail icon (slow motion).
9) Ask for Interaction
A simple way to earn engagement from your followers on Snapchat? Ask for it.
Use text, narration, or emojis to ask your Snapchat followers to reply with a snap of their own, or to screenshot your content. It's a fun way to interact with viewers, and it helps marketers see how much of their content is actually resonating.
Aer Lingus did this masterfully with its Snapchat trivia Story below:
These are a few simple ways you can spice up your snaps with creativity to engage your followers and, hopefully, to attract more. If you're looking for more ideas for your brand's Snapchat strategy, check out our Snapchat for Business guide here.
Which of these tactics do your favorite brands use on Snapchat? Share with us in the comments below.