If I asked you what marketers identify as the number one most exciting business opportunity in 2019, I bet most of you would guess "social media", "mobile-first experiences", or even "video marketing".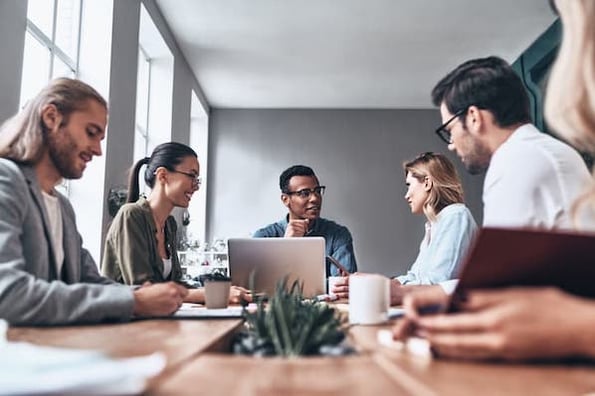 However, the Annual Digital Trends report by Econsultancy and Adobe revealed a surprising truth — marketers actually identified "optimizing the customer experience" as the most exciting business opportunity.
Clearly, marketing plays a critical role in defining, communicating, and managing the customer experience.
Here, we're going to explore how customer experience and marketing intersect, who owns customer experience, and marketing best practices for supporting an organization's customer experience.
Customer Experience and Marketing
Customer experience refers to how a customer feels about each interaction they have with a company across all touchpoints. Since the marketing team is typically responsible for creating buyer personas, collecting data, and engaging with prospects, it's critical marketing works with sales and service to ensure the entire organization is delivering an exceptional customer experience.
Delivering experiences that delight customers takes a planned, proactive, and holistic strategy that spans the customer journey and lifecycle. A Walker study on customer experience identified personalization, ease, and speed as the critical elements of a winning customer experience.
Customer experience does not stop after the sale — in fact, some of the most powerful opportunities to create loyalty and drive repurchasing and referrals are experiences with service and support after the sale is made.
HubSpot's Flywheel model offers a modern view of how companies can evolve by putting customer experience at the center of the organization's focus.
The "delight" stage powers the "attract" stage of the inbound methodology, because of course customers talk to others about their experiences, and word-of-mouth recommendations are one of the most powerful ways to attract new customers.
Ultimately, what it means to provide an exceptional customer experience is continually evolving, and you'll need to work with both your sales and services teams to ensure you stay up-to-date on an ideal customer experience.
Who Owns Customer Experience?
Has your company defined who "owns" customer experience? Is it Sales? Marketing? Customer service? A 2018 study by PWC on Customer Experience made it clear — responsibility for delivering a winning CX belongs to the entire organization.
Additionally, in a recent Digital-IQ report released by PwC on winning digital strategies, 65% of respondents see customer experience as critical to advancing business performance.
The advent of digital marketing gives marketers the tools to interact with buyers at the individual level — through channels and touchpoints at every stage of the lifecycle. So where is the unique role for marketing in managing customer experience?
While the entire organization is responsible for experience delivery, marketing is often best positioned to listen to, analyze, and advocate for customer needs.
By delivering reliable, fact-based insights about customer experience, marketing helps overcome the siloing of departments, which is a major detractor to a consistent CX approach.
Let's explore the four marketing best practices for supporting your organization's customer experience strategy, now.
1. Listen to customers at scale — and share the insights.
Conversations data: Marketing that makes a meaningful impact on the customer's experience requires effective analysis and interpretation of conversational data. Data is not only used for targeting marketing campaigns, but also for improving the customer experience.
Segmentation: Digital marketing automation platforms make it easy to track and act upon data. Data such as customer history, behaviors and interests make it possible to develop segments to better target customers, as well as provides insights on how to deliver a better experience.
KPIs: Key performance indicators such as conversion rate, churn, retention rate, and patient satisfaction scores should be identified, monitored, and tracked in a manner this is highly visible to all teams. These shared insights drive change and reinforce progress, identify areas for improvement, and support a culture in which everyone is responsible for delivering an exceptional experience.
2. Know the voice of the customer.
Direct customer feedback is foundational for understanding and improving experiences. Traditional research methods such as satisfaction surveys, focus groups, and interviews continue to play an important role in assessing satisfaction and capturing the voice of the customer.
However, digital technologies are providing new ways to supplement this information. Tools such as social listening, live chat, and website analytics provide opportunities to keep a pulse on customer feedback in real-time.
Additionally, sales and service delivery teams can capture customer feedback through observation, field reports, complaint logs, etc.
Regardless of what method is used, following a journey or experience map can ensure you are capturing feedback about the holistic experience rather than siloed stages.
For instance, take a look at the healthcare journey map, below, from Endeavor Management — which shows a wide range of activities, all of which are taken into account when capturing direct feedback.
Ultimately, marketing's role is to work across departments and stages of the lifecycle to consolidate feedback, identify themes, and use the voice of the customer to bring about change.
3. Collaborate cross-functionally to foster change.
Unfortunately, it's all too common for marketing teams to take responsibility for attracting prospects and generating leads, but then have little involvement after qualified leads are handed to sales — leading to a disjointed customer experience.
Instead, marketing teams can bring the results of listening at scale to collaborate on making business processes more customer-centered. When marketing develops insights about customers, this knowledge gives teams a common objective basis for working together on changes to improve the customer experience.
Simply put, marketing teams can support the customer experience by creating meaningful, valuable content for the buyer journey and identifying buyer segments and personas to target.
Additionally, the insights from listening at scale can have much broader impact when shared and used it as a springboard to identify bottlenecks, solve problems, and redesign processes in customer-focused ways. Perhaps your marketing team can create workshops or brainstorming sessions cross-departmentally to generate solutions and obtain buy-in for change.
Of course, it's difficult for marketing to bring about change without executive buy-in. One way that marketers can engage and obtain support from executive teams is to calculate the ROI of improvements to the customer experience. Satisfaction and Net Promoter Score (likelihood to recommend) are two popular KPIs. Others include churn rate, resolution time, or conversion rates.
4. Invest in automation.
To successfully create an ideal customer experience, you'll want to consider both marketing and sales automation software. Here's a brief description of the two:
Marketing automation focuses on growing traffic and increasing conversion rates. Tools provide insight on customer needs by tracking their website usage, downloads, analytics, etc. Marketing and sales automation tools can improve the customer experience by providing personalized, targeted connections based on needs and lifecycle stage.
Sales automation provides insights on prospects with tools such as sales process sequences, quote workflows, and rep performance updates.
For marketers, marketing automation facilitates an improved customer experience by providing clients with the right information at the right time.
For instance, automation drastically shortens follow-up time. This is critical because research has shown that responding to a lead within five minutes dramatically increases a company's chances of making contact with them — yet over half of today's companies don't respond within even five days.
Marketing automation not only improves the overall customer experience, but is critical to lead generation.
Ultimately, to create an exceptional customer experience you'll need collaboration from all three of your organization's departments — marketing, sales, and service. However, as a marketer, it could be your responsibility to lead the way by ensuring when you're collecting research for your marketing efforts, you're sharing the results with sales and service while also remaining open to their feedback.
If you'd like to learn how to better align your marketing and sales departments overall, take a look at The Ultimate Guide to Sales and Marketing.