As many of the nearly 20,000 attendees at HubSpot's annual INBOUND event would probably attest, a major highlight of this year's event was Michelle Obama's powerful keynote address. A close second would have to be my breakout session. (Just kidding.)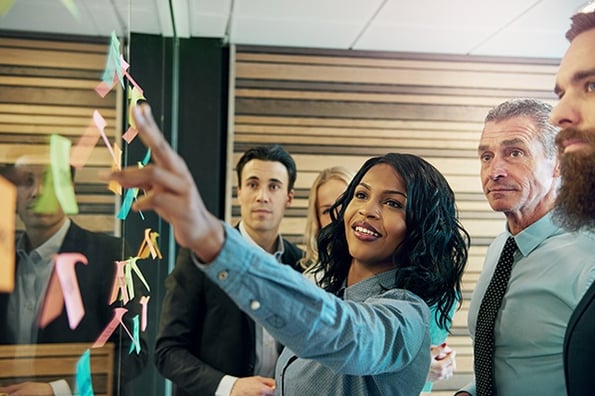 Well, I'm just kidding about being a close second to Michelle. I really did speak at the same event as she did, and I was fortunate enough to interact with a roomful of forward-thinking marketers during my talk about one of my favorite topics in content marketing: using content as a tool.
Content starts with marketing, but it should never stop there. Ideally, your marketing team acts as the hub for your company's content. It's the center of the action when it comes to generating high-quality, engaging, educational material and finding creative ways to distribute that content to external and internal audiences -- including (and especially) your various departments.
Content can be used to empower employees in every single area of your company to achieve their department's unique goals, in addition to your company's overall goals. That said, I understand that integrating content across departments is a big undertaking. Where would you even start?
I'm glad you asked. Here's a quick and easy guide to the five main areas of your company that should definitely be using your content on a daily basis -- and exactly how they can put it to work.
5 Departments of Your Company That Can Benefit From Content
1) Marketing
As I just said, marketing is obviously linked to content. For a lot of companies (Influence & Co. included), content marketing basically is your marketing strategy — especially as inbound marketing has continued to gain ground.
Content has become central to every goal you're trying to achieve and every tactic you use to reach those goals, so you're most likely putting it to use in a variety of ways. In case you need a quick refresher course, though, here are three key areas where marketing should absolutely be using content:
Lead generation: My team found that about 18-25 percent of our quarterly revenue comes from new marketing leads that were generated from content we had written and distributed. If you're not using content to attract, nurture, and close leads, you're leaving revenue and opportunity on the table.
Audience nurture: No matter what stage of the buyer's journey a lead or customer of ours has reached, we use content to educate him — whether he sees that content via social media, receives it in his email inbox, or gets it from a salesperson.
Search engine optimization: Pretty much every organization has had to learn about SEO to keep up with audiences and learn how they discover content. Generating your own content helps boost SEO, rankings, and online visibility.
2) Sales
You probably already create sales-specific content, whether it's in the form of product or service one-pagers, comparison sheets, proposals, or some other type of sales collateral. But you should go beyond salesy, promotional content. The thought leadership content you create on your own (or with other leaders and experts in your company) can seriously help your sales department.
That's because 45 percent of decision makers and 48 percent of C-suite executives reported that a company's thought leadership directly influenced them to award business to that business. Your content can fundamentally change how your sales team works, so empower all your reps with educational content that enables their processes, and encourage them to use it in these three ways:
Client outreach: Whether you're sending outreach emails, touching base on LinkedIn, or sliding into a client's DMs on Twitter, your sales team can make sure to use educational content to spark interest.
Lead nurture: When a lead has a question for a salesperson, and the right answer is highly involved, content is the perfect way to supplement the sales process and avoid wasting 20 minutes of a sales call answering one detailed question. This applies to email nurture, too; cut to the chase in your communication, and supplement the details with your company content.
Start conversations: Content is a great tool for account-based marketing; use it to attract the attention of that one person whose interest you're hoping to pique. You can also ask for her input on a topic you're writing about. People love being asked for their opinion, and it can really strengthen your content.
3) Human Resources
Over the past five years or so, my company has grown from a handful of us sitting around a table to about 75 full-time employees in different offices; I completely understand that hiring and training the right people is challenging. As the leader of a company that used content to hire 30 people in one year, trust me when I say that when your content is integrated into the hiring process, the entire company benefits. Here's how:
Recruiting: If you're hoping to attract candidates who share your values, create content that showcases what your company is all about. For example, my company published an article in Harvard Business Review about our extensive mental health policy. When candidates find that content and other pieces like it, they'll quickly know whether our company is a good fit for them.

(Bonus: Your employees are more likely to share this kind of culture-focused content than they are to share standard job postings, which can help you tap into the networks of your best brand advocates: current employees.)
Vetting: For candidates who have moved past phone screenings, send select pieces of your content their way before you meet in person. Whether candidates bother to read those articles before their interviews says a lot about their fit for your company. And when those articles are read, they pave the way for more in-depth, illuminating conversations between you and your potential hires.
Training: Once candidates join your team, send them more content about your company and industry trends to help them prepare for their first day and hit the ground running during their first months with your company.
4) C-Suite
Companies don't have ideas -- people do. No matter how many blog posts or articles you've read bylined by a brand trying to convince you otherwise, only people have ideas.
Behind every brand is a team of people leading and powering it, and that means there should be people behind the content you create, too. For a lot of companies, those people often look like founders, CEOs, presidents, or other C-level executives. Whomever you choose, his or her content can benefit the entire leadership team by facilitating:
Audience connections: People reading your content want to know who's behind it. Of course, it's great for marketing, but it gives your company a face and a voice. Your audience members are much more likely to respond to a voice they find compelling and relatable than a faceless company spitting words on a page at them.
Partnership and co-marketing opportunities: Getting visibility for the people behind the brand can help your brand, too -- as my presence at INBOUND demonstrates. Providing consistent content in the form of guest posts to the HubSpot Marketing Blog and co-hosting a webinar at Digital Agency Day opened the door for me to become a speaker at this year's event.
Investor relations: If a company is looking to raise another round of funding, chances are good that investors are looking into the people leading that company. Articles showcasing the thought leadership and expertise of your C-suite can give your company a leg up on other companies seeking funding.
5) Account Service
Too often, marketers and their teams view content as a way to generate leads (and even enable sales) but stop short of actually using that content to service those clients once they sign. If you can get content into the hands of your account managers or customer service representatives, you can overcome a lot of the same challenges that your sales team uses content to address, including:
Efficiency: Sometimes, clients ask repetitive questions; other times, they ask really specific questions that require detailed answers. In either case, it's much easier (and faster) for everyone involved if your account managers can simply give a high-level answer and send content from your subject matter experts that dives deeper.
Retention and upselling: This method of using content also plays into keeping clients happy enough to stay -- and to upsell them on your services. Continually educating your clients, showing them that you understand the issues they're interested in, and providing value above and beyond what they may have expected are all good ways to encourage them to keep working with you.
Content may start with marketing, but it absolutely shouldn't end there. Sharing content between departments -- and actively using it as a tool to help every area of the company -- is a powerful way to help achieve individual departmental goals and lead your company to success.