I'm a big fan of finding the latest and greatest digital marketing tools.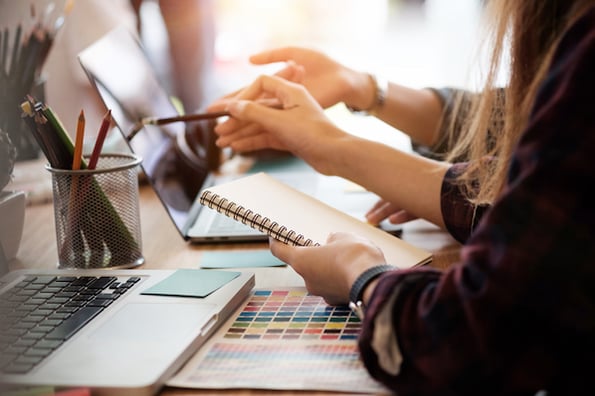 While digital marketing tools will only help you execute a proper strategy (they won't do the work for you), the right technology stack can really help you zoom past the competition.
Some tools out there are foundational -- things like email marketing, web forms, analytics, and a CRM. However, other tools are more specialized, including keyword rank trackers, or design tools.
To take your marketing strategy to the next level, we've outlined the following 18 digital marketing tools every marketer should have in their tool belt.
The Top 27 Best Digital Marketing Tools in 2023
HubSpot
Ahrefs
All in One SEO
Sender
SE Ranking
Brafton
Omnisend
Clockify
ProofHub
PointerPro
Yoast
Slack
Trello
SEO PowerSuite
DataFeedWatch
Canva Business
Google Adwords
Google Analytics
Whatagraph
Moosend
MailChimp
Asana
BuzzSumo
MeetEdgar
Buffer
Hootsuite
Pixpa
Price: Free to $3,200/month for enterprises, depending on your plan
HubSpot has several tools to help you grow your business, no matter what stage you're at.
Starting out, there are several tools available for free. You can set up web forms, popup forms, and live chat software for lead capture. Then, you can send email marketing campaigns, pipe all of your data into the free CRM, and analyze site visitors' behavior.
When you expand into the paid tiers, things get really sophisticated with advanced marketing automation.
From managing your content and social media to tracking emails and connecting with your leads, HubSpot is an all-in-one solution -- although it works well with other point solutions you may use (Typeform, HotJar, etc.).
Ultimately, the tool allows you to:
Grow your traffic, convert leads, and prove ROI for your inbound marketing campaigns.
Shorten deal cycles and increase close rates with the provided sales tools.
For a quick recommendation on five free digital marketing tools you can use together, check out our video compilation.
Price: Tiered pricing, ranging from $99 to $399
Ahrefs is a comprehensive SEO tool to help you punch up your website traffic. They have data for around 150 million keywords in the U.S., and even more for 150 other countries.
Ahrefs is great for competitive analysis, allowing you to check out who is linking to your competitors, what their top pages are, and more. You can see where their content ranks and, using the Content Gap tool, identify key weaknesses for your content areas.
The Top Pages tool lets you see which pages get the most traffic, and you can see the amount of traffic going to competitors' sites.
Ahrefs is one of my favorite SEO tools. It constantly impresses me with features I use daily, and I learn about new features all the time. It's easily the most robust product in this space.
Price: Starts free, paid plans start at $49.50/year
All in One SEO (AIOSEO) is a top-rated plugin for WordPress websites, with over 2 million installations. The tool includes a variety of features designed to help you optimize your site and your content for search engines.
This tool provides an actionable checklist that helps you focus on fixing errors and making common adjustments to maximize click-through rates. Additionally, with AIOSEO, you can complete a whole-site audit, optimize pages for WooCommerce, and even improve your local SEO.
Price: Free Forever; Tiered pricing, ranging from $8 to $29/month or custom pricing for enterprises.
Sender is an ideal all email and SMS marketing automation tools for marketers that are looking for affordable and feature-rich solution. One of its standout features is the drag-and-drop email builder and premade templates that help you create stunning newsletters in minutes. Plus, with the platform's high-converting popups like spin-to-win, you can attract quality leads and nurture them into brand ambassadors.
Sender is tailor-made to empower and boost the success of ecommerce stores. You can easily build triggered automated workflows that engage subscribers and skyrocket sales.

For example, one of the workflows you can create is a personalized welcome email sent automatically after visitors sign up. This helps you build solid relationships and nurture prospects into loyal customers. Or you can send abandoned cart emails to recover lost revenue.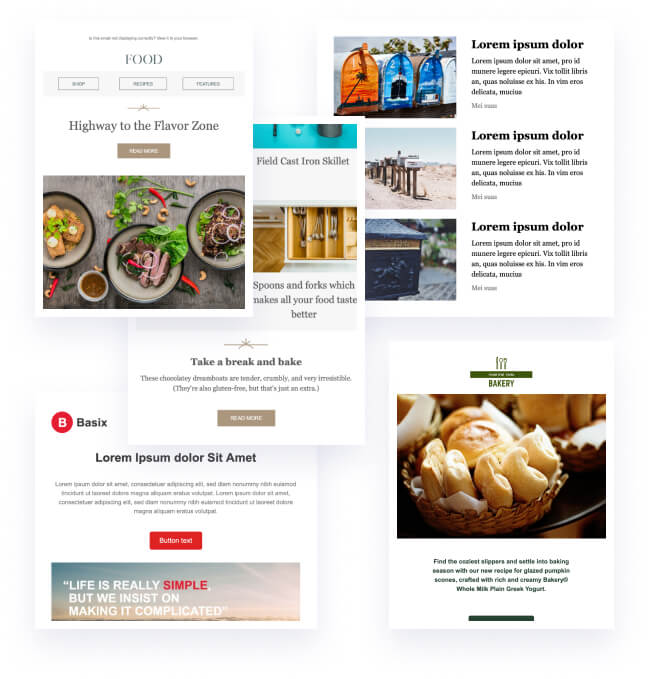 Price: 14-day free trial; Tiered pricing, ranging from $55 to $570
SE Ranking is a powerful SEO suite that covers all the daily needs of SEO professionals working both in-house and at digital marketing agencies.
SE Ranking can help you build data-driven SEO strategies by delivering insights on your competitors' along with a head-to-toe audit of the site you're working on. You can pinpoint top-ranking pages and keywords, analyze backlink quality, run in-depth tech audits, create content faster with the help of AI, finetune on-page metrics, get the most accurate ranking data, and more.
SE Ranking heavily relies on machine learning, AI and NLP algorithms to deliver top-quality data as well as SEO recommendations that consider the dynamic nature of the SEO environment.
Agency customers highly value SE Rankings' teamwork and client management capabilities. Extra user seats are included in every Pro and Business subscription. With the Agency Pack add-on, one also gets unlimited SEO reports, White Label, additional client seats, and a lead generation widget. SE Ranking provides team training for easy onboarding and free data migration.
Price: $100 per user per month, with month-to-month plans and custom enterprise pricing available.
The Brafton Content Marketing Platform is the only software built specifically for the way content marketers work today. Brafton has fine-tuned the content creation process, and instilled 15+ years' worth of content marketing wisdom into the Brafton Platform's features, including best practice workflows, a content library that organizes all collateral by tag and campaign, and a content calendar that automatically updates project timelines based on the workflow.
Price: Tiered pricing, plans start free and range up to $59 per month
Omnisend is an email & SMS marketing platform built to help marketers and ecommerce brands increase sales. Omnisend's standout selling points are its strong email & SMS automation features that allow you to automate a good chunk of your marketing actions effortlessly. Once you've got your messages the way you want them, the platform will send them at just the right time so you can make more sales while focusing on other things.
On top of that, Omnisend's easy-to-use email & form builders are designed with ecommerce in mind, featuring intuitive interfaces to help generate signups and land even more sales.
Price: 7-day free trial, Free plan, Tiered pricing ranging from $3.99 to $11.99.
While Clockify will not provide you with SEO solutions to create the best content or effective strategy to sell your goods or services, it will definitely help you manage the time you allocate to building and growing your marketing agency.
In addition, Clockify allows you to:
Track your billable hours

—

define your rates and use an online timer or enter time manually, to get your billable hours calculated automatically.
Stay on top of your finances

—

monitor expenses and budgets, and make estimates for the future.
Measure your business' profitability

—

compare data and see who's your most profitable client.
Manage your team more efficiently

—

go over reports, to have a better insight into your team's performance and overall productivity.
Generate invoices

—

generate and send PDF invoices to your clients, based on tracked billable time and expenses.
Clockify is an easy and intuitive tool that will help you run a well-organized and well-managed agency, all in one app.
Price: Tiered pricing with a fixed rate of $49 and $89/month for unlimited users.
With ProofHub, you can keep everyone in the loop for immediate real-time communication, plan every campaign from beginning to end, assign tasks to multiple people, and track progress while staying organized.
ProofHub provides a customized platform to align marketing campaigns, plan your resources, and customize workflows to your goals so that teams have a clear picture of how to work. As priorities shift, you can quickly identify the projects that are most important—and deprioritize those that aren't. You can obtain real-time insights into all campaign progress or performance in one location and determine whether they are on track to meet your objectives, allowing you to adjust your strategy as needed.
All in all, ProofHub eliminates the need to depend on different tools to manage your marketing campaigns as everything is provided under one platform.
Price: Free trial available | Pricing starts from $33 per month
If you're looking for a powerful lead generation tool, Pointerpro is a software your marketing team should consider.
With their ReportR pack, respondents can walk away with a personalized PDF report based on their answers immediately after completion. They also integrate smoothly with your existing marketing stack either via webhooks, Zapier or Integromat. So you can easily transport leads through to your CRM or email marketing tool and start building nurturing campaigns.
Price: The Yoast plugin for WordPress is free, but the paid premium plans range based off the number of sites you need monitored
Yoast is a very popular plugin that works with both Gutenberg and the Classic editor in WordPress. Yoast is an excellent tool to help you optimize your content for search engines.
Yoast helps you choose cornerstone content, focus keywords to help you rank, individual content URLs, and internal links for an additional boost. The plugin also evaluates your page readability and gives it a Flesch Reading Ease score.
It's updated to reflect Google's algorithm every two weeks, so you can always stay up-to-date on your SEO.
Price: Free for small or medium companies, custom pricing for enterprises
Slack is one of the favored communication services in business today.
It operates in channels designated for certain information, so business conversations don't get distracted or cut-off by tangents about where everyone wants to go for team lunch. It facilitates, de-silos, and focuses collaboration between employees and teams.
It's an excellent tool for networking and meeting others in the digital marketing space, and gives you the freedom to join or leave channels as needed.
Because it's such a popular communication channel, it has wide-ranging integrations with plenty of other tools. You can tack on a seemingly unlimited amount of integrations and Slack applications to make the tool even more powerful -- for instance, many teams will pipe in A/B test results, analytics notifications, new customer or transaction notifications, or even sales or customer support bots. While undeniably powerful, Slack is easy to start using immediately.

Price: Paid plans range from free to $20.83 per month for enterprise
Trello is a content management tool that many organizations use for brainstorming and strategizing content -- in fact, we use Trello at HubSpot to know when our blog posts are scheduled for publication.
The reason Trello is so appealing is that it's free for small teams and businesses, and it provides a visual way to brainstorm and schedule content online -- even if your team is remote or global. Additionally, it's easy to assign multiple employees to a card, so you know who's in charge of writing, editing, or adding CTA offers to a post.
Users can create cards and include notes on the card topic, as well as create deadlines and assign topics to certain teams. Trello facilitates collaboration and provides clarity on projects in the pipeline.
Pricing: Free version available, plans start from $299/year
SEO PowerSuite is an all-encompassing SEO toolkit that offers a complete range of features to boost your website's search engine performance. This suite combines four powerful tools: Rank Tracker, Website Auditor, SEO SpyGlass, and LinkAssistant, each designed to excel in their respective areas of SEO.
Rank Tracker: Provides comprehensive keyword research tools, precise tracking for your website's positions in over 400 search engines, and the powerful competitor analysis module.
Website Auditor: Helps in auditing your website for both on-page and technical SEO issues, offering actionable insights to improve site health and performance.
SEO SpyGlass: Allows you to analyze and compare your backlink profile with competitors, identifying valuable link-building opportunities.
LinkAssistant: Streamlines the process of link building and outreach, helping you to acquire quality backlinks efficiently.
SEO PowerSuite stands out for its depth of features, unlimited projects, and flexibility, catering to both SEO beginners and seasoned professionals. Whether running a small blog or managing the SEO for a large corporation, SEO PowerSuite provides the tools you need to climb the search engine rankings.
Pricing: Plans start from $69/month
DataFeedWatch by Cart.com is a leading feed marketing and PPC automation solution available in over 60 countries and across 2000+ eCommerce channels. It allows you to create fully optimized product feeds based on your existing data.
With DataFeedWatch, you can manage and optimize your feeds for all channels from one place. You will also be able to resolve any product data errors, fill in missing product data, and optimize titles and image sections for each sales channel.
The tool enables you to automatically create text ads based on your product catalog. It can also help you with building an effective pricing strategy. It will show you who else is selling the same products and for what price. Its algorithms will suggest you the optimal price and will let you know which of your products are overpriced or underpriced.
Price: Plans start free, $12.95/month for teams, or custom pricing for enterprises
Canva is a drag-and-drop design platform that allows users to create images using custom pictures, icons, shapes, and fonts from the Canva catalog. It offers an aesthetically-pleasing, simple way to design your own logos, presentations, images, or graphs based off your team's needs.
Additionally, Canva cuts out the need for an experienced designer and enables you to create the exact visual you have in mind using their vast image collection.
Price: AdWords run on a pay-per-click model
Google AdWords is one of the most popular options for advertising your business on Google's search engine results' pages. Payment is based on either a pay-per-click or pay-per-call structure.
Google AdWords hosts the Google Keyword Planner, where you can research which keywords you want to include in your ad and your other content. You can set budget caps on how much you want to spend. Ultimately, the tool helps you funnel more prospects to your website.
AdWords is an excellent way to display your products or services on Google's results pages for very specific queries. For instance, let's say someone searches for "best CrossFit gym in Austin". Sure, you could work on your SEO and hope to appear organically -- but you can also bid on the keyword and appear at the top of the page, enabling you to capture tons of high intent visitors.
Price: Free
Google Analytics is the gold standard for website analytics. Nowadays, it's hard to operate as a digital marketer if you don't have some level of Google Analytics expertise.
At its most basic level, Google Analytics can show you who is coming to your website, from where, and on which pages they're spending most of their time. Beyond that, you can set up goals to track conversions, build an enhanced ecommerce setup, and track events to learn more about user engagement.
Truthfully, barely a day goes by that I don't use Google Analytics. To learn more, check out The Ultimate Guide to Google Analytics in 2019.
Price: Tiered pricing, starts at $199 per month
Whatagraph is the tool solution to connect, visualize and share all your marketing data. It's used by agencies and in-house marketers to create beautiful, automated reports for a variety of different marketing platforms.
There's a total of 40+ data sources you can connect to, such as Google Analytics/GA4 and Google Search Console, as well as some uncommon ones like TikTok Ads, Pinterest, Meta, YouTube, or Google Ads. To get you started, there are over 100 report templates you can build upon for your next report. You can build insightful reports and dashboards, customize data, and apply custom branding. Share on-demand access or automate send-out.
Some standout features are:
advanced report customization
report white-labeling
live dashboards
Price: Tiered pricing, free to $9/month, with custom enterprise options
Moosend is an all-in-one email marketing and marketing automation solution to help you set your digital marketing strategy. From lead generation to conversion, Moosend will equip you with a form builder to craft converting popups for your website visitors. You can use the drag-n-drop email builder to create your promotional email campaigns for them.
Along with segmentation and personalization, you can optimize the customer journey, providing your audience with better experiences. Moosend's real-time reporting and analytics feature will allow you to keep track of your campaign performance and improve your digital marketing strategy when needed.
Price: Tiered pricing, plans start free and range up to $199
MailChimp is an email marketing and social advertising tool designed to automate and orchestrate campaigns.
You can track the traffic garnered from your campaigns -- additionally, MailChimp offers multiple integrations with other SaaS companies. The tool is especially powerful for email drip campaigns. Ultimately, it's a good option for engaging with your audience.
Price: Tiered pricing, free to $19.99/month, with custom enterprise options
Asana is a collaborative workflow management system with a visual emphasis designed to streamline and de-silo information and goals between teams.
Asana allows you to do several things:
Record and visualize projects to be completed
Map out deadlines and prioritize tasks
Assign tasks to certain team members
Identify points of friction and bottlenecks
Report on projects quickly and openly
De-silo data between teams
The Portfolios function also lets you keep track of every project's status, ensuring that your team members have the support and motivation to get out their digital marketing initiatives on time.
Price: Paid plans start at $79/month
BuzzSumo is a unique content research tool that identifies top influencers in your industry and helps you connect with them.
You can look up trending topics and define the scope of your search to generate both evergreen content, or trending content aimed at your desired audience.
From there, you can look at your content's analytics and social mentions, and then measure performance accordingly.
Price: $49/month
MeetEdgar is an excellent social media management tool.
Using the browser extension, it can write posts and extract up to five important highlights from your posted content for you to easily share. You can sort your content into categories and decide when you want content shared from each category.
It allows you to schedule posts 24/7, and if your queue runs out, it will mine previous posts and re-share them -- which you can start and stop at any time. You can also use MeetEdgar to run A/B tests on your content to find the most optimal language and content for your posts.
MeetEdgar is integrated with LinkedIn, Twitter, Facebook, and Instagram.
Price: Starts free and goes up to $199/month
Managing all your social media marketing in one place can be a huge time saver. Buffer certainly fits the bill with its clean and simple interface and intuitive setup flow. Plus, there are plenty of advanced features for the many social media jobs you need to do.
With Buffer, you get a full social media management solution: plan, create, and schedule your social media posts; follow up on post performance with smart analytics; and engage with your followers from a social media inbox. Plus, you can work together with your team to run all your organic social strategy through Buffer.
Price: Starts at $29 per month, or custom enterprise pricing
Hootsuite is more of an enterprise social media management solution, but it's quite powerful and very popular. Hootsuite is able to store your approved content in a cloud that team members can access 24/7 for social media posting needs. It allows multiple posts to be scheduled at once with developed tags and keywords.
Using Hootsuite, you can track the performance of your social media content. Hootsuite can calculate ROI, conversions, and track public conversations about your brand or specific subject matter. Plans have tiered pricing, starting at $29 per month and ranging toward $599 per month for enterprise.
Price: Starts at $3 per month
Pixpa is an all-in-one website builder and digital marketing tool designed to empower photographers, creators, and small businesses by helping them create professional websites without touching a single line of code. You can create a website to showcase your portfolio, share, sell or deliver your work, market yourself and grow your business more, easily, accessibly, and affordably.
Pixpa comes with a built-in SEO manager that lets you set sitewide metadata, specify search engine-friendly URLs, generate automatic sitemaps, and more. Pixpa's marketing tools provide various marketing pop-ups and announcement bars, allowing you to promote your business, take control of your brand and manage your entire web presence, all in one place.
Image Source
If you want a free, comprehensive, all-in-one marketing service, check out HubSpot's free marketing tools.
Editor's note: This post was originally published in May 2019 and has been updated for comprehensiveness.