Most of us grow up with dreams of making it on TV or the local radio with headlines like "Local Man Does Good" or "Neighborhood Woman Breaks World Record".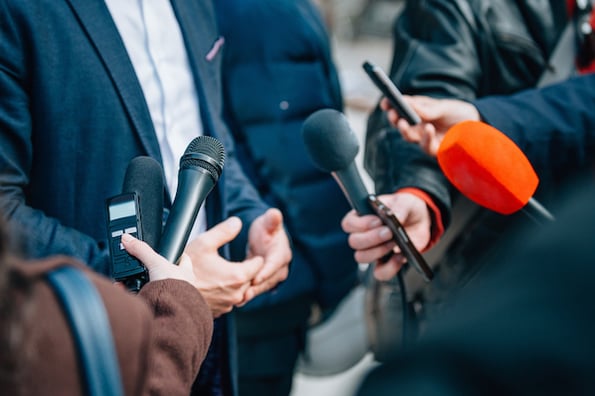 Unfortunately, many of us won't see those dreams become reality — however, as marketers, we can create content that is worthy of making it big.
My team at Fractl creates content with one goal in mind: to produce the most engaging and impactful human experiences on the web. Sometimes, those experiences are shared on traditional media outlets such as radio and television, as well.
To help your brand increase exposure across a variety of traditional media outlets, let's explore some techniques you can incorporate to take your content to the next level.
How to Get Radio Coverage
Probably one of the most beneficial forms of publicity is traditional radio and the accompanying blog coverage. Radio networks work together and bounce content from site to site. If your work is featured with one local station, the likelihood of natural syndication increases.
Local and radio outreach is a strategy best employed with light-hearted, evergreen content. For instance, a campaign uncovering popular baby names through generations saw coverage on the iHeart Radio network and was a top performer for our client when it came to natural syndication.
The major draw? Babies who are named after the first family, including Ivanka, Melania, and Baron.
Lists of baby names may seem like an exhausted topic, but still, we see new articles every year exposing the top 50 names so new moms can garner inspiration (and know which names to avoid).
Our approach was a bit different. We pored over years of Social Security Administration data to compare name changes over the past 70 years and how pop culture and trends have impacted how we name our children. Throughout our promotions process, this content proved interesting for readers at both the local and national levels.
The main takeaway here is to avoid limiting your content by addressing hot news topics and pressing social issues. Instead, focus on providing interesting, evergreen projects that engage an audience in a lighthearted way.
How to Get Local TV Coverage
Some mornings are slow news mornings, especially at the local level. Additionally, most stations enjoy sprinkling a few positive, uplifting, and relatable stories in between all the negative and heartbreaking segments. This is where content marketing strategies prove valuable.
Producing relatable content can be as simple as surveying Americans about their preferences and sorting those results by state and region. That's exactly what we did for a client looking to build brand exposure and traffic. We surveyed over 2,000 Americans to get their opinions on the best and worst Halloween candies. This study hit a sweet spot; it was a newsworthy topic paired with regional relevance.
It was popular and controversial enough to spark a conversation on a number of regional television news outlets. Supporting Idaho for their love of Almond Joys or disagreeing with Marylanders for their affinity for Nerds proved to be a festive way to ring in the new season.
A similar study by AT&T citing the most popular Halloween costumes in every state gained traction with many local news stations. NBC New York reported their residents would likely go the pop culture route for their costumes, and CI Proud predicted a ton of Mickey Mouse costumes.
Ultimately, collecting regional statistics allows for the opportunity to narrow your outreach efforts and appeal to an audience on a more personal level.
How to Get National TV Coverage
The Today Show's segment "What's Trending Today" has covered a number of content marketing studies, and they all have one thing in common: shocking statistics. Obviously, you can't always predict a study will provide shocking takeaways, but leveraging the ones that do is key.
During the outreach stage, make sure to identify gold when it appears. When our survey of 2,000 drivers across the United States revealed that more than half of drivers pick their noses when they are driving, and 1% say they've changed a diaper while behind the wheel, we clearly had a winner. The Today Show discussed their driving confessions and named our client on the air.
When formulating new ideas for your projects, try to ask questions that relate to a common fascination.
For instance, we know the media loves to report on Millennials: habits, trends, disruptions, finances, etc. Creating a survey or study that uncovers some surprising statistics about Millennial cooking habits, let's say, might be your ticket onto the Today Show. It comes down to finding the right topic, and asking the right questions.
The Secret to Traditional Media
Exposure on traditional media outlets is still one of the best ways to reach your audience. In fact, a majority of Americans claim to respond positively to TV, radio, and newspaper ads. Of course, like any content marketing campaign, the results can be hit-or-miss.
By following some of the trends we see with radio, local, and national television coverage, you can increase your chances for exposure and further engage your audience. Try to create evergreen content, with relatable, regionally-specific data. Also, be sure to identify a major hook.
You've likely already hit these marks in recent surveys and projects. Be sure to use what you have and expand your outreach strategy to include local and national stations. Once you see the results, you won't regret it.