An effective content strategy doesn't rely on only one tactic.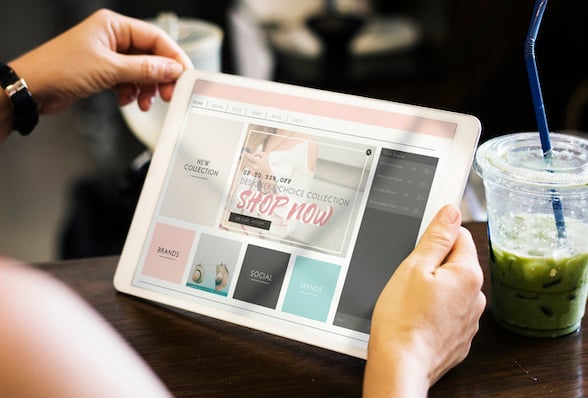 Generating qualified leads requires you to regularly publish compelling, valuable content, explore guest blogging opportunities, identify co-marketing campaigns, and devise a strategy for promoting said content.
What is Paid Media?
Paid media is one method by which organizations can promote their content through sponsored social media posts, display ads, paid search results, video ads, pop-ups, and other promoted multimedia. Paid media can be an effective opportunity to expand your brand reach, get more clicks, and generate more traffic.
Ultimately, by sponsoring content, you're able to reach audiences that might not have come across you otherwise.
While content is a fairly general term, it's important to note that there are different types of media that can be leveraged in the process. Knowing the differences between paid and other forms of media -- earned and owned -- is critical to the success of your lead generation efforts.
To help you effectively execute on sponsored content, we'll walk you through different types of media, examples of paid media, and some strategies on how to best leverage them for your company.
The Difference Between Earned, Owned, and Paid Media
Combining earned, owned, and paid media will help you attract, nurture, and close leads, but what do those terms really mean? And when it comes to your company's content strategy, how do they fit into the equation?
While all three media efforts are important to your overall goals and should converge in your strategy, there are still distinct differences.
Earned Media
Quite simply, earned media refers to media exposure you've earned through word-of-mouth. Whether it was the fantastic content you've distributed, the influence of your SEO efforts, the customer experience you've delivered, or a combination of all three, earned media refers to the recognition you receive as a result.
You can earn media by getting press mentions, positive reviews, reposts, recommendations, etc. You can also facilitate earned media by helping journalists and content writers author their articles, or contributing your own thought leadership content to industry publications.
Thanks to the rise in popularity of social media platforms like Twitter and Quora, it has become easier for content writers and journalists to reach out to your business for quotes and insights to mention in their articles. This type of accreditation helps build trust around your expertise.
At Influence & Co., we earn most of our media through press mentions with our partners and our own guest-contributed content. For example, our co-founder, John Hall, has a regular column on Forbes, where his contributed content helps to drive both traffic and leads for our company.
So whether you're earning mentions on external sites or you've earned an opportunity to contribute to them regularly, this type of media helps to fuel the top of your funnel and introduce you to new leads.
Owned Media
Owned media is content you're in full control of. Think of content for your company website, your blog, and your social media accounts.
While owned media content can take on a variety of forms -- blog posts, case studies, whitepapers, etc. -- the primary goal of this content is to continue providing value to leads as they move down the funnel. These assets offer a more controlled -- but not overly promotional -- message about your company.
So if you're looking to warm up leads that you've generated with earned media or win over some more, it's important that you're focusing on producing these educational, valuable resources. At the end of the day, this content can help leads determine whether or not working with you is the right choice for them.
Paid Media
While today's media influx may make it difficult to get your company's message heard organically, it also brings with it an influx of methods to promote it. Paid media serves as a method for promoting content and driving exposure. And there are variety of paid techniques you can use to amplify your owned media and help you win more earned media.
For example, social media platforms such as Twitter, LinkedIn, Facebook, and Pinterest offer advertising options that can be leveraged to boost your exposure. We've found that LinkedIn and Twitter are the most effective promotion platform for our audience of B2B marketers, but you can utilize a similar strategy on Facebook or Pinterest. It all depends on where your target audience is the most active and engaged with your brand.
Paid Media Strategy
As I mentioned before, combining these elements can prove to be really powerful in terms of generating and engaging leads. To help illustrate this, let's dive into two examples of content promotion tactics that my company has successfully utilized to amplify our owned media.
Sponsored Media
LinkedIn: Sponsored Updates
Our marketing team utilizes sponsored updates on LinkedIn to promote our gated content. We set a budget for each campaign; target users based on interest, industry, and job title; and deliver a link to a landing page with a relevant piece of gated content.
Our reasoning behind promoting gated content via sponsored updates verses our blog content goes back to the idea of delivering the right content to your audience, through the right medium, at the right time. We've found that when our audience is on LinkedIn, it's the perfect time to serve up a piece of gated content.
For example, when looking at the performance of our sponsored posts, we found that the offers that linked straight to a landing page converted at a 500% higher visitors-to-leads conversion rate than sponsored posts that link to blog content.
Promoted Media
Twitter: Promoted Tweets
We've also recently seen success with promoting tweets that have the most engagement. For instance, we promoted this tweet about our "5 Unexpected Content Marketing Trends from CMI's 2016 Report" blog post after we saw that it was garnering a lot of initial engagement. It generated an additional 111 clicks to the post with only $50 in ad spend.
Promoting tweets is a great way to boost the reach of your most engaging tweets and get them in front of a new audience. To determine whether a tweet is worthy of promotion, we ask ourselves two questions:
Did it perform well? When a post is performing well organically, it will automatically perform better than your other posts when you sponsor them. Our rule of thumb is to only promote the top 1-3% of tweets that have gotten the most engagement recently.
Is the content you're promoting converting well? If we're considering promoting a tweet, we look at the piece of content it references to determine the conversion rate of that piece. If it didn't perform well, we try to pick a new tweet that links to a high-performing piece of content or look at how we can optimize the blog post for better conversion before putting dollars behind promoting it on social media.
Paid Media Examples
Facebook
There are a variety of paid media avenues on Facebook. First, you can experiment with paid targeted advertising that shows up on users' news feeds. These are often single space ads. Alternatively, you can buy carousel ads: these are a swipeable series of images in a single ad space, allowing advertisers to tell a better story and showcase more products.
Image Courtesy of Facebook.
Besides the homepage, there are many different options for ad placements, like Facebook Marketplace, Facebook Suggested Video, Facebook Right Column, and Messenger Inbox.
Facebook ads are often incredibly tailored to your marketing goals: you start by setting your objective, choosing your ideal audience, deciding where to place your ads, and setting a budget, and so on to increase the likelihood of attracting your target market.
LinkedIn
Much like Facebook, LinkedIn offers sponsored content or updates in and around users' feeds across devices. They also offer Sponsored InMail, where advertisers can deliver content to target audiences through their Messaging feature. The sponsored messages only deliver when the user is live on LinkedIn, meaning that the paid message will pop up in her chat box at the bottom of the screen, drawing her attention to the offering and increasing your chances of being noticed.
Twitter
There are multiple Twitter ad campaigns to choose from, each designed to solve a specific problem: increasing brand awareness or engagement, growing your follower count, incentivizing website clicks, increasing app installs, or quickly promoting a new offer.
After setting your ads objective, advertisers then choose the audiences to target, bid on the cost per interaction, and select which tweets to sponsor. Promoted Tweets are paid, placed ads on users' Twitter feeds, search results page, promoted trends, or through official Twitter advertising partners. (We walked through this strategy in greater depth above.)
YouTube
Youtube is a versatile platform when it comes to its paid media -- it can be anything from bumper ads (six second ads), Google Preferred (non-skippable, mid-length ads), TrueView InStream (skippable, long format ads), or TrueView Action (video format with a CTA). Alternatively, you might consider partnering with content creators on YouTube to promote your brand.
Image Courtesy of YouTube.
PPC
Pay-Per-Click -- or PPC -- is a paid search results strategy that charges advertisers for each click a promoted result receives. These paid search ads are the first few hits on a keyword's search results page and are marked with a green "Ad" label. Since most search engine users don't tend to look beyond the first few hits -- let alone beyond the first results page -- they can be an effective way to boost awareness and drive traffic to your site.
Display Ads
This type of paid media is likely the most recognized, as pop-ups, wallpaper ads, banners, and video ads can be found on almost every web page on the internet. They are usually pretty affordable on a cost-per-click basis and are an excellent way to increase brand awareness and recognition. The problem with display ads is that because they are so prolific, users tend to ignore them or even block them entirely.